Isis digs in behind Mosul moat as battle for city looms
The group has been working hard this month to dig a 2m x 2m trench along the city's perimeter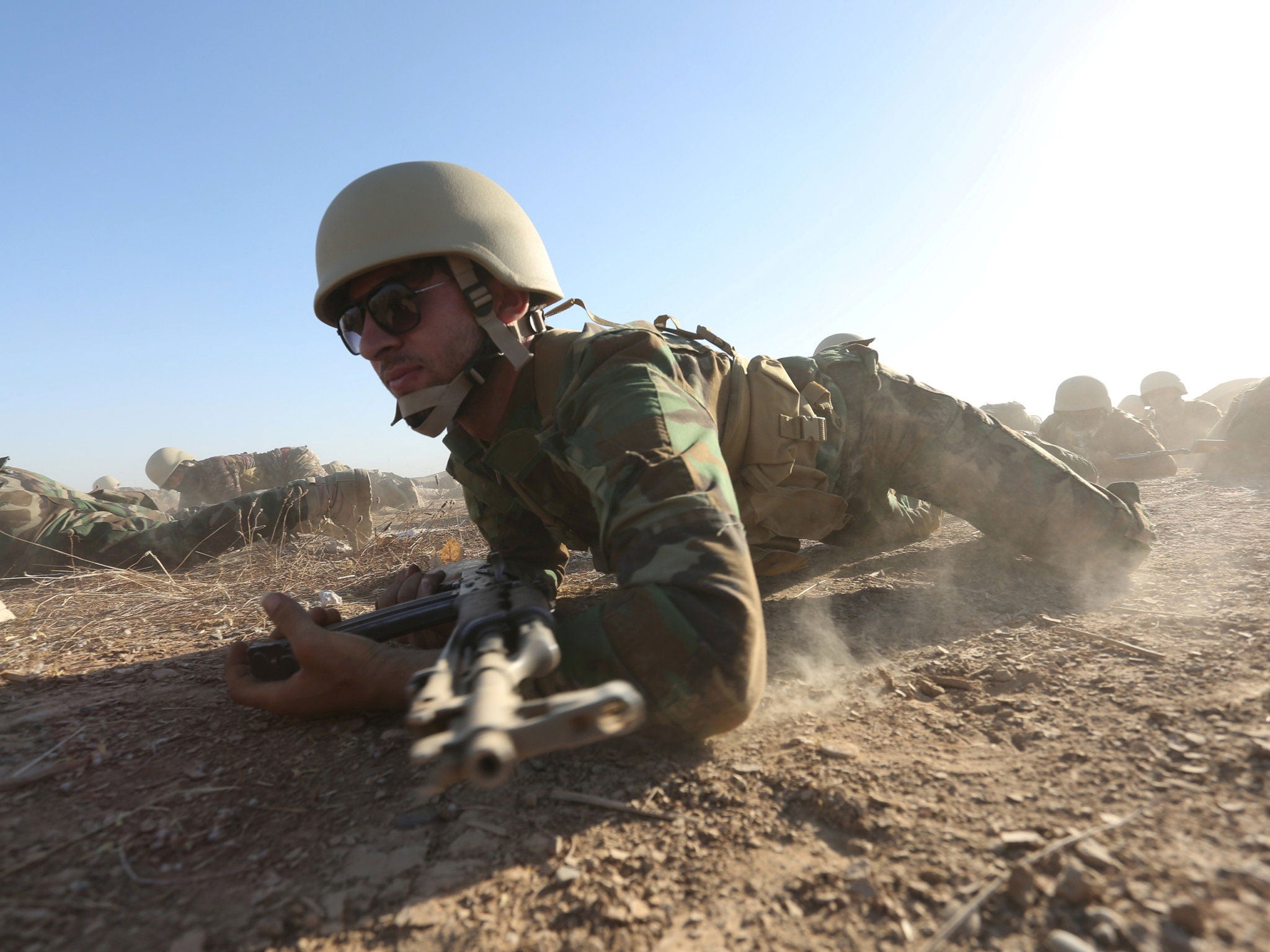 Isis is building a moat around Mosul in northern Iraq, in preparation for a long, hard battle against US-backed Iraqi government forces for the biggest city in the jihadists' self-proclaimed caliphate.
The city of 2 million fell to the militants in 2014 in a lightning advance, and the offensive to recapture it will be the biggest battle Isis has ever fought.
Residents say the fighters have been sealing off entire districts and building a network of tunnels across the city to obstruct government troops.
The group has been working hard this month to dig a 2m x 2m trench along the city's perimeter and position oil tanks nearby to create a river of fire that would impede advancing troops and hinder aerial surveillance, according to senior Iraq military officers, Mosul residents and local officials based outside the city.
The battle to retake Mosul from Isis, which has been forced off significant portions of the territory it seized in Iraq and neighbouring Syria in 2014, could begin as soon as next month. Iraqi forces launched an operation today to retake the northern town of Shirqat, seen as a key stepping stone on the way to recapture Mosul.
The jihadists have put up fierce resistance against attacks on some parts of their caliphate over the past two years but melted away in other areas, prompting debate about how they will react to a push on Mosul.
Recent activities suggest Isis – also called Daesh in Arabic – will dig in, presaging a long and bloody fight that could displace large numbers of civilians.
"Oil trenches, tunnels and suicide attacks will not save Daesh from defeat but they will make the battle more challenging," said Sabah al-Numani, a spokesman for the counter-terrorism forces which are expected to spearhead the offensive. "We are confident Daesh will fight to their last fighter to keep holding Mosul."
There is a gap in the moat on the western approach to the city, so fighters could slip out through the desert and into Syria to regroup if they ultimately decide to surrender Mosul.
Rich in Muslim history, Mosul lies at the heart of the state the Islamists have sought to create. It was in the city's main mosque in 2014 that their leader Abu Bakr al-Baghdadi declared a modern caliphate spanning large parts of Iraq and Syria.
With much of the population still inside, civilians are a concern for those planning the expected assault. The installation of oil tanks around residential areas raises the risk that air strikes could set off major fires, said Baghdad-based analyst and former army general Jasim al-Bahadli.
In addition to the moat, the militants have sealed off central districts of Mosul by stacking cement blast walls on top of each other across main roads, according to photographs taken by residents and seen by Reuters.
Dozens of trucks were seen earlier this month carrying similar barriers into the airport on the city's southern outskirts, which could be an entry point for attacking forces, local officials and residents said.
The militants "are using the blast walls to make Mosul airport unfit for planes to land", said Iraqi Army Colonel Mohammed Adnan al-Taie.
They used the same tactic before fleeing Qayyara air base, 40 miles south of Mosul, which US forces are helping to refurbish to use as a logistics hub for the Mosul operation.
Tunnel network
Prime Minister Haider al-Abadi has pledged repeatedly to retake Mosul by the end of the year, and Iraqi commanders have indicated the main push could begin by the second half of October, though some doubts remain that the necessary troops will be ready.
After meeting Abadi in New York on Monday, US President Barack Obama said he hoped for progress by the end of the year. Marine General Joseph Dunford, chairman of the US military's Joint Chiefs of Staff, later said Iraqi forces would be ready in October, but the timing would be up to Abadi.
Iraqi forces launched an operation on Tuesday to retake the northern town of Shirqat, a stepping stone in the Mosul campaign.
Mosul provincial councilman Abdul Rahman al-Wagga said Isis tactics suggest it is desperate to delay the government advance. Witnesses in Mosul say the militants are working hard to dig tunnels, which they have used in the past to launch attacks on Iraqi forces, store supplies and hide from air strikes.
"I can see Daesh [Isis] digging tunnels everywhere and covering the entrances with sewage covers. My neighbour's house is now part of a network of tunnels that reaches across the city," a resident from the Sumer district of southeastern Mosul told Reuters.
Internet interviews with five Mosul residents, some of whom are still in the city, suggest Isis is tightening its grip in a bid to weather popular discontent and military setbacks, including assassinations of senior leaders.
In pictures: Iraq battles to drive Isis out of Fallujah
Show all 12
House-to-house searches have increased over the last two months, as the militants pursue local fighters who pledged allegiance to the group but appear to have defected.
Brigadier-General Yahya Rasool, spokesman for the joint operations command, said intelligence contacts in Mosul were providing accurate coordinates of Isis locations and for conducting assassinations against militants, though Reuters could not confirm those claims.
Abadi this week called on Mosul residents to stand up to Isis ahead of the military offensive.
"Our goal is to liberate the people of Mosul ... and we ask them to shake up Daesh and expel them from Mosul or kill them," he said at a news conference in Baghdad. "This will ease the work of the security forces and reduce their casualties."
Reuters
Join our commenting forum
Join thought-provoking conversations, follow other Independent readers and see their replies