Isis publicly behead man in Syrian town square for 'insulting Allah' as he screams for help
The group has carried out a wave of executions in its territories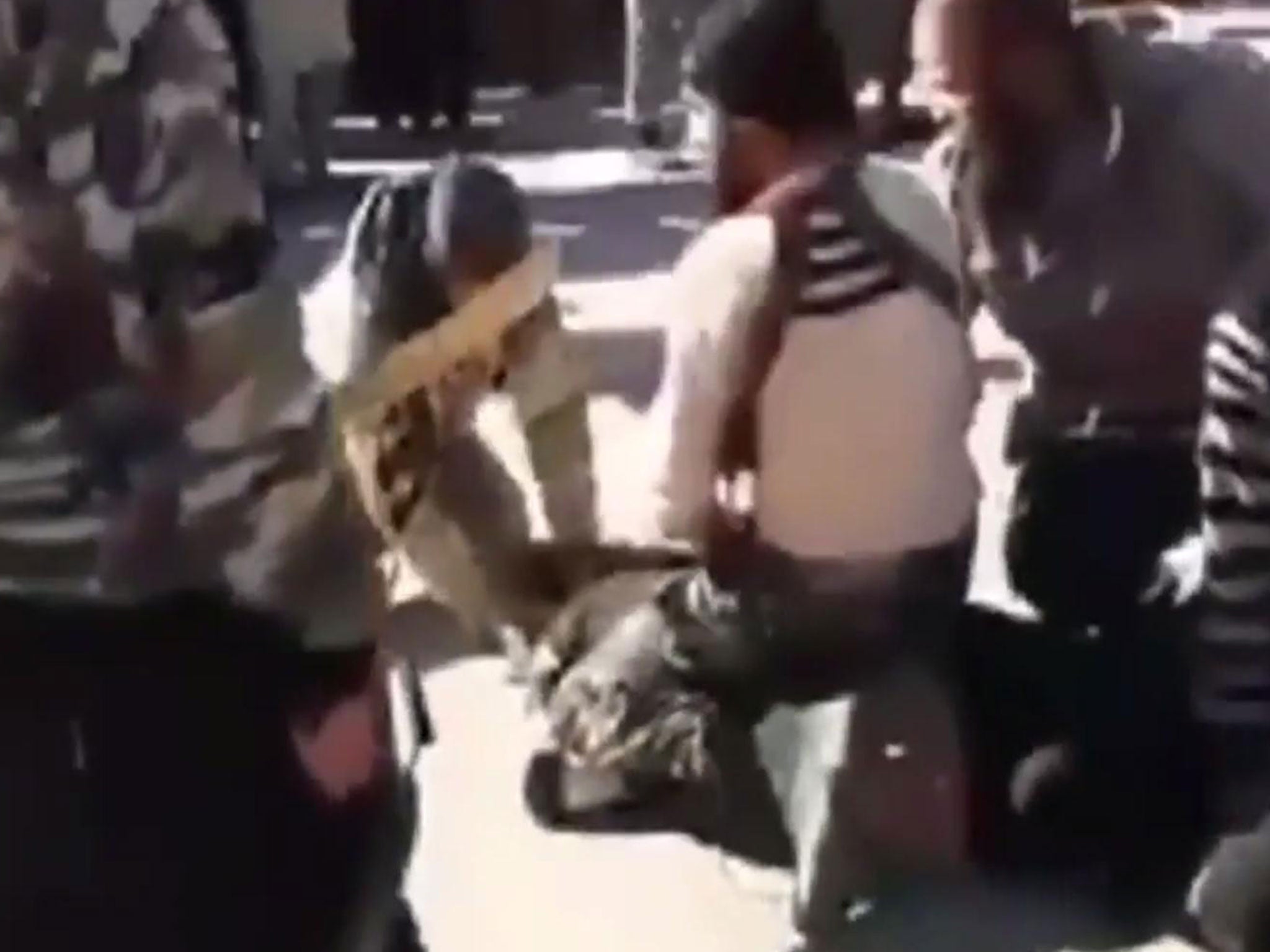 A man was held down and beheaded for "insulting Allah" in the middle of a Syrian town by Isis fighters as he screamed for help from the silent crowd.
Footage reportedly taken on Monday in the town of Al-Shadadi is the terror group's latest show of brutality in its territories stretching from the Turkish border in Syria to northern Iraq.
Details of the man's crime were unknown but his death was staged for maximum exposure in a public square.
A militant addressed the large crowd, which included children, as the man was restrained behind him claiming to carry out the "law of Allah" by executing him for allegedly insulting God.
Isis fighters posed with the man as the address was filmed close-up for the group's propaganda makers.
Unlike most victims, the young man was not blindfolded and was forced to the ground face down to be decapitated.
He continued to struggle while screaming for help as the crowd stood watching and filming the gruesome display on their phones.
According to the Syrian Observatory of Human Rights, who said the footage appeared genuine, he shouted: "I won't forgive you, I am not the one who did it."
One militant dropped his Kalashnikov as the man fought his captors for several minutes, eventually being pinned down by four men including one sitting on his back and pinning his arms behind him.
When the executioner finally beheaded him with one blow of a sword, a roar went up from the crowd as militants chanted "Allahu akbar" (God is great).
Al-Shadadi, in the oil-rich Al-Hasakah governate, is strategically positioned between Isis strongholds in Syria and the border with Iraq.
Timeline: The emergence of Isis
Show all 40
It has been under Islamist control for almost two years. The al-Qaeda-affiliated group Jabhat al-Nusra captured it after defeating Syrian government forces in February 2013 and it was unclear how or when its control passed to Isis, its biggest rival.
Public beheadings have become a regular sight in Isis-controlled territories and are part of the group's barbaric "justice" system which proscribes the amputation of limbs for theft, death for "witchcraft" and flogging for drinking alcohol.
The group has recently carried out an unprecedented string of public executions – including throwing men accused of being gay off towers, stoning a woman accused of adultery and crucifying at least 17 young men in a 48-hour period.
The London-based Observatory for Human Rights said that the latest flurry of public executions came after Isis was hit by a string of assassinations and with their overall military advance across Iraq and Syria apparently on the back foot.
Last week, the group murdered Japanese hostage Haruna Yukawa and are threatening to kill his friend Kenji Goto and a Jordanian pilot unless the countries' governments meet its demands.
Join our commenting forum
Join thought-provoking conversations, follow other Independent readers and see their replies