From the front line in Raqqa: Isis to lose Syrian 'capital' in days after 'surprise attack' by US-backed forces
US-backed Syrian Democratic Forces say battle for Isis's de facto capital is in its 'final stages' – but the price of victory is high 
Wednesday 20 September 2017 17:25
comments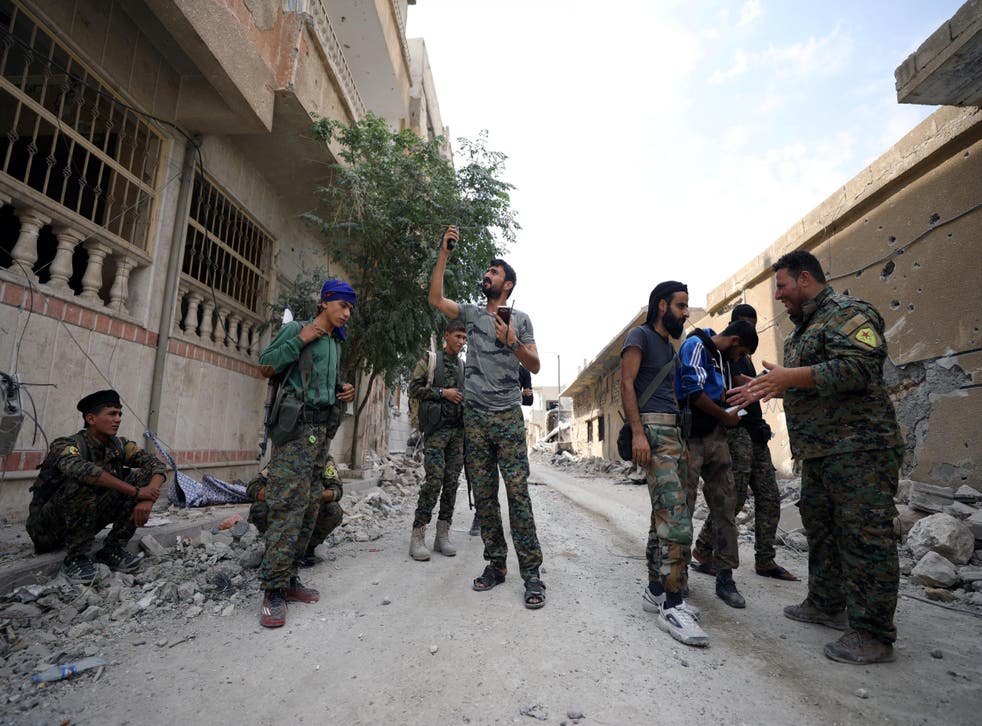 "Five minutes until the next strike, in Rameylah," a Syrian Democratic Forces (SDF) commander says into her walkie-talkie, repeating the coordinates twice. "Four minutes. Be careful!"
Three minutes and 40 seconds later – slightly ahead of schedule – a loud thud shakes the windows of the civilian house which serves as an interim SDF base in a west Raqqa suburb. A US-led coalition bomb hits its target in an Isis-held neighbourhood two kilometres away.
While every so often a flurry of air strikes or the whine of a Apache helicopter punctures the hot, heavy air, Raqqa's front line is for the most part very quiet.
As the SDF advance has slowed to a house-by-house battle, Kurdish YPG (male) and YPJ (female) fighting units are stationed in every building along the road. Their main job is to hold the now solid front-line position; snipers train their sights at any sign of movement in the streets ahead, wary of suicide car bomb attacks.
A statement released on Wednesday by the SDF, the US-backed coalition of Kurdish, Arab, Assyrian and Yazidi fighters, said that 80 per cent of the city's neighbourhoods had been retaken from militants after a "surprise attack" on Isis.
The overnight offensive had recaptured grain silos in the city's northern outskirts and opened a new front, which top command said it considered "the final stages" of Operation Euphrates Wrath.
US backed fighters make progress in driving Isis out of Raqqa
Several soldiers on the front told The Independent they believed the campaign to free Raqqa from three years of Isis rule – which began in earnest in June – will end in the next week or two.
It is not clear how many militants are left in the city. A month ago it was estimated less than 1,000 remain, and that most commanders and other important figures have already fled to the jihadists' last strongholds in the eastern desert.
In pictures: Isis' weapons factories

Show all 11
Snipers and improvised explosive devices, hundreds of which have been hidden on the roads and inside houses, have been responsible for the majority of recent casualties, rather than Isis counter-offensives.
One soldier, who asked not to be named, said they had witnessed a member of the SDF rushed to a field hospital, foot blown off and shin bone protruding from his fatigues, after he apparently entered a civilian home to try and loot it.
The Pentagon says the SDF numbers 40,000 troops, but they are for the most part a quickly trained and inexperienced army, and the bonds holding its various Kurdish, Arab and other component units together are not strong.
Many recruits are clearly younger than the official joining age of 18. On a ruined street where a lamp post lays across one side of the road, a pick-up truck carrying about a dozen boys – all grinning, all gripping Kalashnikov rifles – sped past, stirring up the dust and ash which now coats everything in the city.
They face an enemy which is willing to fight to the death.
"Of course they're young," says Darsim Ezetran, a member of the YJS, the Yazidi women fighters, who at 26 is the oldest in her unit. "All the older ones have been killed already."
At a mosque being used as a temporary shelter for internally displaced persons fleeing the fighting, young children guzzle bottle after bottle of water in the 40C heat.
Those who have made it out are grateful to the SDF. "They found us, they guided us here," says 73-year-old Abdul-Rahman Abdullah. He hobbled the deadly 700m from his home past the front line with a false foot, lost during the fighting for Raqqa between Syrian President Bashar al-Assad's forces and Free Syrian Army rebels four years ago.
At least 300,000 Raqqawis have fled in recent weeks, braving Isis as well as US-led coalition bombing. But 15,000 more are still trapped inside the city's dense central neighbourhoods with very little food and water.
A huge convoy of trucks that have driven all the way from northern Iraq – through the self-declared autonomous Kurdish region of northern Syria and into the Arab Raqqa Governorate – rumbled by, carrying brand new Humvees and other reinforcements for the US special forces present in the city.
"Do they carry water, bulldozers, will they stay to help rebuild?" Abdullah asks. "Daesh [Isis] will be defeated here soon. But what happens next?"
Join our new commenting forum
Join thought-provoking conversations, follow other Independent readers and see their replies