Isis' last escape route from Raqqa 'cut off' by US-backed SDF fighters, says Syrian monitoring group
Defence Secretary says momentum towards Isis' defeat is 'irreversible'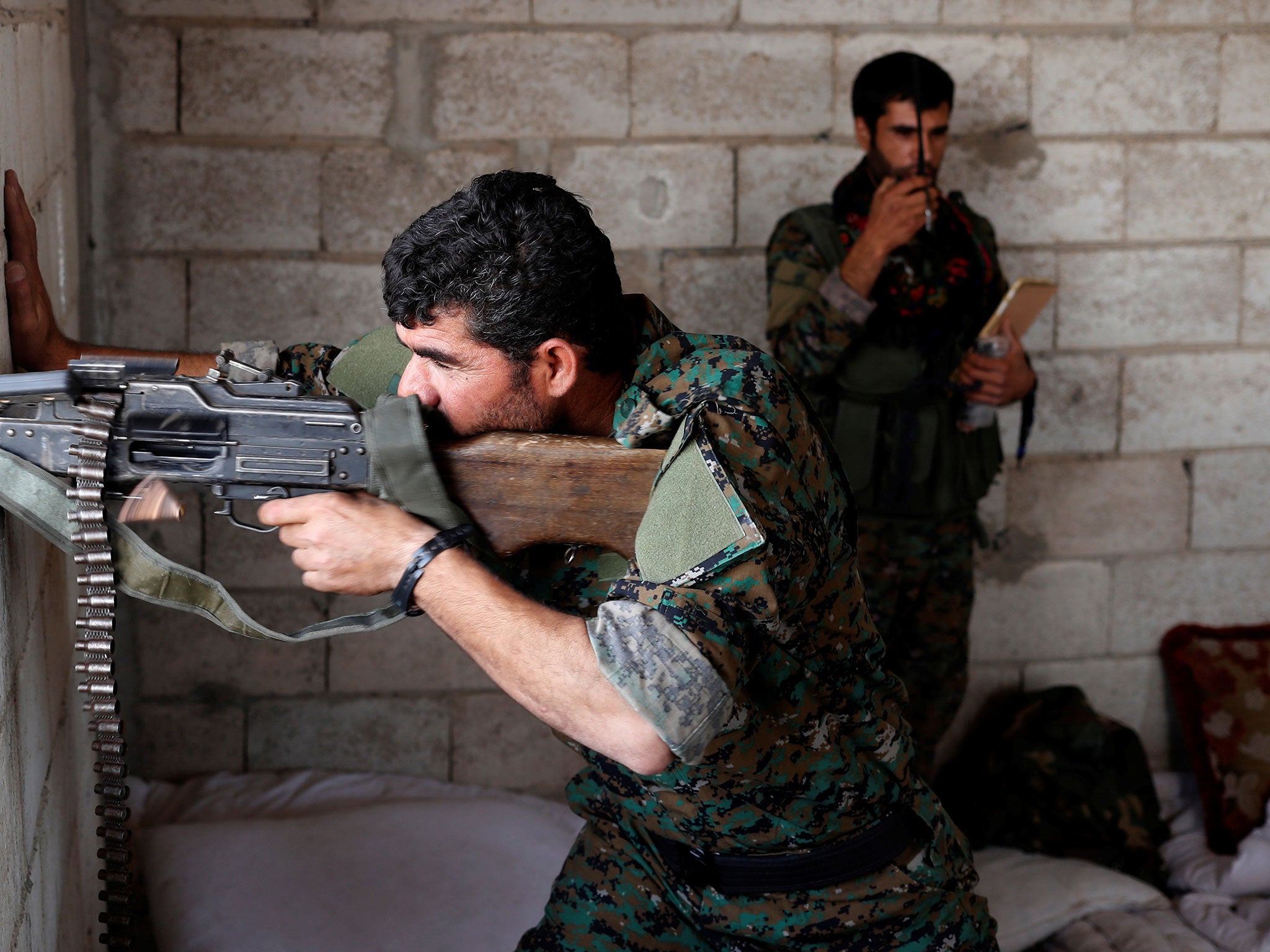 US-backed forces have completely surrounded the Isis-held city of Raqqa in Syria after cutting off militants' last remaining escape route, monitors have said.
The UK-based Syrian Observatory for Human Rights said the Syrian Democratic Forces (SDF) had succeeded in "completely encircling" the group's largest stronghold.
The report came on the third anniversary of Isis leader Abu Bakr al-Baghdadi's declaration of the so-called Islamic State.
He made that announcement in Mosul's famous Great Mosque of al-Nuri, which has since been destroyed by Isis and seized by advancing Iraqi government forces.
"Their fictitious state has fallen," military spokesperson Brigadier General Yahya Rasool told state television on Thursday, after months of fierce fighting that has left thousands of soldiers and civilians dead.
Mosul and Raqqa were Isis' two largest stronghold, presenting symbolic and damaging targets for enemy forces.
Kurdish woman laughs after nearly getting hit by ISIS sniper
The SDF, an alliance of Kurdish and Arab militias, has been battling towards Raqqa for months with backing from US-led coalition air strikes.
Among its ranks are several British volunteers, including fighters in the Kurdish People's Protection Units (YPG)'s International Freedom Battalion and Women's Protection Units (YPJ) member Kimmie Taylor.
"I know a lot of friends will die, especially in the city – it's going to be a bloodbath," the 27-year-old told The Independent while preparing to meet Isis fighters, car bombs, booby traps, mines and drones.
The SDF previously said it was on the verge of cutting off the last exit from the city and impose a "complete siege", amid mounting concern for up to 100,000 trapped civilians.
US Central Command, which is coordinating the anti-Isis Operation Inherent Resolve, said the SDF now controls "all high speed routes into Raqqa" south of the Euphrates River.
"The Syrian Arab Coalition have been moving east from Tabqa for some time, seizing terrain from Isis and liberating villages and towns as they move toward the Euphrates where the river begins to run south," a spokesperson told The Independent.
"This will completely encircle the city and has been the SDF plan from the start."
CentCom said Raqqa had been surrounded from three sides "for some time", while coalition planes have destroyed bridges over the river heading south and the SDF controls two dams, which are the only remaining crossing point.
Air strikes have also been targeting vessels on the river and fleeing Isis fighters.
"The battle for Raqqa has only just begun," the spokesperson added. "There is still much fighting to be done in the city."
Thousands of Isis fighters are believed to have fled Raqqa into the group's territory to the south, including the city of Deir Ezzor.
Two young men from a village outside the city were reportedly shot dead by Isis this week on allegations of cooperating with the SDF, as the group cracks down on supposed "spies" while its territory wanes.
The SDF's advance has seen them seize swathes of territory in northern Syria and prompt an incursion by Turkey, which sees some factions as an extension of the Kurdistan Workers Party (PKK) insurgent group.
Recep Tayyip Erdogan officially ended the Euphrates Shield operation, which also targeted Isis, in March after Turkey-backed rebels drove the SDF back from the border.
The Raqqa offensive has brought warnings of fresh confrontation, with the SDF and Turkish forces exchanging fire over front lines north of Aleppo on Wednesday.
Naser Haj Mansour, a senior SDF official, told Reuters the SDF had taken a decision to confront Turkish forces "if they try to go beyond the known lines" in the region.
"Certainly there is a big possibility of open and fierce confrontations in this area, particularly given that the SDF is equipped and prepared," he added. "If it they attack we will defend, and there will be clashes."
The Turkish military confirmed it had fired artillery at YPG positions south of the town of Azaz in a response to its own troops being attacked, while the SDF claimed it was responding to enemy shelling.
Turkey has recently deployed reinforcements into the area, according to affiliated rebel groups, prompting concern that Ankara is planning to attack nearby areas that are under SDF control.
The deputy Prime Minister, Numan Kurtulmus, said Turkey would retaliate against any cross-border gunfire from the YPG and "terrorist groups", reiterating Ankara's opposition to the US' arming of SDF fighters.
Mr Mansour warned that an attack on SDF-controlled areas would "do great harm" to the assault on Raqqa by drawing anti-Isis fighters back from the frontlines.
The UN High Commissioner for Human Rights has expressed "grave concern" for up to 100,000 civilians who remain trapped under Isis control in the city as the offensive intensifies.
"The intense bombardment of Raqqa over the past three weeks has reportedly left civilians terrified and confused about where they can seek refuge as they are caught between Isis' monstrosities and the fierce battle to defeat it," Zeid Ra'ad al-Hussein said.
"The large number of civilian casualties indicates that much more needs to be done by the parties to ensure protection of the civilian population. Civilians must not be sacrificed for the sake of rapid military victories."
According to UN data, at least 173 civilians have been killed by air and ground strikes since 1 June in Raqqa, while the US-led coalition puts the total toll since the start of air strikes in Syria in Iraq in 2014 at 484.
There have been reports of families being moved around Raqqa by Isis fighters using them as human shields or being shot or killed by mines if found trying to escape.
"While some did manage to leave after paying large sums of money to smugglers, including smugglers affiliated with Isis, reports continue to emerge of Isis preventing civilians from fleeing," the UN Human Rights Office said, calling on all parties in the conflict to protect civilians and adhere to international law.
It said there were also worrying reports of violations and abuses by the SDF in areas under its control such as Tabqa, outside Raqqa, including "looting, abductions, arbitrary detentions during screening processes as well as the recruitment of children".
The US has not responded to the allegations against its allies, who have been visited by Donald Trump's special envoy to the anti-Isis coalition.
Brett McGurk met members of the Raqqa Civil Council, which will take over control of the city after Isis is driven out.
He travelled to the city of Ain Issa, north of Raqqa, on Wednesday, and on to the town of Tabqa on Thursday.
Sir Michael Fallon, the Defence Secretary, said there was "irreversible momentum" towards Isis' defeat in Raqqa.
"Three years on from when Daesh [Isis] declared its so-called caliphate in Mosul, this evil death cult faces its endgame in Mosul," he added, following a meeting with Nato defence ministers.
"In Syria, there is now irreversible momentum and progress towards Daesh's defeat in Raqqa, with the SDF already controlling nearly 15 per cent of the city."
RAF planes have struck 69 targets in and around Raqqa in support of the SDF advance, Sir Michael said.
Isis has now lost 70 per cent of territory it once controlled in Iraq and 51 per cent in Syria, according to Ministry of Defence figures.
Additional reporting by agencies
Join our commenting forum
Join thought-provoking conversations, follow other Independent readers and see their replies