Isis 'rigs Mosul with bombs' ahead of US-backed Iraqi offensive
Terror group prepares for battle with booby traps, tunnels and spies, while US worries Turkish-Iraqi infighting could endanger offensive's success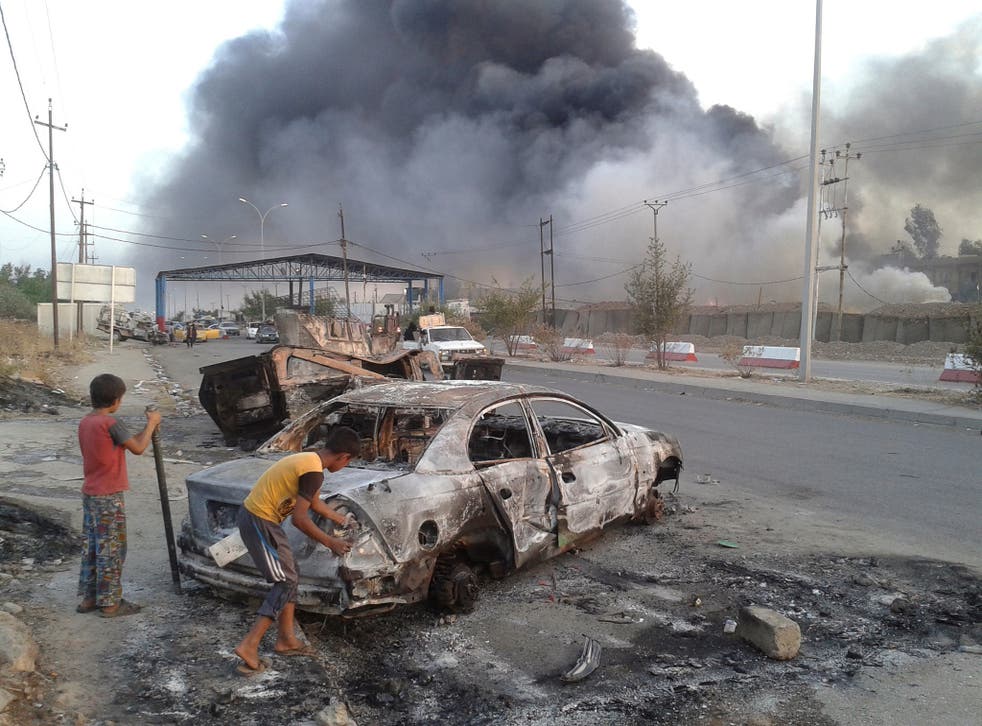 Isis is readying for the fight to keep control over Iraq's second largest city by booby-trapping bridges, extending its network of tunnels and stepping up surveillance as the Iraqi military prepares for an offensive expected to be just a few weeks away.
Iraqi and US officials said on Wednesday that residents in Mosul also reported that car bombs are being prepared and explosive devices placed in jack-hammered holes in major roads.
Key areas have been blocked off with concrete walls, and a two-metre-deep moat dug that will be filled with burning oil in order to make the liberation of Mosul's estimated 1.5 million residents more difficult, they said. The reports could not be independently verified.
"[Isis] are digging in to fight for Mosul. They are more cautious, shaving their beards to blend in with the population and constantly moving their headquarters around," Deputy Prime Minister Hoshiyar Zebari said.
One resident told Reuters that children as young as eight, sometimes armed with pistols and knives, have been deployed across the city to monitor and inform on the population. The children recruit other children for the same task.
"It's a really heartbreaking scene to see Mosul's kids becoming future terrorists. I taught my seven-year-old son all about autism to pretend he's mentally ill to avoid being recruited by [Isis]," they said in a Whatsapp message.
"They are desperate and they could force even children to fight once government troops are at the doors of Mosul."
Aid agencies have expressed worries about the number of civilian casualties that could result from fighting and warned they are not ready to provide assistance for up to 700,000 people who could flee the city in the first few days.
In pictures: Iraq battles to drive Isis out of Fallujah

Show all 12
The US-backed offensive could begin as soon as the end of October, although the complex operation is being hindered by the competing interests of the many factions involved in the fight against Isis about how best to liberate the city.
The Iraqi and Turkish governments are currently involved in an escalating row over the presence of Turkish troops on Iraqi soil. Turkish President Tayyip Erdogan said on Wednesday that the Mosul offensive could cause "blood and fire" along sectarian lines if not handled correctly, insisting that Turkey would keep troops nearby despite objections from Baghdad, which wants the Iraqi army to be at the forefront of the fighting.
The US has urged the two governments to resolve the spat over worries it could adversely affect the planned operation.
Millions in need of aid as Iraqi forces advance on Mosul
Mosul fell to Isis during the terror group's blitz across Iraq in summer 2014. Leader Abu Bakr al-Baghdadi declared the establishment of the group's so-called caliphate from a mosque in Mosul shortly afterwards.
Isis has faced several military defeats in Iraq and Syria in recent months. Losing control of Mosul would in effect spell its defeat in that country.
The battle for the city will help to shape the future of Iraq and the legacy of US President Barack Obama. Even if Isis is driven out of Mosul, many are worried there is a danger of sectarian strife, especially if civilian casualties are high in a mainly Sunni city wary of the Shiite-led Iraqi government and the Shiite militias it depends on.
The Associated Press and Reuters contributed to this report
Register for free to continue reading
Registration is a free and easy way to support our truly independent journalism
By registering, you will also enjoy limited access to Premium articles, exclusive newsletters, commenting, and virtual events with our leading journalists
Already have an account? sign in
Register for free to continue reading
Registration is a free and easy way to support our truly independent journalism
By registering, you will also enjoy limited access to Premium articles, exclusive newsletters, commenting, and virtual events with our leading journalists
Already have an account? sign in
Join our new commenting forum
Join thought-provoking conversations, follow other Independent readers and see their replies