Former Isis sex slave vows to achieve dream and become lawyer after surviving regular rape and abuse
Dalal is among hundreds of Yazidi women to be resettled in Germany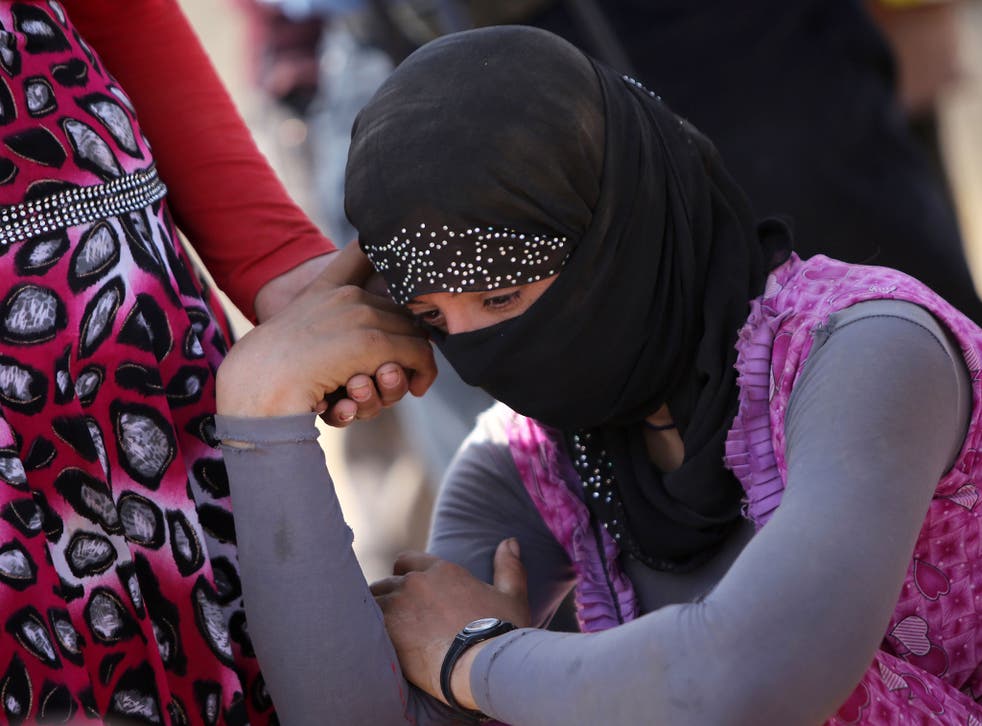 A Yazidi woman who was kidnapped by Isis and raped and abused by nine militants has vowed to achieve her dream of becoming a lawyer after surviving the group's horrific abuse.
Dalal was just 17 when jihadis overran her village in the Iraqi region of Sinjar on 4 August 2014 in a bloody campaign that triggered international intervention in the conflict.
It was the opening days of Isis' genocide against the Yazidi people of Iraq, seeing thousands of men massacred while their wives and daughters were forced to become sex slaves.
Yazidi women speak of rape and beatings at the hands of Isis
Dalal was living with her father, an electrician, and four siblings as she studied towards her aim of becoming a women's rights lawyer.
"At this time I was satisfied with my life situation because we had no serious problems and we were allowed to live in peace," she said.
"Before Isis arrived in Hardan, we were told by a Sunni neighbour that they would soon arrive but we should not be afraid for our lives, because they would not do us any harm.
"We should raise white flags, show no weapon and no uniform.
"The leaders of the Isis troops would only meet the local mayor in the local café, and we would continue to lead our lives peacefully."
But rumours soon spread of Isis' true intentions and Dalal's family prepared their escape.
They did not get out in time and were rounded up by jihadis, who regard Yazidis as heretics and have attempted to justify their massacres and enslavement in propaganda.
Male members of the families, including Dalal's 16-year-old brother Fauaz, were separated from the women and children and taken away.
Iraq crisis: Yazidi nightmare on Mount Sinjar

Show all 15
No trace has ever been found but evidence of mass graves found in the area suggests they were systematically massacred by militants.
Her nine-year-old brother was among younger boys forced to become child soldiers, ordered to memorise the Quran and brainwashed in Isis ideology, while being trained as suicide bombers and fighters.
Meanwhile Dalal, her mother and two sisters were forced to hand over their money, jewellery, mobile phones and belongings before older women were forced into household labour and the younger ones distributed to the Isis strongholds of Raqqa, Mosul and Tal Afar.
Dalal was handed to an Isis commander she knew as "Nasr" and held in his home for five months.
"Every morning I was forced to pray from three o'clock, five times over the day," she recalled.
"I was responsible for the housework, the breakfast, the dinner, had to clean the apartment and always had to learn a verse from the Quran by heart. For that I had only little time.
"If I could not recite the verse when he asked, I was beaten and humiliated as a punishment."
Nasr's wife was jealous and beat the teenager, who her husband regularly raped and abused.
When he was killed in battle, the abuse continued with another Isis fighter, and then another, and another.
One of the rapists, known as Abu-Mustafa, got her pregnant but another militant who had also "bought" Dalal made her force an abort the baby by taking pills and carrying out heavy labour.
She was left weakened and in pain by the ordeal, which continued for nine months under nine separate captors.
The last Isis fighter helped Dalal return to her family – "just for the reason to make good of his previous deeds" – by driving her to southern Iraq and handing her over to Shia soldiers.
She was transported to Dohuk, where she found her father alive with remaining family members, and started volunteering for the German International Society for Human Rights as they distributed aid to refugees.
Aid workers volunteered her name for a quota of Yazidi women resettled to Germany by the local government in Baden-Württemberg, which took her in alongside more than 1,000 survivors.
"We have been treated medically, and special therapies have been used, which are still being carried out on me to this day," Dalal said.
"Soon I would like to finish my school education and realise my dream and work as a lawyer."
The UN found Isis has sought to "erase" the Yazidis through a campaign of genocide including war crimes and crimes against humanity.
Observers have documented the use of killing, sexual slavery, enslavement and torture including the rape of girls as young as nine.
Dalal recounted her experience at the Geneva Summit for Human Rights and Democracy, where she called for continued international efforts to help the thousands of Yazidi women and children who remain under Isis control.
While living in Germany, she has told her story under the name "Shirin" in a book entitled I Remain a Daughter of the Light, and is campaigning for Isis leaders to be tried by the International Criminal Court, as well as for Yazidis and other minorities to be given greater protections in Syria and Iraq, and aid as refugees.
More than 500 former inhabitants of her hometown have already been found in mass graves. Dalal's mother was taken to Syria by Isis, at least one brother is dead and her younger sister remains missing.
They are among 3,500 Yazidi captives still held by the terrorist group, mainly women and children, as its territories come under attack by advancing Iraqi forces and international air strikes.

Join our new commenting forum
Join thought-provoking conversations, follow other Independent readers and see their replies