Isis sniper 'shoots dead 13-year-old Palestinian girl trying to escape Syrian refugee camp'
Palestinian militants claimed Zaynab Daghastani was killed in Yarmouk
Lizzie Dearden
Monday 13 April 2015 20:53 Comments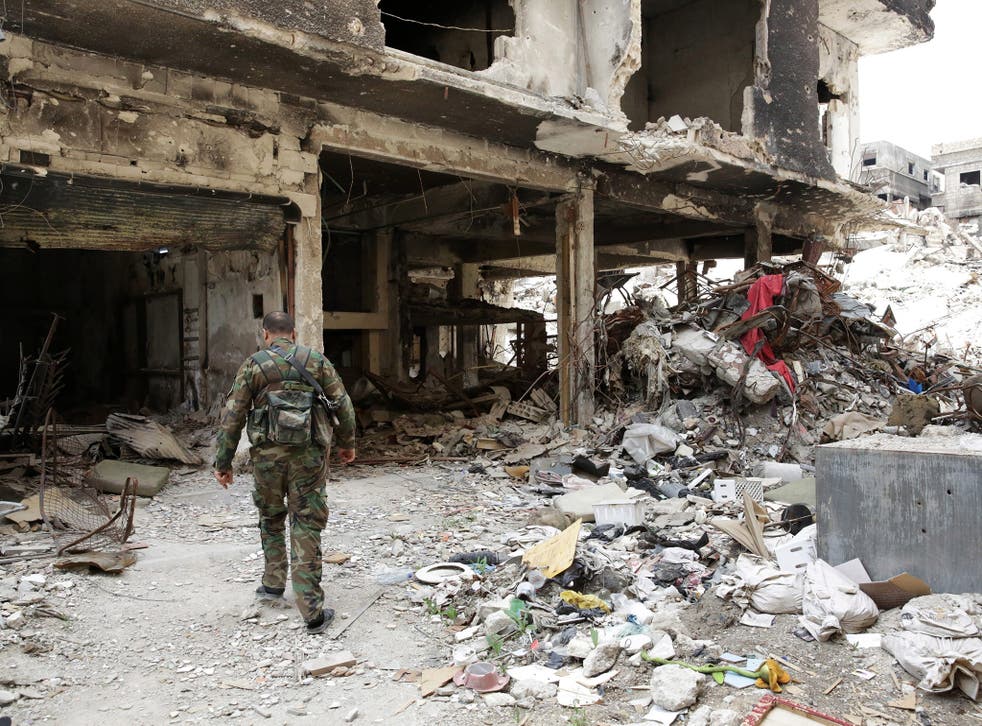 A 13-year-old girl has been shot dead by Isis snipers as she tried to flee a besieged refugee camp in Syria, Palestinian militants have claimed.
The child, named as Zaynab Daghastani, was reportedly killed on Tuesday outside her home in Yarmouk, which was overrun by Isis at the end of last month.
Militants entered an apartment building and apprehended the girl, Al Masdar News reported, and she was later shot dead by a sniper outside her home.
The website cited sources from Palestinian militant group Fatah Al-Intifada, which is fighting Isis alongside the Palestine Liberation Army and other armed factions, and the account could not be confirmed.
The International Business Times reported that Zaynab had been trying to escape the camp with her family, making for safety in the nearby district of Yelda.
Charity workers from the Jafra Foundation estimated that 2,500 families have fled so far to avoid street fighting and bombardment.
Militants with the so-called Islamic State have been backed by rivals Jabhat al-Nusra in efforts to control Yarmouk, which is home to around 18,000 Palestinians.
Their takeover prompted a series of air strikes by forces loyal to the Syrian President, Bashar al-Assad, and United Nations officials have described the humanitarian situation as "beyond inhumane".
Isis has been accused of beheading captives and murdering and endangering the lives of civilians in Yarmouk.
Pierre Krahenbuhl, head of UN Palestinian refugee agency UNRWA, said called on all sides to respect the "beleaguered" civilians trapped inside.
"They have suffered untold indignities and I shall continue to work today to assist those who wish to temporarily leave in safety," he added. "At the same time, we need to look at ways to provide humanitarian assistance to the civilians inside Yarmouk."
Control of the camp has given Isis its first foothold in the Syrian capital of Damascus, adding another level of misery to residents who have already survived a two-year government siege, starvation and disease.
Mr Krahenbuhl said talks on Sunday with the Syrian government "offer some grounds for optimism" but stressed that much remains to be done in his meetings today with senior officials to secure humanitarian access for the camp.
In pictures: Syria conflict

Show all 40
Yarmouk was the main camp established in Syria for Palestinians who fled the 1948 war sparked by the creation of Israel.
Before the Syrian civil war, it was a sprawling, built-up neighbourhood that was home to more than 150,000 Palestinians but that number is falling as residents flee or are killed.
President Assad's forces put it under a crippling blockade after Palestinian rebels based there sided with rebels trying to topple the government during the 2011 Arab Spring.
Additional reporting by AP
Register for free to continue reading
Registration is a free and easy way to support our truly independent journalism
By registering, you will also enjoy limited access to Premium articles, exclusive newsletters, commenting, and virtual events with our leading journalists
Already have an account? sign in
Join our new commenting forum
Join thought-provoking conversations, follow other Independent readers and see their replies