Yazidi teenager sets herself on fire in bid to avoid rape by Isis soldiers
'I'm experienced in trauma, I had already worked with patients from Rwanda, from Bosnia, but this was very different. If you have an eight-year-old girl in front of you and she's saying she was sold eight times by Isis and raped 100 times during 10 months, how can humankind be so evil?'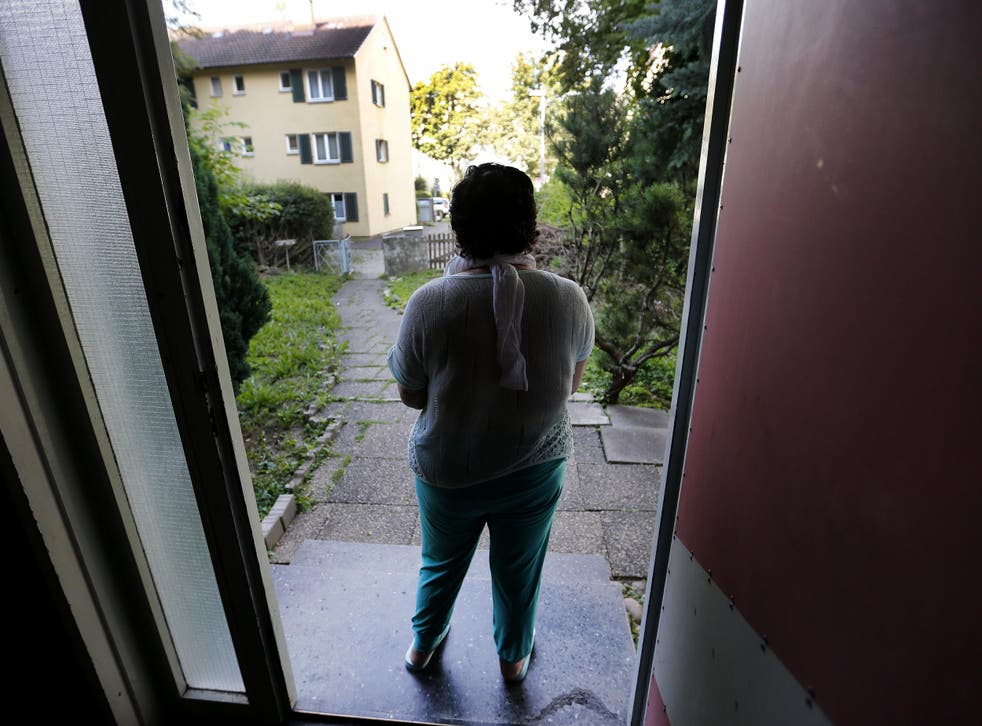 A Yazidi girl who was repeatedly raped by Isis fighters set herself on fire to make herself unattractive to the men.
The teenager, who asked to be identified only as Yasmin, had escaped Isis captivity and was in a refugee camp in Iraq when she thought she heard Isis soldiers' voices outside her tent.
She said she doused herself in petrol and set her body alight in a deliberate attempt to disfigure herself. The flames burned her hair and face, also badly damaging her nose, lips and ears.
The 18-year-old is one of 1,100 refugee women and girls who have been brought from refugee camps in the Middle East to south western Germany for specialist psychological treatment.
In 2014, senior members of the Yazidi community appealed to German politicians for help as Isis invaded the Sinjar region of northern Iraq, where the majority of the Yazidi community lived. Isis fighters killed thousands of Yazidi men who would not convert to Islam, and took thousands of women and children captive as sex slaves.
Many Yazidi women have escaped or been rescued, but over 3,000 are still thought to be enslaved.
The United Nations described the attack on the Yazidi minority as genocide.
Yasmin, who was 16 at the time, fled to Mount Sinjar with her family and tens of thousands of others, but she and her sister became separated from their parents and were captured by Isis. They were raped and beaten repeatedly for seven days before they escaped.
When the Yazidi community asked for help, a single German state, Baden-Wuerttemberg, stepped forward, offering to accommodate a 'special quota' of refugee women.
The south western state pledged 95 million euros to fund the project for three years and the state's expert on minority issues, Dr Michael Blume, approached a psychologist specialising in trauma, Dr Jan Ilhan Kizilhan, to run the centre.
A small team of experts including Dr Blume and Dr Kizilhan spent the majority of 2015 visiting refugee camps in northern Iraq and interviewing women and girls to determine who would benefit most from the programme.
Most Yazidi women come from deeply conservative communities in nothern Iraq where they have no access to psychological treatment.
Some women who have been raped are stigmatised and shunned and may become improverished and have to turn to sex work to support themselves, Dr Kizilhan said.
Even in refugee camps, Dr Kizilhan said he had seen at least 60 cases of women killing themelves.
"These women really need specialised treatment. If we don't help them, who will?" he said.
Dr Kizilhan met Yasmin on a visit to the camp where she lived, soon after she set herself on fire. He brought her to Germany for immediate medical treatment, concerned the burns which covered over 80% of her body might be life threatening.
Yasmin said she was happy to leave Iraq.
"I said, of course I want to go there and be safe, and be the old Yasmin," she said, adding that she felt afraid all the time after being captured by Isis.
She also described the night she set herself on fire.
"Their voice was in my ears," she said. "I could hear their voice, I was so scared."
She said she then heard what she thought was a shell exploding nearby.
"I couldn't take it anymore," she said. "And this is what happened to me."
Dr Kizilhan said he met many other people in the camps with shocking stories, including small children.
"It was an evil that I had never seen in my life," he said.
"I'm experienced in trauma, I had already worked with patients from Rwanda, from Bosnia, but this was very different. If you have an eight-year-old girl in front of you and she's saying she was sold eight times by Isis and raped 100 times during 10 months, how can humankind be so evil?"
Dr Kizilhan eventually chose 1,100 women to treat in Germany, aged between four and 56.
He called on other states and countries to follow Baden-Wurttemberg's example.
"It is really an urgent situation," he said, explaining that another 1,200 Yazidi women and girls once held by Isis would also benefit from similar programmes, and so would the thousands believed to remain in captivity, if they are ever released.
The Baden-Wurttemberg project is unique in Germany, where psychologists report most refugees struggle to access psychological treatments.
A study released by the German chamber of psychotherapists (BPtK) last year found that half of refugees who managed to reach Germany were suffering from a psychological illness such as depression or post-traumatic stress disorder (PTSD). 40 per cent had suicidal thoughts or had attempted to kill themselves. But only four per cent of refugees were receiving psychological help in shelters.
"The arriving refugees not only need shelter and food, but medical treatment," the chamber's president Dietrich Munz said. "But almost no mentally-ill refugee receives adequate medical support."
Iraq crisis: Yazidi nightmare on Mount Sinjar

Show all 15
Yasmin is doing well, Dr Kizilhan said, but treating her physical and mental health problems will take years.
In addition to long-term psychotherapy, she will need between five and 15 surgeries for her burns.
She now shares a home with her parents, sister, and two brothers, who joined her in Germany. Her older sister won't talk about what happened to her, but Yasmin wants people to know about her experience.
"It is very important to tell our stories because the world should know what happened to us, so that it doesn't happen again," she said.
"I want to be through the surgeries and be healthy again," Yasmin said. "My family is here and I want to start a new life."
Register for free to continue reading
Registration is a free and easy way to support our truly independent journalism
By registering, you will also enjoy limited access to Premium articles, exclusive newsletters, commenting, and virtual events with our leading journalists
Already have an account? sign in
Register for free to continue reading
Registration is a free and easy way to support our truly independent journalism
By registering, you will also enjoy limited access to Premium articles, exclusive newsletters, commenting, and virtual events with our leading journalists
Already have an account? sign in
Join our new commenting forum
Join thought-provoking conversations, follow other Independent readers and see their replies