Isis claims responsibility for deadly suicide attack on Baghdad gas plant
Three gas storage tanks were set alight during the fighting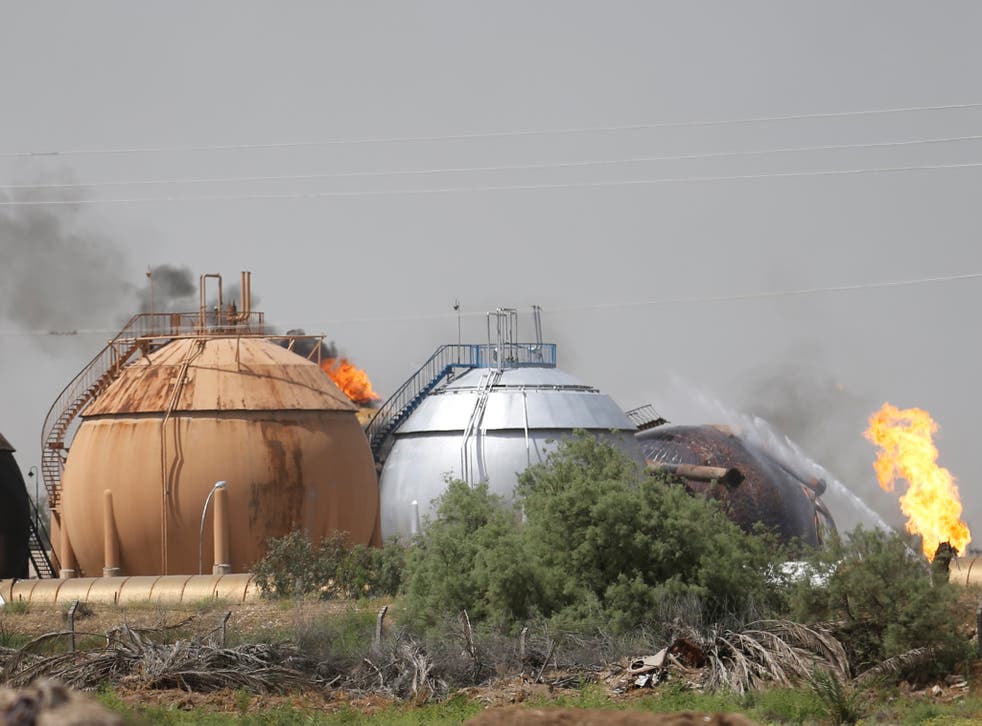 Militants have launched a suicide attack on a natural gas plant near the Iraqi capital Baghdad, killing at least 11 people and injuring a dozen more.
During the assault, which extremist militant group Isis said it had carried out, a car was blown up at the entrance to the facility approximately 20km north of Baghdad.
Six people then entered the site with explosive vests and fought security officers, the Reuters news agency reported. Three gas storage tanks were set on fire during the fighting.
Flames and smoke could be seen billowing from the facility.
More than 100 people have been killed in terrorist attacks over the last week, mostly in a car bomb blast that claimed the lives of 93 people in a market in the Shia Muslim area of Baghdad. Shia Muslims are considered apostates by extremist Sunni groups, like Isis.
The market attack was followed by two car bombs at checkpoints and then a few hours later by a twin suicide bombing attack on a police station
In pictures: Baghdad hit by 24 hours of Isis bombings

Show all 11
Isis has not only focused on Baghdad, with militants attacking a cafe in the northern city of Balad on Thursday. Thirteen Real Madrid fans who were watching a football game at the time were killed.
The attacks come amid a political crisis in the country over changes to the way the government operates.
Baghdadi businessman Hussein Abdullah told the AFP news agency: "Politicians are fighting each other in parliament and government while the people are being killed every day."
Register for free to continue reading
Registration is a free and easy way to support our truly independent journalism
By registering, you will also enjoy limited access to Premium articles, exclusive newsletters, commenting, and virtual events with our leading journalists
Already have an account? sign in
Register for free to continue reading
Registration is a free and easy way to support our truly independent journalism
By registering, you will also enjoy limited access to Premium articles, exclusive newsletters, commenting, and virtual events with our leading journalists
Already have an account? sign in
Join our new commenting forum
Join thought-provoking conversations, follow other Independent readers and see their replies