Isis suspects in Syrian camp raise thousands through online crowdfunding campaign
Fundraising comes amid growing concerns over radicalisation at al-Hol camp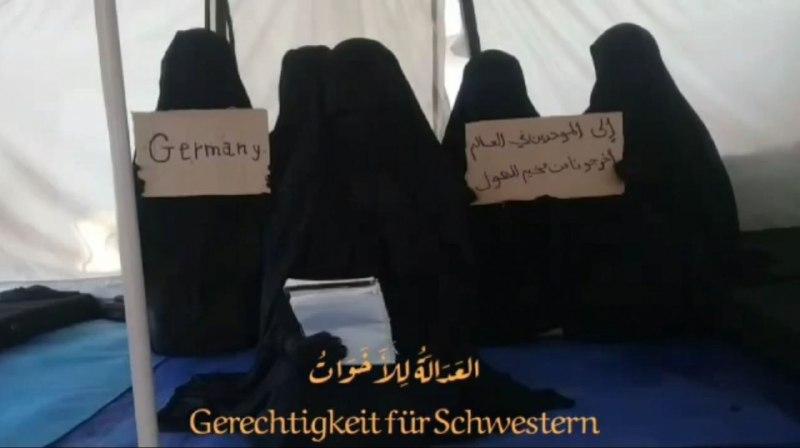 Women detained in a camp for Isis families in Syria have raised thousands of pounds through an online crowdfunding campaign.
The fundraising effort, named "Justice for Sisters", was launched last month with the help of an intermediary in Germany, and appears to be aimed at soliciting donations from sympathisers in Europe.
The campaign comes amid growing concerns over radicalisation at al-Hol camp, which is holding thousands of suspected female Isis members and their children, many of whom are still loyal to the terror group.
Security services in the UK and around the world are concerned that citizens detained in Syria who still hold extremist views will eventually find their way back home. The British government believes that women can pose as significant a risk to national security as returning male fighters.
The Justice for Sisters campaign is one of two known fundraising efforts for women in al-Hol, the other of which is a campaign explicitly aimed at raising funds to pay smugglers to help them escape.
Analysts have warned that deteriorating conditions at the camp could potentially lead to more women seeking to smuggle themselves out, and potentially more fundraising campaigns to help them.
Syria at war: Fleeing the caliphate
Show all 14
The latest effort began last month, when videos and letters written in German, Arabic and English from women claiming to be detained in the camp were posted to an Isis-affiliated channel on the Telegram messaging service.
The women, at least some of whom appear to be European citizens, complained of poor conditions in the camp. One message, written in English, says that "life in the hands of the kuffar [non-believers] is not easy".
"Most of all, we need water, electricity and financial help. Many children and women are malnourished and need fruit, vegetables and milk. Everything is there but many sisters cannot afford it," read one message.
The group shared handwritten letters and photographs purporting to be from inside the camp. In one picture, four women hold signs made out of cardboard to demonstrate the authenticity of the campaign. One sign reads: "Free Prisoners. Your sisters in Al Hol". On another is written: "Germany".
The group shared handwritten letters and photographs purporting to be from inside the camp. In one picture, four women hold signs made out of cardboard, designed to demonstrate the authenticity of the campaign. One sign reads: "Free Prisoners. Your sisters in Al Hol". On another is written simply: "Germany".
Participants shared links to several PayPal MoneyPool accounts, which collectively raised more than €3,000 (£2,600). They may not be the only accounts associated with the campaign, however, and the total amount raised is likely to be higher.
In an apparent effort to avoid being taken down by PayPal, they used coded messages to disguise the aim of the fundraising. One was labelled "Honeymoon in Vienna", while another claimed the funds were to be used for a boxing event.
In a message posted on the encrypted Telegram channel, a member of the group reminded potential donors: "Please don't use Islamic terms in the donation, there's danger of the Account being closed by PayPal."
The campaign was promoted by a man believed to be an administrator for a number of Isis Telegram channels, who also tweeted that the fundraising effort was genuine. The Telegram channel was eventually closed. It is unknown whether the campaign is still ongoing.
The campaign was revealed by the Rojava Information Centre – a collection of international media activists based in northern Syria. The Independent reviewed chat logs and screenshots from the Telegram channels and four PayPal campaigns shared by the group.
Although the group's creators told donors that the funds were for women and children in the camp to buy food, the amount raised could be used to pay smugglers to help them escape.
Similar fundraising campaigns have claimed to have had success in freeing women from al-Hol camp in recent months. One such effort, set up with the explicit aim of freeing women, was launched by al-Qaeda supporters based in Idlib, northern Syria, in January.
The "Free the Female Prisoners" campaign said this week that it had succeeded in freeing its fourth woman from the camp.
In a Telegram post, the campaign announced, "Glad tidings! Your brothers in this campaign have managed – with Allah's help and the collaboration of various parties and money from altruists – to secure the release of an immigrant sister from al-Hol refugee camp and ensure she reached liberated areas", in a reference to rebel-held areas in northern Syria.
It previously released a poster detailing what donors were paying for. It said "$8,000 secures the full release of a sister and the Golden share $4,000 covers half the cost."
While it is unclear exactly how many women have managed to escape the camp, researchers working on the ground in Syria have heard anecdotal evidence that it is occurring.
"It's incredibly expensive and costs thousands of dollars, and therefore very few can afford to leave. But some women have been able to smuggle themselves out of the camp," said Elizabeth Tsurkov, a research fellow at the Forum for Regional Thinking, who recently visited the camp.
"They are desperate to get out. Conditions in the camp are terrible," she added. "For foreign women, it is also a way to escape justice since they may be prosecuted in their home countries."
The campaigns come amid reports of worsening conditions in al-Hol, and warnings from camp authorities that they are in danger of becoming overwhelmed. The camp is currently home to some 70,000 women and children who were detained while leaving the last Isis stronghold in Syria earlier this year.
Many of them were local residents who became trapped within Isis areas by the battle, but the majority were the wives and family members of fighters who showed little sign of abandoning the group.
Al-Hol, and a number of smaller facilities, are controlled by the Syrian Democratic Forces (SDF), a Kurdish and Arab militia backed by the US. Al-Hol is the largest of those camps, and is comprised mostly of women and children from Syria and Iraq, together with around 11,000 foreign citizens.
The deputy commander of the US-led coalition to defeat Isis told The Independent that the potential for radicalisation in the camps was "the biggest long-term strategic risk" in ensuring its total defeat.
In recent weeks, there have been a number of incidents in the camp which have caused alarm. In a video purportedly released by camp residents, the black flag of Isis was hoisted in the camp while women and children can be seen chanting Isis slogans. Guards are frequently attacked by extremists inside the camp.
Conditions at al-Hol were heavily criticised in a Human Rights Watch report released on Tuesday. During three visits to the area reserved for foreign women and children last month, the group "found overflowing latrines, sewage trickling into tattered tents, and residents drinking wash water from tanks containing worms".
The report added: "Young children with skin rashes, emaciated limbs, and swollen bellies sifted through mounds of stinking garbage under a scorching sun or lay limp on tent floors, their bodies dusted with dirt and flies. Children are dying from acute diarrhoea and flu-like infections."
Foreign governments – including the UK – have shown little willingness to take back their citizens from the camps over fears they will pose a significant security risk. There are thought to be at least 19 British women currently at al-Hol and other camps in the area, together with at least 30 of their children.
The plight of British children stuck in Syria made the headlines earlier this year when the infant child of Shamima Begum, named Jarrah, died in the al-Hol camp. The British teenager fled her home in Bethnal Green, London, to join Isis in Syria in 2015.
While access to al-Hol is extremely restricted, the ability of its residents to receive funds sent from abroad presents a new challenge to camp authorities. Money transfer facilities are present in the main part of the camp, and foreign detainees could in theory receive money with the help of a Syrian living in the camp.
Thousands of Syrians flee last Isis territory: Richard Hall meets families fleeing from the once mighty caliphate in its dying days
The use of anonymous messaging apps and online money transfer platforms have been utilised by extremist groups in recent years to avoid detection. The last few years has seen an attempt by these platforms to seek out and remove any fundraising by extremists.
"They are clearly alert to the risk, and PayPal has acquired some heavy hitting people from the security world in the last year or so," according to Tom Keatinge, director of the Centre for Financial Crime and Security Studies at the Royal United Services Institute, a think-tank focused on international defence and security.
"These crowdfunding websites do close out access to extremist actors, but it's very challenging. The bad actors know these places are on the lookout for them, they will do everything they can to cover their tracks," he added.
A British government spokesperson told The Independent: "It is an offence to provide financial assistance to someone where they know or suspect it could be used for terrorist purposes and we work closely with the financial sector who are required to disclose any suspicions they have concerning terrorist financing."
They added that "anyone returning from engaging in the conflict in Syria and Iraq will be investigated by the police to determine if they have committed crimes or pose a threat to our national security".
A spokesperson from PayPal said they could not comment on specific cases, but added: "At PayPal, we take seriously our responsibility to ensure money moves around the world in compliance with laws and regulations. If we find evidence of any violation of our policies or national laws, we will take appropriate action."
Join our commenting forum
Join thought-provoking conversations, follow other Independent readers and see their replies