Syrian rebels attack Dabiq – the town Isis believes will be site of an apocalyptic 'final battle'
Group believes battle between Muslims and infidel Christians at Dabiq will herald Doomsday
Samuel Osborne
Saturday 15 October 2016 11:07 Comments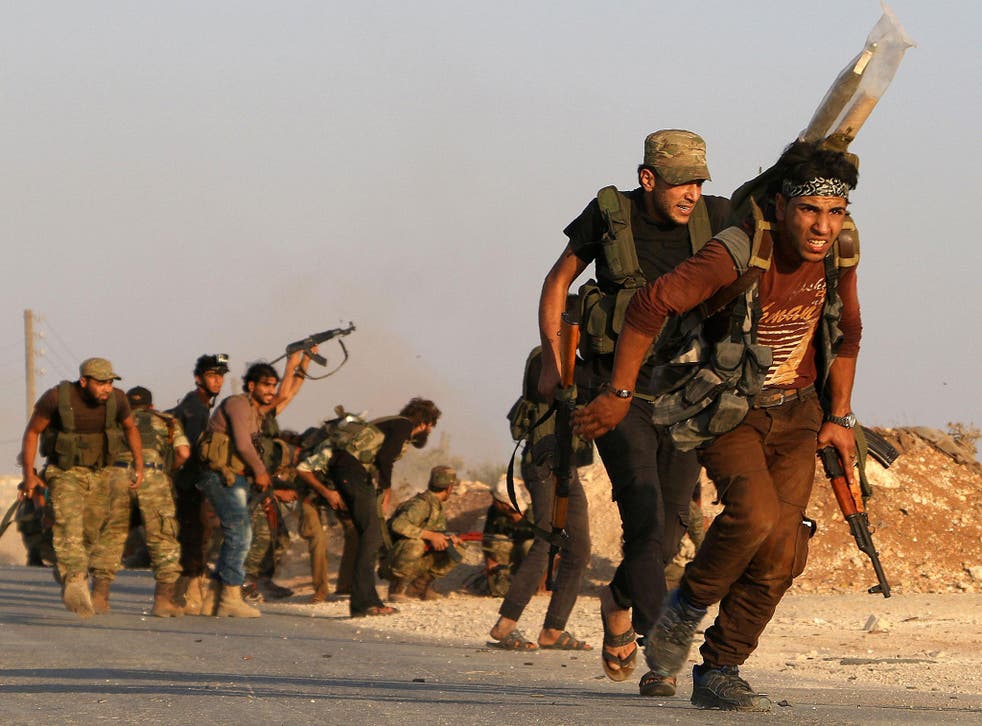 Turkey-backed Syrian rebels have begun their attack on the Isis-held village of Dabiq in northwestern Syria, which the jihadist group believes will be site of an apocalyptic battle.
Dabiq is symbolically important to Isis because it is the site of an apocalyptic Islamic prophesy.
The group says Dabiq will be the site of a final battle between Muslims and infidel Christians heralding Doomsday.
While the village holds little military importance to the so-called Islamic State, its online propaganda magazine takes its name from the town and losing control of it would be a significant ideological blow.
A rebel commander involved in the campaign and the UK-based Syrian Observatory for Human Rights told Reuters the attack began on Saturday.
Turkey-backed rebel commander Colonel Abdul-Razzaq Freiji said participants of the Operation Euphrates Shield are bombarding Dabiq and the nearby town of Soran in preparation for an all-out ground offensive on the two areas.
Isis has stationed around 1,200 of its fighters in the town, according to the Observatory, which has been held by the group since 2014. The surrounding countryside has also been heavily mined.
Turkish military sources said the operation to take Dabiq started earlier this month and that while air and artillery strikes were targeting the village, there were no new developments on the ground.
"The operation for Dabiq started 10 days ago. We started the effort to take control of the region from the south. Daesh [Isis] targets are being hit by Turkish fighter jets and artillery," one of them told Reuters.
In pictures: The rise of Isis

Show all 74
Free Syrian Army (FSA) rebel groups have been pushing into Isis territory in an operation backed by Turkey since 24 August. Several towns near the village have been recaptured in recent days.
Dabiq and another village, Soran, are both in a pocket mostly surrounded by territory gained by the Turkey-backed rebels after recent advances.
In a recent edition of its al-Naba online publication, Isis appeared to step back from their suggestion the battle at Dabiq would herald the apocalypse, saying that the coming battle for Dabiq between it and the Turkey-backed rebels was not the one in the prophesy.
While Euphrates Shield has pushed Isis from its last foothold on Syria's Turkish border, a longer campaign by the US-backed, Kurdish-dominated Syrian Democratic Forces has recaptured swathes of territory from the group since last year.
Isis also faces an expected assault on Iraq's Mosul, the largest and most important city it has held since its lightning advance across huge tracts of Syria and Iraq in the summer of 2014.
Additional reporting by Reuters
Register for free to continue reading
Registration is a free and easy way to support our truly independent journalism
By registering, you will also enjoy limited access to Premium articles, exclusive newsletters, commenting, and virtual events with our leading journalists
Already have an account? sign in
Join our new commenting forum
Join thought-provoking conversations, follow other Independent readers and see their replies