How a 'smarter' Islamic state is quietly taking over swathes of Syria after Isis defeat
Takeover of a university the latest power grab by al-Qaeda offshoot, which is building a caliphate of its own. Richard Hall reports
Wednesday 03 April 2019 16:36 BST
Comments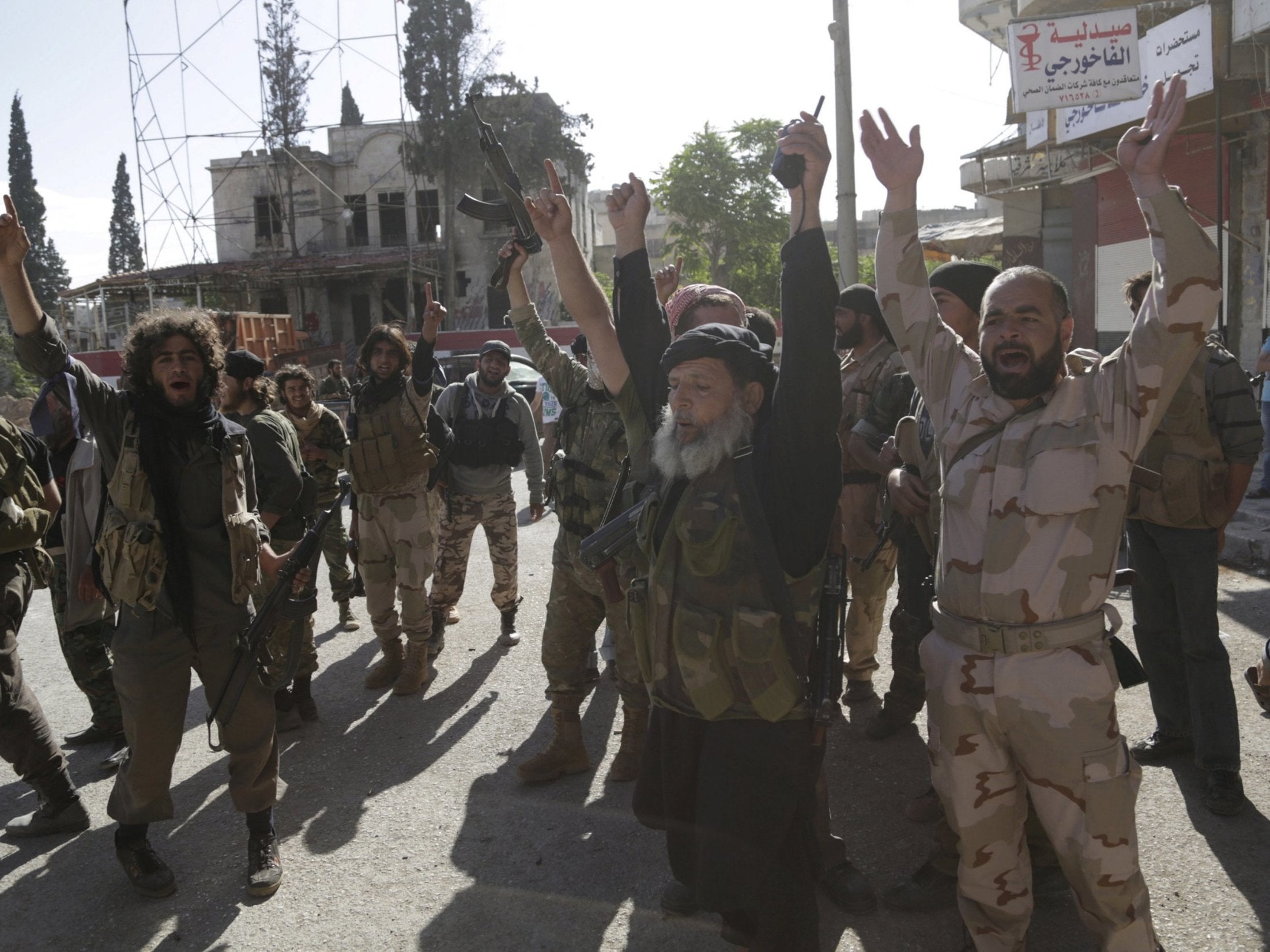 The Isis caliphate is no more. Four years after its fighters captured large swathes of Iraq and Syria and declared its intention to spread jihad around the world, the terror group no longer holds any territory.
But as one extremist Islamic state falls, another one endures. Over the past few years, a group that was formerly part of al-Qaeda has cemented its power in northern Syria and now rules over some 3 million people.
After forcing out rival rebel groups in Idlib earlier this year, Hayat Tahrir al-Sham (HTS) has moved to impose its control over all institutions in the province. A university with more than 6,000 students has become the latest battleground in its quest for dominance.
"They came when we were in the middle of exams and said they would be taking over," says Ahmed, a student at Free Aleppo University, which was shut down last week by the HTS-controlled administration in Idlib.
"We have demonstrated against the decision many times. They arrested many professors at our university to put us under pressure to leave," says Ahmed, who would give only his first name because he fears retribution for speaking out.
Fears for 3m people in rebel-held Idlib ahead of regime offensive
Show all 13
When the group first shuttered the university, its lecturers gave classes outside the building's gates in protest. But the HTS-run salvation government officially closed it down last week.
"I wasn't surprised. The problem is the mentality. Both HTS and Isis worked with Assad to destroy our revolution," he adds.
The takeover of the university is just the latest power grab in the group's slow and steady march to dominance.
Like Isis, Hayat Tahrir al-Sham wants to create an Islamic state of its own. Where Isis aimed to expand quickly and attract the maximum possible attention, HTS has played a long game. It has been pragmatic, and worked with other groups when it needed to. But it has also been opportunistic and crushed its rivals. It has put aside global ambitions to focus on succeeding locally. In doing so, it has pursued a far more durable force than Isis.
The end of the Isis Caliphate: Timeline of their rise and fall
"Hayat Tahrir al-Sham shares the same end state goal as Isis, which is to build a state based on a rigid interpretation of Salafist Sunni Islam. But it has a smarter way to do it," according to Nicholas Heras, a fellow at the Centre for a New American Security think tank.
Its strategy has been "to allow other rebel groups to exist, but like a powerful mafia enterprise, to maintain the ability to use overwhelming and concentrated force on any opponents as they appear."
"HTS also has positioned itself to control the major border points into and out of Idlib, and to control the roadways that serve as the major arteries of the province," he adds. In doing so, it has become "the powerbroker in Idlib and the de facto sovereign power there".
The closure of Free Aleppo University was just another demonstration of that power. The result is that thousands of students have been forced to stop their education and left many facing the prospect of being displaced again.
"Some of the professors and academic figures were arrested. Some students were arrested. It's so dangerous for the education, for the students. Many professors are thinking of leaving Syria now," says one lecturer at the university.
"Thousands of students were so close to achieving what they lost seven or eight years ago have been stopped from completing their studies. Their dreams have collapsed," he adds.
But their problem is part of a larger issue that shows few signs of being resolved. As early as 2017, former US envoy for Syria Brett McGurk called the territory controlled by the group "the largest al-Qaeda safe haven since 9/11". Since then, the group's grip on the province has only got stronger.
Hayat Tahrir al-Sham is a direct descendant of al-Qaeda's Syrian branch, Jabhat al-Nusra. That group was formally established by al-Qaeda's central command and the leadership of the Islamic State of Iraq in January 2012, after the latter sent fighters to join the battle to overthrow Assad and set up an emirate.
Nusra set itself apart in the early days of the Syrian civil war as one of the strongest and most disciplined groups among the dozens of rebel factions. Its strength on the battlefield won it supporters among the Syrian people, despite espousing an ideology that was more extreme than most Syrians were used to.
In 2013, the group split in two. Isis leader Abu Bakr al-Baghdadi tried to merge his group with Nusra, under his command. Nusra's leader, Abu Mohammad al-Julani, rejected the merger and announced his loyalty to al-Qaeda.
Nusra initially focused on immersing itself within the Syrian opposition to ensure its survival. But after a time, it crowded out more moderate groups and came to dominate it.
The US intervened against Nusra before it tackled Isis, carrying out airstrikes against the group's leadership as early as September 2014. Russia's entry into Syria in 2015 saw it take control of the skies over Idlib, and together with the Syrian government has surrounded the province.
In January 2017, a coalition of Islamist Sunni anti-government armed groups was formed and named Hayat Tahrir al-Sham. It was led by the group previously known as Jabhat al-Nusra, which has since claimed to have cut ties from Al Qaeda.
International pressure has prevented an all-out assault on Idlib by Russian and Syrian government forces. But that peace is fragile. Clashes between the two sides have been increasing in recent months.
Hundreds have died in Syrian government and Russian attacks on "de-escalation" zones in Idlib over the past few months, and some 40,000 civilians have fled their homes to escape the fighting.
Many in Idlib now fear a government offensive is imminent. A long-threatened plan to recapture the province was put on hold last year following an agreement between Russia and Turkey, which has military forces on the ground there and backs a number of rebel groups in the area.
Turkey, which has deployed military forces on the ground in Idlib to deter an all-out government offensive, had hoped the deal would allow time to reach an agreement between Damascus and the remaining rebel holdouts. But since then the extremist Hayat Tahrir al-Sham has increased its control of the province, dimming those hopes.
In January this year, Human Rights Watch said it had documented "scores" of arbitrary arrests by the group across its area of control, including 11 cases in which people were detained "apparently because of their peaceful work documenting abuses or protesting the group's rule".
"Hayat Tahrir al-Sham's crackdown on perceived opposition to their rule mirrors some of the same oppressive tactics used by the Syrian government," says Lama Fakih, deputy Middle East director at Human Rights Watch. "There is no legitimate excuse for rounding up opponents and arbitrarily detaining and torturing them."
The group is also accused of being behind the assassinations of several well known activists, including Raed Fares and Hamoud Jneid, who ran a local radio station where they spoke out against the militants.
Charles Lister, a senior fellow at the Middle East Institute, says the threat of an attack by government forces has been used by HTS to justify its crackdown.
"The key here is how HTS appears to be responding to increased external threats – rather than pulling back and seeking to appease, HTS's strategy has been to double down in a form of aggressive deterrence. Sadly, civilians have too often been the victim of these power gambles, as the group overreaches or simply chooses to crack down to demonstrate its authority once again," he says.
"For HTS, everything is about maintaining a complex balance – balancing relations with the local population; with rival opposition groups; with al-Qaeda loyalists; with Turkey; and with Russia. HTS cannot afford to burn all its bridges with the local civilian population, but likewise, it cannot afford to demonstrate weakness or vulnerability to any party, including civilians. It must simultaneously appear as both defender and governor, while also deterring enemies beyond its borders from attacking."
In seeking its goal of creating an Islamic state of its own, HTS has come to represent to many living under its control something similar to the regime it hopes to replace. And while it is unlikely to succeed in creating its own caliphate, Idlib's three million residents remain caught between Russian bombing and Hayat Tahrir al-Sham's prisons. That may be precisely how the group planned it.
"HTS is becoming so woven into Idlib that the only way that its power can end is if it is ripped out of Idlib, which will lead to many dead and displaced," says Heras.
Join our commenting forum
Join thought-provoking conversations, follow other Independent readers and see their replies