Isis in Syria: Influential tribal leaders hold secret talks with Western powers and Gulf states over possibility of mobilising against militants
Exclusive: The aim is to create a Syrian equivalent to the 'Sunni Awakening' that turned the tide against al-Qaeda during the US occupation of Iraq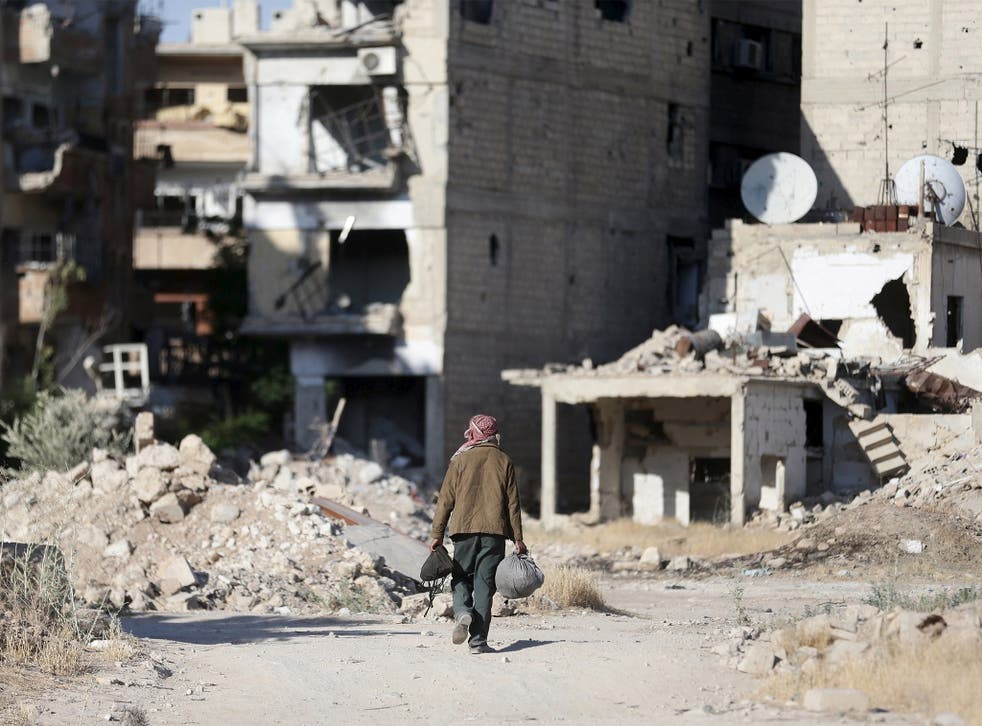 They have seen their people slaughtered, their communities terrorised and dispossessed and their ancestral lands laid to waste. Now, some of the most influential tribal leaders in Syria have come together to try to end the savage civil war that has afflicted their country.
They have formed a new tribal coalition and, The Independent can reveal, held secret talks with the UN's special envoy for Syria and the US General who is Barack Obama's representative to the rebels fighting against the Assad regime.
The tribal chiefs have also met ministers from Saudi Arabia and the Gulf states, key financial and military backers of the opposition, and are soon to meet King Abdullah of Jordan.
These leaders wield enormous influence and command the fealty of hundreds of thousands of Syrians through the extended clan system. At confidential talks to which they were invited with the UN envoy, Staffan de Mistura, two weeks ago in Geneva, 11 of their leaders were asked to help reach a peace deal with the Syrian government.
Early last month, some of the same leaders were privately urged by General John Allen, the former US commander of Western forces in Afghanistan given the task of creating a viable fighting force from the moderate rebels, to enlist their tribal fighters in the battle against Isis. The US aim is to create a Syrian equivalent to the previous "Sunni Awakening" that turned the tide against al-Qaeda during the US occupation of Iraq.
But in exclusive interviews after they had formed a new "Coalition of Syrian Tribes and Clans", the leaders said they were determined not to be manipulated by outside powers; foreign interference, they maintained, had been among the main causes of their country's current malaise.
The US is not the only such foreign power, and others have different agendas. Saudi Arabia and the Gulf states want them to confront President Bashar al-Assad as well as taking on Isis. Jordan has declared that it is willing to host training camps for moderate rebels, but the leaders say they will decide how to respond after they have met the King.
Their aim, said Ayid al-Utayfi, head of the Utayfiat clan of the Annaza tribe, was to form a united front for planning strategy evolving from talks with General Allen, so that a common goal could be developed that does not pit one tribe against another. "From now on we want such discussions to take place with the Coalition we have formed," he said. "That way there will be much less chance of divisions and suspicion."
The tribal chiefs are not part of the exiled Syrian National Coalition, the Western-recognised government in exile, nor were they seeking to supplant it. Some of them still live in Syria but most have been driven into exile in neighbouring countries, either by the regime or by Isis.
Sunni tribal dynamics are a key factor in the course of the Syrian conflict. The leaders in Geneva were all opponents of the regime, but others, often from the same tribes, are loyal to President Bashar al-Assad. Brothers and cousins can be on opposing sides but are often in regular touch with one another. Isis, too, has been assiduous in using the system, courting tribes and clans which had been marginalised by Syria's ruling Baath party or whose members were angered at the exploitation of natural resources in their area, such as oil and gas, by the regime.
The leaders share suspicion of American intentions. "I spoke to General Allen's people myself when they asked our fighters to join in the fight against Daesh [Isis]," Sheikh Ayid said. "The fact is that we have been fighting Daesh by ourselves and we had to do it without American support, without air cover.
"Why are they providing air cover to the Kurds and Shia fighters in Iraq and not us? We told the Americans that we will consider what they have to say when they give us equal treatment. But the dialogue will continue, we have not turned our backs on the Americans."
He himself had lived in Palmyra, the town in which ancient artefacts are now being destroyed by Isis and its main Roman amphitheatre used as a place of murder with children as executioners. "Of course we want to protect our heritage, and Daesh will be pushed back," he said. "But why didn't the Americans bomb them when they made the advance on Palmyra? There has been no consultation with us on what they have been doing."
Timeline: The emergence of Isis

Show all 40
More generally, the sheikhs complain that the Americans are asking the tribes to fight Isis while only paying lip service to taking on the Assad regime. They maintain this is because Barack Obama needs the Iranians, President Assad's main backers, to help fight Isis in Iraq, and is also seeking to make nuclear agreement with Tehran.
"The US has to save Iraq after the mess they created there and President Obama wants the nuclear deal with Iran as his legacy," said Alsheikh Irhiman Kawan Ajbara, of the Ougaidat tribe. "The ones being sacrificed for this are the Syrians. But it was the sectarian policies of the Nouri al-Maliki [the former Shia Prime Minister of Iraq] and Assad which has created this terrible situation.
"My fellow sheikhs and I have the support of around 300,000 people each from our direct tribes, and many more from the extended clans and sub-clans. We realise that we have a responsibility to act. If the regime wants peace then of course we will discuss that, but we have seen no sign that the regime is serious about talking."
The leaders are critical of the UN envoy, Mr de Mistura, for being slow to condemn regime atrocities, such the use of barrel-bombs, and say that local truces he has arranged have been used by the regime to seize back territory. He was also criticised for saying that Assad was still "part of the solution" in Syria, something regarded as anathema by the opposition.
Sheikh Hashem Sulaiman al-Jarba said: "We were disappointed with what Mr de Mistura had to say and with what he has done so far. He needs to be much tougher with the regime."
However their newly-elected chairman, Sheikh Saleh al Tahan al-Nuaimi, head of a tribe based near Israel in south-west Syria, said progress had been made.
"He was 60 per cent better in his understanding of the situation after talking to us, and I am sure the other 40 per cent will follow. We can come to an agreement on when conditions are right for negotiations with the regime, though that time has not been reached yet."
Join our new commenting forum
Join thought-provoking conversations, follow other Independent readers and see their replies