US-led coalition admits killing at least 484 civilians in air strikes against Isis in Syria and Iraq
Vast majority of incidents in Mosul, as UN raises alarm about potential war crimes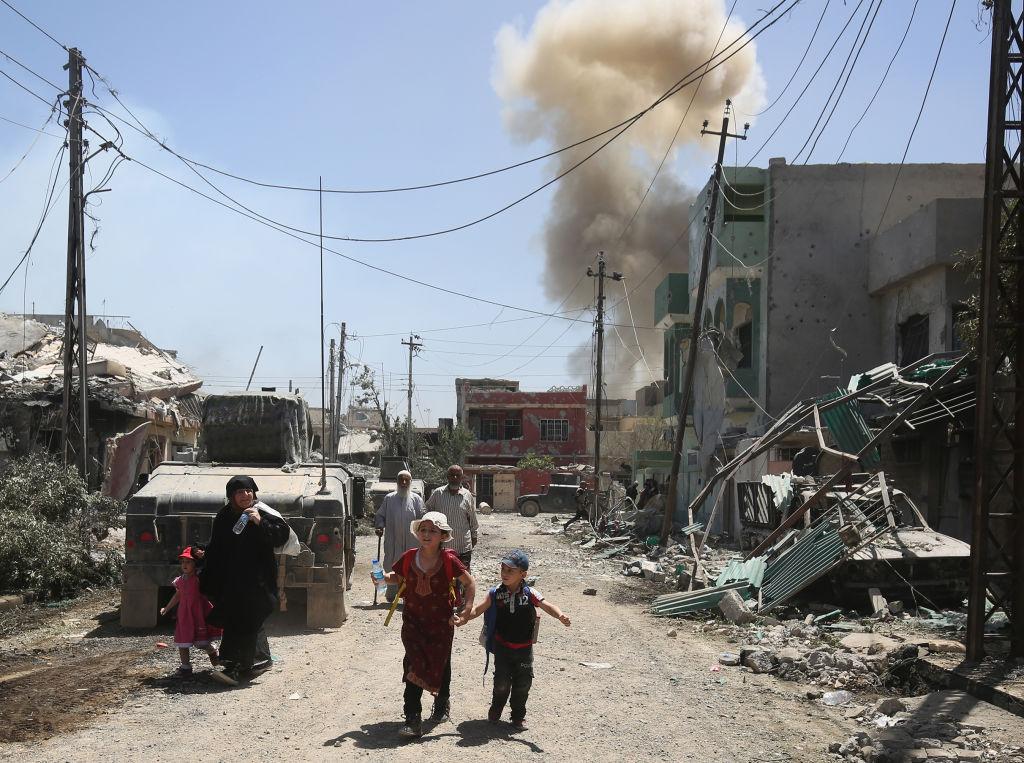 The US-led coalition has admitted killing at least 484 civilians in air strikes in Syria and Iraq amid concern over potential war crimes in the battle to drive Isis out of Mosul.
US Central Command (CentCom) insisted it "takes extraordinary efforts to strike military targets in a manner that minimises the risk of civilian casualties" but claimed: "In some incidents casualties are unavoidable."
The number of men, women and children killed in the campaign has rocketed since the start of the Mosul offensive, seeing densely populated residential districts pummelled by air strikes and artillery.
Independent monitors say the death toll since the bombing campaign against Isis started in 2014 runs into the thousands, with transparency project Airwars claiming at least 3,800 civilians have been killed.
In a monthly report, CentCom said investigations finished into 16 incidents that resulted in 132 "unintentional civilian deaths", bringing the total to 484.
The deadliest single strike was the attack on Mosul's al-Jadida district on 17 March, where at at least 101 men, women and children were killed.
Officials said commanders were unaware families were in a building with Isis snipers on the roof, claiming a single bomb struck the militants and ignited explosives previously planted inside.
"Catastrophic" rates of civilian casualties caused the Mosul offensive to be temporarily paused following the bombing, which has been contested by local residents who claim there were no additional explosives inside the building.
All but four of the confirmed incidents took place inside Mosul, seeing civilians killed in air strikes targeting Isis car bombs, mortar positions, command posts, headquarters, vehicles and fighters through March and April.
In many of the incidents, CentCom said civilians "entered the target area after the munition was released".
Elsewhere in Iraq, one civilian died and another was injured in a strike on a lorry filled with explosives near al-Qaim in February, and three civilians were killed in bombing that hit an Isis car bomb factory near Tal Afar in April.
In Syria, a civilian was killed near the city of Deir Ezzor during a strike on Isis construction equipment in January, while another died during an attack on Isis oil tankers near Raqqa, "after warning shots were fired to dislodge drivers from the vehicles" in February.
In pictures: Mosul offensive
Show all 40
"In each of the incidents, the investigation assessed that all feasible precautions were taken and the decision to strike complied with the law of armed conflict," a spokesperson for CentCom said, adding that civilian casualties had occurred in less than 1 per cent of more than 21,000 strikes over the past three years.
With the vast majority of strikes hitting territory under Isis control, the true number of casualties and the victims' identities are difficult to verify.
​CentCom admitted it was unable to "fully investigate all reports of possible civilian casualties using traditional investigative methods, such as interviewing witnesses and examining the site", saying it instead interviews pilots, reviews strike footage and analyses information from partner forces, governments, humanitarian groups, traditional and social media.
CentCom's figure could rise as 38 incidents remain under investigation, mainly around Mosul and Isis' Syrian stronghold of Raqqa – where a major offensive will soon begin – while 31 reports were found to be non-credible in April.
Its civilian casualties report covers air and ground artillery strikes conducted as part of the Coalition Air Tasking Order, but campaigners have accused foreign members of the US-led coalition of seeking to conceal civilian deaths by excluding them from Pentagon statistics.
Britain is among the countries claiming it has killed no civilians, despite carrying out hundreds of air strikes in Syria and Iraq as part of Operation Inherent Resolve, the name given to the military intervention against Isis.
The United Nations warned that civilians are "increasingly paying the price" as bombing escalates and terrorists seek bloody retribution.
In one incident, militants slit the throats of eight men accused of giving coordinates to the US-led coalition at the site of bombardment in their town in Syria, where there have been retaliatory attacks on government-held villages.
The UN High Commissioner for Human Rights, Zeid Ra'ad al-Hussein, condemned Isis for using civilians as human shields but cautioned: "It is far from clear that the fundamental principles of international law are being properly adhered to by all the various air forces engaged in the fight against Isis.
"The same civilians who are suffering indiscriminate shelling and summary executions by Isis are also falling victim to the escalating air strikes."
He urged all states operating air forces in the Syrian civil war, including the US, UK, Russia and Syria, to distinguish between legitimate military targets and civilians as required under international law.
"Just because Isis holds an area does not mean less care can be taken," Mr Hussein added.
"Civilians should always be protected, whether they are in areas controlled by Isis or by any other party."
Join our commenting forum
Join thought-provoking conversations, follow other Independent readers and see their replies