British man who fought against Isis in Syria is arrested by Turkish authorities over 'terrorism'
Exclusive: Joe Robinson, who fought with the Kurdish YPG, was detained while holidaying on the Aegean Sea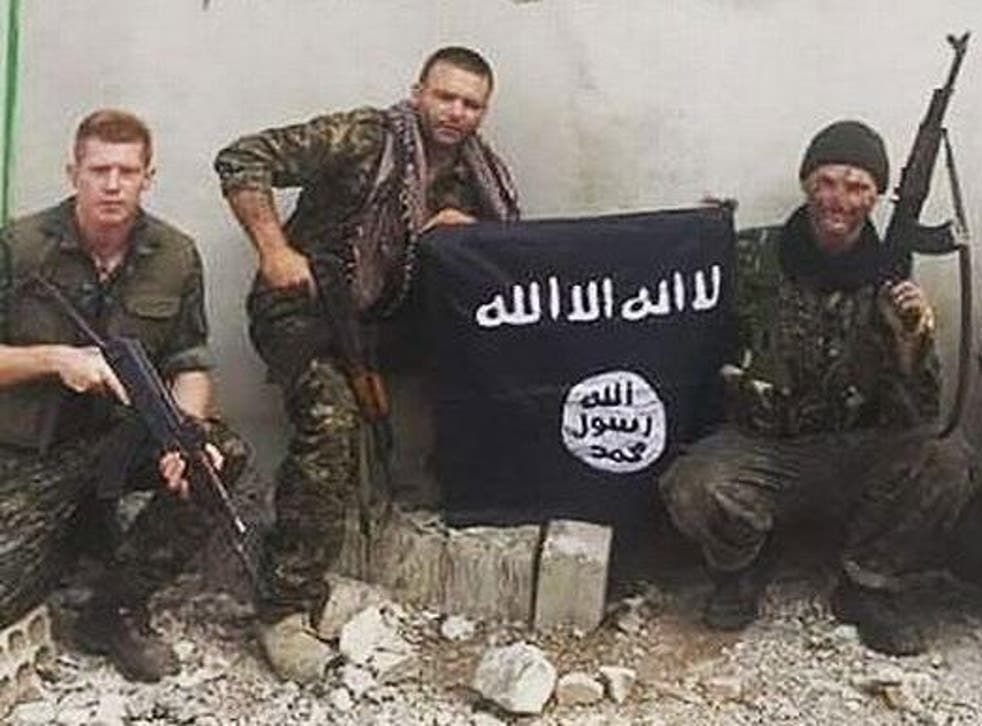 A former British soldier who fought against Isis in Syria alongside a Kurdish militia faces terrorism charges after being arrested in Turkey while on holiday with his girlfriend, The Independent has learned.
Joe Robinson was detained at the resort of Didim, on the Aegean coast, with Mira Rojkan, a Bulgarian living in Leeds, along with her mother who had accompanied them. Both the women were subsequently released, but the Turkish authorities have stated that 23 year old Mr Robinson, from Accrington in Lancashire, is being investigated in connection with terrorist offences and is likely to face charges.
The government of Recep Tayyep Erdogan is engaged in an increasingly violent conflict with Kurdish separatists in Turkey and Syria, and thousands of Kurdish nationals are in jail under a state of emergency. Mr Robinson has served with the YPG, the armed wing of the Syrian Kurdish Democratic Union Party which has repeatedly clashed with Turkish troops operating in Turkey, as well as its allies in the PKK in Turkey.
Liberated from Isis, women burn their burqas and men shave off their beards
Ms Rojkan, who studied law at Leeds University, and had carried out voluntary work for Amnesty International, was questioned by Turkish officials on whether she had any links with subversive groups. The country director for Amnesty International was arrested earlier this month in Istanbul with a number of other human rights workers. More than 50,000 people remain in prison in the country in the crackdown which followed last year's failed coup.
On Friday night Ms Rojkan said: "It was just awful. They said someone had sent them an email saying we were terrorists about to do something in Turkey. They wouldn't say who it was from. It is absolute nonsense. They arrested us on the beach while we were vacationing with my mother."
Mr Robinson, who had served with the Duke of Lancaster's Regiment in Afghanistan in 2012, decided to join in the fight against Isis in summer 2015. He was arrested at Manchester airport on suspicion of terrorism offences when he returned five months later. He was subsequently on police bail for 10 months but no charges were laid against him.
The Foreign Office in London said: "We are aware of the detention of a British national in Turkey and have requested consular access". A Turkish defence official said: "The YPG is the PKK by another name and the PKK is considered a terrorist organisation not just by us but the UK as well. Of course anyone fighting with a terrorist organisation will be investigated and there is a strong possibility of charges and a long sentence if he is found guilty". Mr Robinson's Facebook page, which charts his journey from the Bulgarian capital, Sofia, to Didim with Ms Rojkan, was closed down yesterday.
Mr Robinson had said he had joined the fight against Isis after being deeply affected by atrocities committed by the Islamist extremists and the tipping point was the beach attack at Sousse in Tunisia in which 39 British tourists were murdered in June 2015. The following day he left the country after telling his family that he was going to join the Foreign Legion in France.
In pictures: Isis' weapons factories

Show all 11
Last year, in newspaper interviews, he spoke about his motivation for joining the YPG and his reaction to being detained by British police. "I went to Syria to fight against terrorism and to protect the civilians caught up in the fighting who had to endure the most horrendous experience and living conditions imaginable" he said.
"I love my country, I am ex-military and served my country in the Afghanistan conflict, but to be accused of terrorism by the same country I fought for for simply trying to help those in need has been extremely harrowing and made me think twice about the morals of the government in the UK. If they charge me with terrorism then the British government should be charged with terrorism because the YPG is a coalition ally."
Mr Robinson said he had befriended a YPG supporter on Facebook and made his way to join the Kurdish group after meeting up with two Americans heading for the same destination during a stopover in Germany. He said " I am very proud to fight Isis. I have no regret, whatever may happen as a result."
Join our new commenting forum
Join thought-provoking conversations, follow other Independent readers and see their replies