Isis training video shows militants kicking each other in groin, playing leapfrog
Isis claims the training camp was in the Afghanistan-Pakistan region, where they are hoping to set up splinter cells
Samuel Osborne
Sunday 29 November 2015 09:21 Comments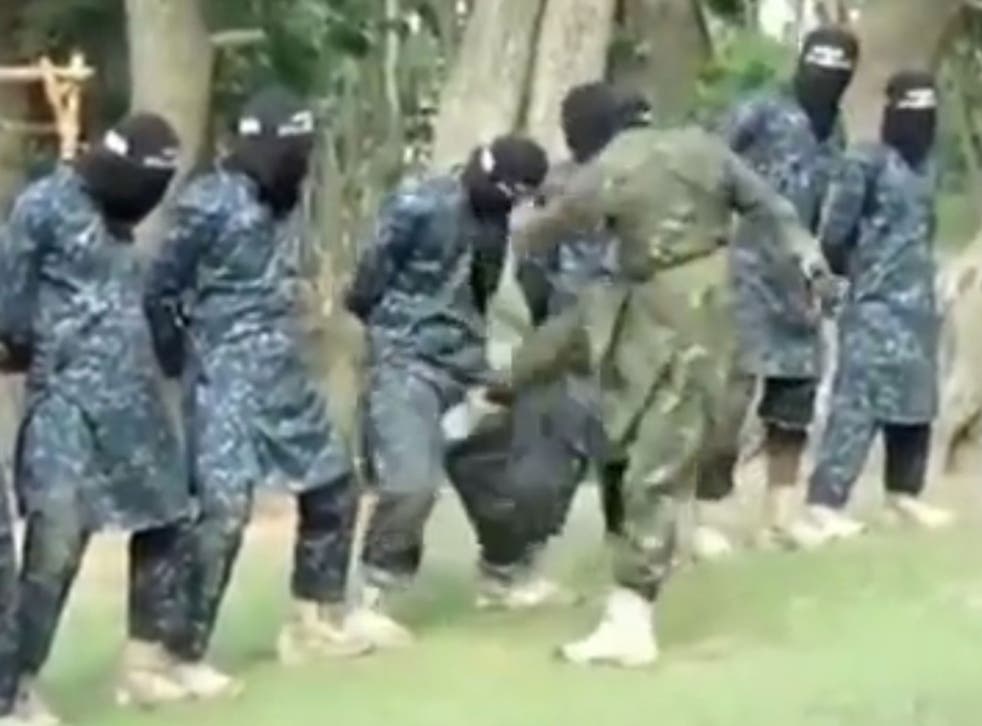 A newly released Isis training video shows jihadist fighters kicking each other in the groin and playing leapfrog.
The 14-minute footage gives insights into the militant group's training regime.
Around 20 recruits can be seen performing training exercises in a grassy clearing in a wooded area.
Each fighter is dressed in identical navy blue and grey camouflage, with black bandanas and headbands styled after the Isis flag.
As well as doing sit-ups with boulders on their chest, the recruits are kicked in their thighs and groins by an instructor, presumably to improve their endurance.
In one clip, fighters train with Kalashnikov assault rifles.
They can later be seen hopping over each other's shoulders.
Absent from the video are the burning hoops Isis-fighters have leapt through in previous videos.
The group claims the training camp in the video was in the Afghanistan-Pakistan region, where they are hoping to set up splinter cells.
Previous propaganda videos released by Isis have shown terror training camps for children dubbed jihadist "cubs".
They have also shown the "School of Jihad", where young boys are educated in Islamist ideology.
Register for free to continue reading
Registration is a free and easy way to support our truly independent journalism
By registering, you will also enjoy limited access to Premium articles, exclusive newsletters, commenting, and virtual events with our leading journalists
Already have an account? sign in
Register for free to continue reading
Registration is a free and easy way to support our truly independent journalism
By registering, you will also enjoy limited access to Premium articles, exclusive newsletters, commenting, and virtual events with our leading journalists
Already have an account? sign in
Join our new commenting forum
Join thought-provoking conversations, follow other Independent readers and see their replies