Tunnels, knives and riots: This Syrian camp holding thousands of Isis wives is at breaking point
A Turkish invasion of northern Syria has led to a collapse in security at a camp holding the foreign wives of Isis fighters. Richard Hall reports from Al Hol camp
Monday 09 December 2019 11:35 GMT
Comments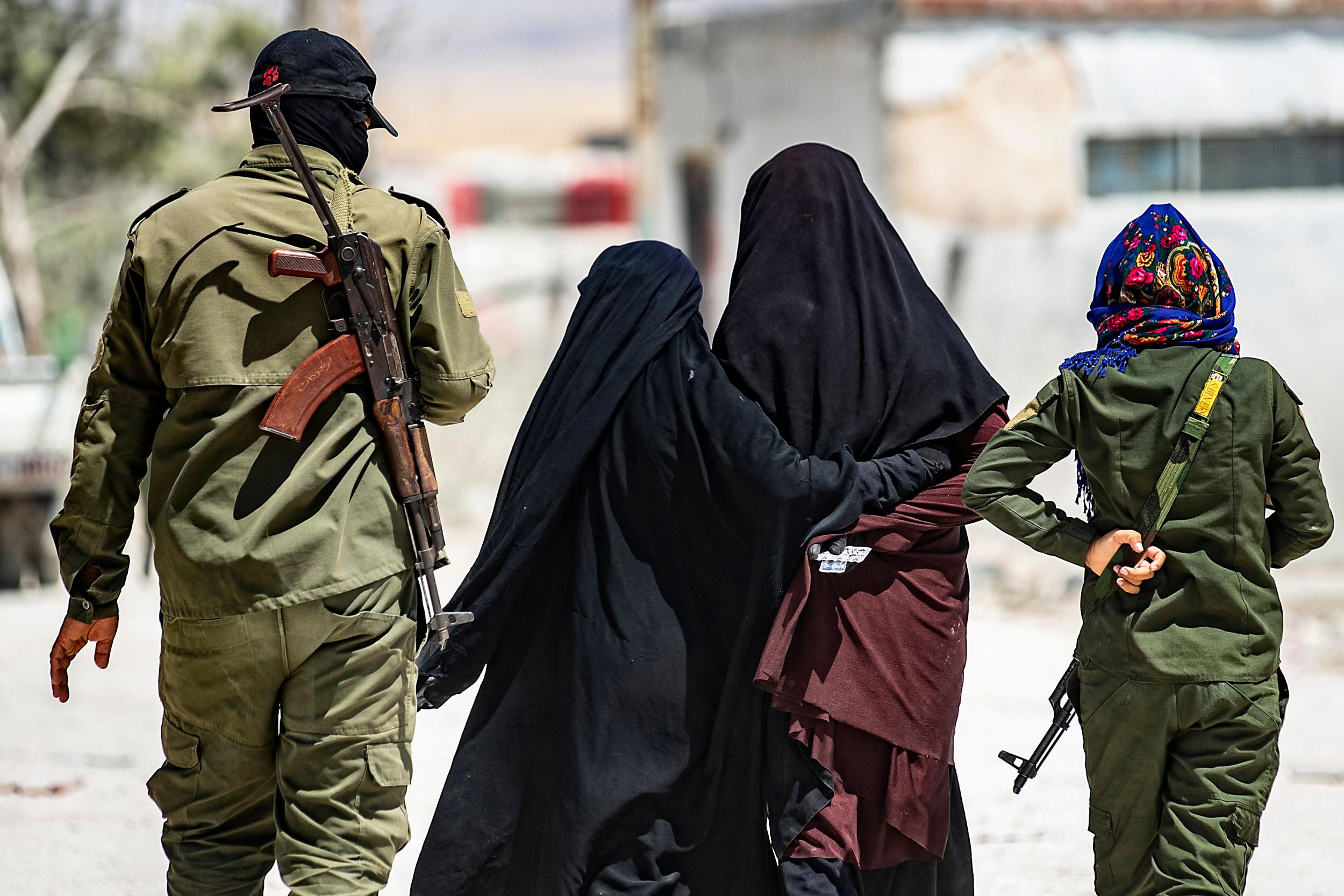 The quiet of Al Hol camp in the afternoon belies the trouble that lurks beneath the surface.
In an annex of this sprawling facility reserved for some 10,000 foreign wives and children of Isis fighters from around the world, a mutiny is brewing.
Over the past few months, sharia courts have been set up by camp detainees still loyal to the terror group. There has been a spate of killings targeting those who do not abide by the laws set by those courts. Riots have broken out and guards have been attacked with knives.
Nearly nine months after the defeat of the Isis caliphate, camp authorities believe the terror state lives on in this barren settlement in the plains of northeast Syria.
The women detained here came from more than 50 countries to join Isis. Most of those countries, including Britain, are refusing to repatriate their citizens due to security fears.
The ability of the camp authorities to contain the thousands of radicalised Isis members is waning. Guards here say they have foiled more than a hundred escape attempts in recent months – they even found a tunnel inside one of the tents, stretching towards the perimeter fence. Some managed to escape the camp only to be recaptured.
Syria at war: Fleeing the caliphate
Show all 14
But they cannot stop them all. It is now an open secret among camp residents that there are ways out of Al Hol.
"We can see it happening all the time. Everybody knows," says Umm Abdullah, a 37-year-old detainee from Khartoum, Sudan.
"You'll see one group disappear, and figure out that they left. Then another group will go. Good luck to them."
The escapes are believed to have been facilitated by smugglers working on behalf of Isis, which has publicly announced its intention to free the women of Al Hol. According to Umm Abdullah, smugglers charge up to $15,000 (£11,000).
The Kurdish-led Syrian Democratic Forces (SDF), which controls the camp, frequently appeals to the international community for help with the mammoth task of holding so many Isis sympathisers. That task has been made even more difficult in recent months due to a battle that is taking place further north.
The Turkish army launched its operation alongside an alliance of Syrian rebel groups to introduce a "safe zone" along the border, free from the presence of the SDF, which it considers a terror group for its links to Kurdish separatists inside Turkey.
The SDF says it has had to send half of its guards to fight the Turkish invasion, weakening its hold over the camp's detainees. The guards do not know exactly how many have escaped, but they know it is happening.
"Turkey's attack has given detainees hope," says Elul Rizgar, a 30-year-old camp guard. "Attacks have gone up, tents have been burnt and there have been riots. They have tried to kill the guards many times."
Rizgar, a veteran of the fight against Isis and a member of the Kurdish women's militia, the YPJ, was one of those on the receiving end of such attacks.
"We had information that a Tunisian woman was in contact with Isis," she says, recounting the incident. "When we searched her tent she had a whole map of the camp. But she denied everything.
"When I was alone in the room with her and another woman, they attacked me. I tried to get my weapon away so they couldn't use it. This is happening more often."
The lack of resources has allowed sleeper cells inside the camp to rebuild, according to Rizgar.
"They have been leaning how to build mines, and we discovered a tunnel in the camp," she says. "It wasn't so long but it was deep and it was going towards the fence."
"It's a small Islamic State here," she adds.
As in the Isis "caliphate", residents have been appointed as morality police to enforce sharia law in the Al Hol camp. They have carried out brutal killings of other residents. Camp authorities say there have been nine killings in recent months.
Among them was a 14-year-old Azerbaijani girl who was strangled to death for not covering her face. Syrian teenager Abdullah Ahmad was also stabbed to death for allegedly collaborating with the Kurdish guards.
Somewhere in the endless rows of tents are thought to be at least 18 British women, and their children too. British officials say that the women of Isis, the so-called Isis wives, pose just as much as a threat as the men. British courts would have a much harder time prosecuting them because of a lack of evidence of specific crimes. As a result, European countries, especially the UK, have been reluctant to bring their citizens home.
Instead, they are content to let them linger in this camp, a decision that many say will only fuel radicalisation.
In an interview with The Independent earlier this year, Major General Alexus Grynkewich, deputy commander of the international coalition to defeat Isis, described the potential for radicalisation in the camps as "the biggest long-term strategic risk" in the fight against the jihadi group, outside of ongoing military operations.
"You can almost see the next generation of Isis in those camps today. It's a tremendous problem," he said.
Thousands of Syrians flee last Isis territory: Richard Hall meets families fleeing from the once mighty caliphate in its dying days
Elizabeth Tsurkov, a fellow at the Foreign Policy Research Institute who has done extensive research inside the camp, says part of the reason for the spate of security incidents in recent months was a fear among the women over the return of Syrian government control of the area. While that fear has subsided somewhat in recent weeks, there are long-term implications of leaving the camp's residents to fester.
"Maintaining the status quo comes at a cost. The advent of winter will make conditions even harsher in the camp and the pullout of some humanitarian organisations from the camp has deteriorated service provision," she says.
"The longer the families are kept in the camp, the longer children are brought up in an environment that is almost entirely radical and are not provided with mental health support, the harder it will be to reverse the damage done to their psyches," she adds.
The foreign section is just one part of the giant Al Hol displacement camp. The facility is populated by the last holdouts of the Isis caliphate – those who fled the terror state in its final days, when it was close to defeat and surrounded in the village of Baghouz.
Many of those who were rounded up as they left the village were local residents who became trapped within Isis areas by the battle, but the majority were the wives and family members of fighters, who showed little sign of abandoning the group.
They fled Baghouz in terrible health, having faced months under siege, with little food. Nearly 400 children died on their way to Al Hol, or shortly after arriving, of preventable diseases.
Most are now being held in detention camps. Al Hol is the largest of those camps, with a population of more than 70,000 people – mostly women and children from Syria and Iraq. This foreign annex holds around 10,000 foreign citizens.
Nearly half of its inhabitants are children under the age of 12. They will have been subjected to years of indoctrination under Isis, which may be continuing to this day.
Walking around the camp, it is hard to get a sense of how widespread the extremist ideology remains. Most of the women move quickly away from reporters when approached. Children throw stones at foreign visitors and shout Isis slogans, but most stay out of view.
Those who do talk, those who likely represent the more moderate of the camp's residents, rarely show any contrition for the crimes carried out by the group they joined.
"I would like to see it come back," says Umm Ramaseh, 25-year-old from Morocco, of the Isis caliphate that once stretched across Iraq and Syria.
"We came here because we wanted Sharia. The rule of Allah. I want to live under Islamic law. I had nothing to do with fighting, but my husband was a fighter.
"I know that Isis did oppression to people, and even to their own people. We know they chopped heads from spies. But spies caused a lot of problems in Islamic State. They put these sim cards in the houses and then the airplanes bomb and children die, and people die."
She adds: "But the Islamic State started new, it made a lot of mistakes, but it can get better."
Jessica, who came from Trinidad and Tobago with her husband and now lives in the camp with her three children, says she was "looking for something different".
"I wanted to get away from the nakedness and craziness and all the other things we weren't accustomed to. I don't regret it, that's what I did."
Like many others who are now stranded here, she wants to return home with her children. She claims that not everyone in the camp is waiting for the return of Isis.
"There are people in the camp who are very extreme, some are not so much," she says. "Everyone has their own intentions. But how do you get the world to understand that? They look at us like they are crazy people, which is understandable, I understand that also."
She is not the only one restless to leave this place. Rizgar, the SDF fighter and camp guard, is eager to join her comrades in the fight against Turkey.
"It is not our duty to protect the foreigners. No one wants to hold terrorists in their countries, but countries should come and take their citizens," she says. "We are suffering because of them.
"What is better for me, to protect my people on the frontline, or protect these people?"
Join our commenting forum
Join thought-provoking conversations, follow other Independent readers and see their replies