Yazidi women rescued from Isis captivity nine months after fall of caliphate
Rescues raise hopes for thousands of missing Yazidi women, captured five years ago
Richard Hall
Beirut
Wednesday 04 December 2019 16:47 Comments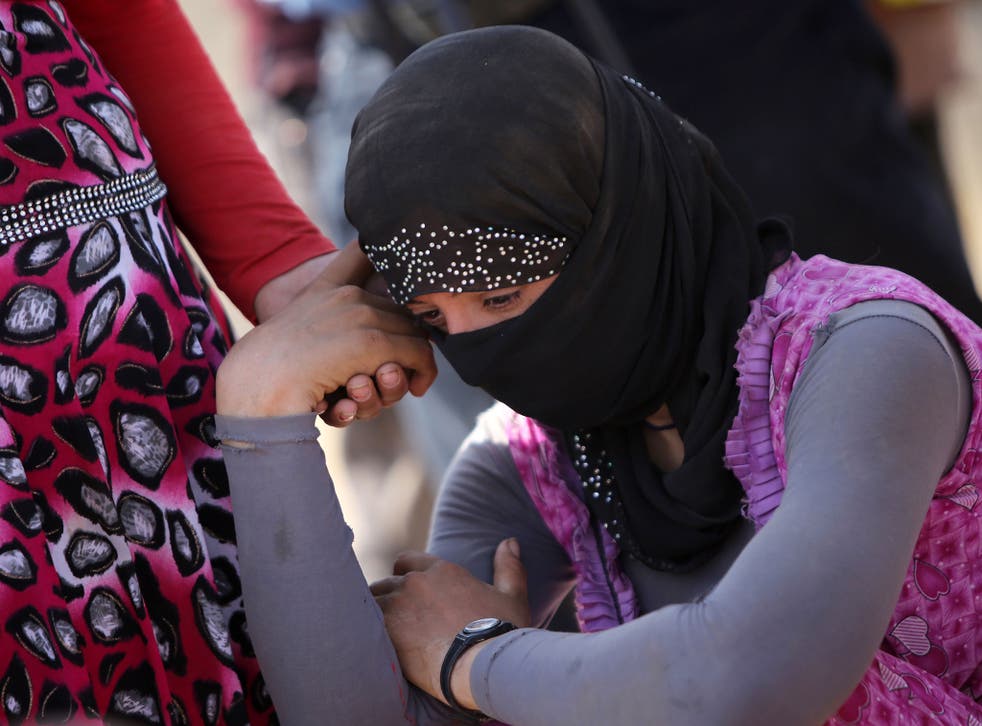 Three Yazidi women have been rescued from Isis captivity in Iraq and Syria this week, some nine months after the defeat of the terror group's caliphate.
A 17-year-old woman was found by Iraqi security forces in a desert hideout used by the jihadi group near the city of Ramadi, and two others aged 16 and 20 were found in separate locations in Syria, according to local media.
The discoveries will fuel hopes that some of the thousands of Yazidi women still missing may yet be found in the territory formerly held by Isis.
The three women have been held in captivity by the terror group since 2014, when Isis fighters carried out a murderous rampage against the Yazidi people in their traditional homeland of Sinjar in northern Iraq.
The attackers killed thousands, and took more than 6,000 women and children as slaves. The group officially sanctioned the rape and enslavement of Yazidi women.
The United Nations would later declare the attack on Sinjar, and the ongoing enslavement, a genocide.
In the final days of the caliphate, which fell earlier this year, dozens of Yazidis were discovered during a mass exodus of women and children from Isis territory.
Around 3,000 women remain missing, and Yazidi tribal leaders have repeatedly called for more efforts to be made to discover their fate. Some believe many Yazidi women may still be held captive and are too afraid to come forward or try to escape.
While the Isis caliphate has been fully recaptured, the group still remains a threat in both Iraq and Syria. It now operates as an underground insurgent organisation with sleeper cells active in both countries to carry out attacks.
The Yazidi woman rescued near Ramadi was only 12 years old when she was abducted by Isis from the village of Kocho, in Sinjar, according to the Rudaw news outlet. Local officials said she would soon return to Sinjar to be with her family.
In Syria, one woman was reportedly found in al-Hol camp, which is home to tens of thousands of family members of Isis fighters. The third was found in the city of Manbij.
The two women have already been reunited with their families in Sinjar, according to the local Arta FM radio station.
Yazidi groups have consistently complained that not enough has been done to find and rescue the thousands of women who were taken.
"It is outrageous that thousands of our women and girls have been missing since 2014 and it has not been a priority or main area of discussion with the global coalition and the international community," Pari Ibrahim, founder of the Free Yazidi Foundation, told The Independent earlier this year.
"We can understand that this is a war zone situation, and because of that, maybe locating and rescuing the women is very difficult. So we understand and appreciate that. But we still feel that this should have been considered important and necessary. Instead, our women and girls were being tortured in excruciating agony, month after month, year after year."
Register for free to continue reading
Registration is a free and easy way to support our truly independent journalism
By registering, you will also enjoy limited access to Premium articles, exclusive newsletters, commenting, and virtual events with our leading journalists
Already have an account? sign in
Join our new commenting forum
Join thought-provoking conversations, follow other Independent readers and see their replies