Israel accused of 'reckless' use of white phosphorus
Human Rights Watch says military should be held to account for 'war crimes'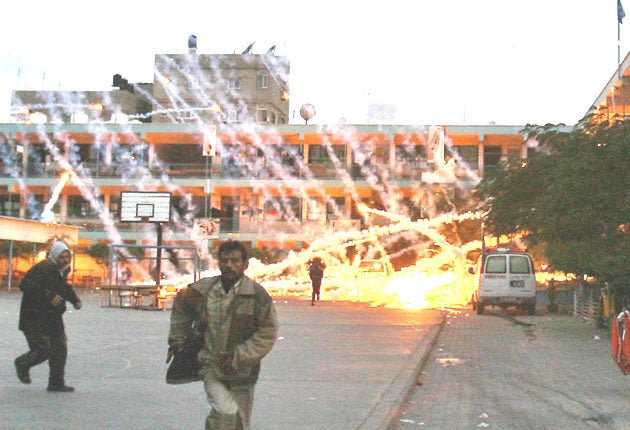 Israel "deliberately and recklessly" fired white phosphorus shells in densely populated areas of Gaza in an "indiscriminate" way that killed and wounded civilians and is "evidence of war crimes", Human Rights Watch said yesterday.
A detailed report from the agency says the Israeli military knew white phosphorus's lethal capacity to cause intense burns, and that the firing of it in airburst artillery shells revealed a "pattern or policy of conduct rather than incidental or accidental usage."
And the 71-page report reveals that the 15 January firing of phosphorus shells on or near the UN Relief and Works Agency compound in Gaza City, where 700 civilians were sheltering, continued for at least two hours after UN staff began making repeated telephone calls to the Israeli military asking it to stop. The shells caused an estimated $10m (£6.8m) damage and led to burning for 12 days after the attack.
While documenting cases in which civilians were burnt to death or severely hurt and civilian property set on fire, the report says that the majority of civilian deaths were not caused by white phosphorus but from other "missiles, bombs, heavy artillery, tank shells, and small arms fire".
But the HRW researcher Fred Abrams said senior Israeli commanders should be held account for its usage in violation of international law requirements to avoid civilian harm. While the use of phosphorus is permitted to hide troop movements in non-civilian areas, Mr Abrams added: "In Gaza, the Israeli military didn't just use white phosphorus in open areas as a screen for its troops. It fired white phosphorus repeatedly over densely populated areas, even when its troops weren't in the area and safe smoke shells were available. As a result, civilians needlessly suffered and died."
An airburst 155mm artillery shell spreads 116 white phosphorus wedges in a range of 125 metres, which ignites on contact with oxygen and burns at up to 1,500 degrees Fahrenheit until nothing is left or the oxygen supply is cut. When it comes into contact with skin it creates intense and persistent burns, sometimes down to the bone. HRW says an Israeli health ministry report produced during the 22-day military offensive in Gaza said that burns to 10 per cent of the body can be fatal because of damage to the liver, kidneys and heart.
Witness reports taken by HRW describe the killing of a bank manager, his wife and two of their children in their car during white phosphorus shelling in the Tel-el-Hawa area of Gaza City on 15 January. According to a Palestinian journalist, Fathi Sabbah, whose own building in the area came under attack, when ambulances came to take the bodies away from the partly melted car, they found "only a few bones" of the four occupants. The report quotes another witness, Muhammad Al Sharif, as saying that a piece of a skull and some teeth lay beside the car.
The report also highlights, among a total of six cases documented in which 12 civilians were killed, the deaths of five members of the Abu Halima family and the wounding of five others. These included the badly burnt Sabah Abu Halima 44, who lost three of her children, in the Siyafa village on the edge of Atatra in northern Gaza when a phosphorus-bearing artillery shell hit their house. The accounts given to HRW broadly corroborate those given by family members to journalists in Gaza in January, including from The Independent, which found one of the sour-smelling phosphorus wedges outside the house.
HRW says it found no evidence that Hamas was using civilians as human shields in the area at the time of the cases of white phosphorus shelling it examined. And it called on the United States, as the main supplier to Israel of white phosphorus munitions to investigate whether they were used in violation of international law. HRW says that of the white phosphorus shells it found in Gaza were made in 1989 Thiokol Aerospace, which was running the Louisiana Army Ammunition Plant at the time
The IDF orginally denied that it was using white phosphorus but later said that it use was in accordance with international law. The HRW report says that the apparently frequent use in cases where there were not even ground troops in the area "strongly suggests that the IDF [Israel Defence Forces] was not using the munition for its obscurant qualities but rather for its incendiary effect".
That was contested in an Israel Defence Forces response issued last night which said that the military's investigation of its use of "smoke shells" was close to conclusion and that based on the findings at this stage "it was already possible to conclude that the IDF's use of them was "in accordance with international law".
It added that claims of indiscriminate use were "baseless". It added that the third protocol on certain conventional weapons – though not signed by Israel – did not class "weapons used for screening" as "incendiary"
A burning issue: Weapon or flare?
White phosphorus, known as Willy Pete, ignites when exposed to the air. It is not banned by international law so long as it is used to create a smoke screen to protect advancing troops or to illuminate targets. However, the 1980 Geneva treaty stipulates it must not be used as an offensive weapon in densely-populated areas, where civilians can sustain severe burns.
Join our commenting forum
Join thought-provoking conversations, follow other Independent readers and see their replies