Israel taking money from asylum seekers' pay then returning it when they leave country
'They want us to leave the country. They want to break our spirit.'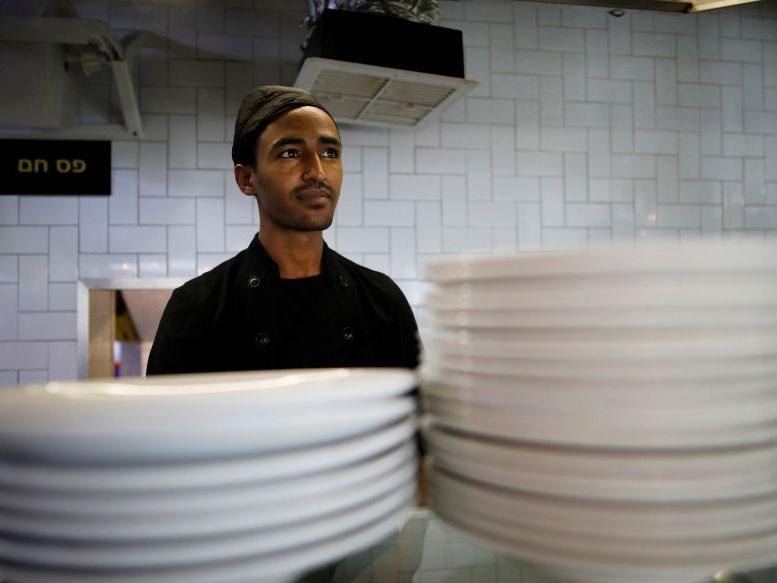 Israel is taking 20 per cent of asylum seekers' wages and returning it when they leave the country, in a new tax that has led to accusations of racism.
Launched in May the toll only applies to Eritrean and Sudanese migrants who came into the country illegally and hold temporary visas.
Businesspeople employing the migrants – often in unskilled jobs in the hospitality and services sector – are also subject to a 16 per cent tax.
Both deductions are then placed in a fund which migrants' can claim if they leave Israel.
Trump: Israelis and Palestinians are 'reaching for peace'
The government says this is for their own good.
But many asylum seekers, who have fled war and persecution, say the measure is discriminatory.
Most endured a perilous journey through Egypt's unstable Sinai peninsula to get to Israel. Some were detained in the desert.
"They want us to leave the country," said Teklit Michael, a 29-year-old Eritrean national. "They want to break our spirit."
The measure was a "calculated plan to make sure that people understand they are not welcome," according to Ruvi Ziegler, a refugee law expert and researcher at the Israel Democracy Institute.
Aid workers have also claimed that some migrant workers were sacked because of the new tax, while some employers had begun paying workers off the books to avoid the charge.
Officials said it will take some months before they know how many migrants leave because of the tax.
There are an estimated 45,000 Africans currently seeking asylum in Israel, but only a very small amount are recognised refugees.
World news in pictures
Show all 50
Between 2009 and 2013, just 0.15 per cent were granted asylum, according to the Hotline for Refugees and Migrants campaign group.
Many face widespread discrimination within Israel, including violent attacks.
In 2015, the Israeli government introduced a scheme to pay African asylum seekers $3,500 (£2,700) to leave the country.
Mr Netanyahu said the move was intended to "protect the Jewish and democratic character" of Israel.
Join our commenting forum
Join thought-provoking conversations, follow other Independent readers and see their replies