Golden statue of Benjamin Netanyahu toppled after causing stir
Sculptor Itay Zalait says he wants to open a debate around Israeli attitudes to Mr Netanyahu with the 'King Bibi' work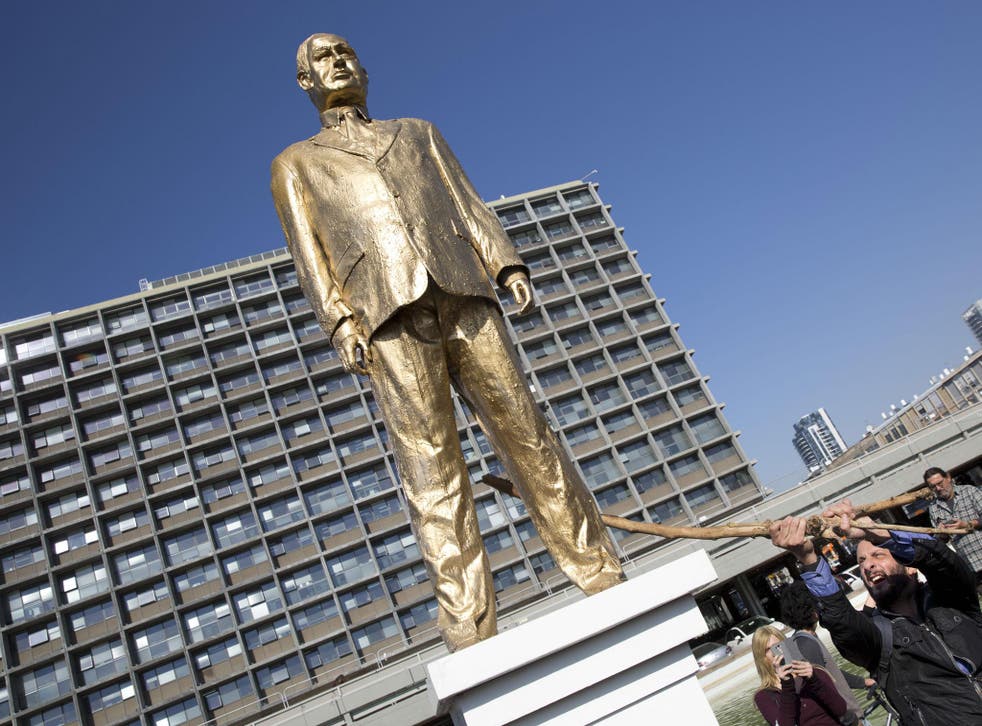 A gilded statue of Prime Minister Benjamin Netanyahu dubbed "King Bibi" by its creator stirred condemnation from Israel's culture minister and was toppled by an onlooker after a brief public appearance.
Sculptor Itay Zalait said he had placed the four metre (13 foot) tall effigy of Mr Netanyahu on a white pedestal in Tel Aviv's Rabin Square, adjacent to city hall, to test the limits of freedom of expression in Israel.
The Israeli government and artists have been locked in a so-called "culture war" over steps by Culture Minister Miri Regev to withhold state funds from institutions that do not express loyalty to the state.

Posting on Facebook after the guerrilla-art sculpture was erected, Ms Regev called it an "expression of hatred towards Netanyahu". Tel Aviv municipal officials ordered Mr Zalait to remove the statue and said they would haul it away and fine him if he refused.
Morning commuters gathered to snap photos and debate whether the statue should be seen as mockery of Mr Netanyahu or homage to the right-wing Prime Minister, now in his fourth term and known by his childhood nickname "Bibi".
One woman bowed down in jest in front of the figure, which Mr Zalait said took him three months to sculpt.
"In the social media, there have been tens of thousands of comments about 'King Bibi'," Mr Zalait said on Army Radio when asked what had inspired him to create the statue.
"I simply made it a reality and put it in its deserved place, the Kings of Israel Square," he said, referring to the plaza's name before it was changed to honour Yitzhak Rabin, the Israeli Prime Minister assassinated by an ultra-nationalist Jew during a peace rally there in 1995.
Mr Zalait said he wanted to open a debate around Israeli attitudes to Mr Netanyahu by placing the statue at the spot where Mr Rabin was killed.
"The reaction of the Israelis interests me, from those who say they would like to see more statues like that on the squares of the country to those who want to demolish it with a hammer," he told AFP.
Passer-by Nina Lobel said the portrayal of Mr Netanyahu was "horrendous" and that the artist had wanted "to show him as a dictator".
Shortly after city hall's deadline for the statue's removal expired, a man in the crowd pushed "King Bibi" to the ground. It made a soft "clink" as it hit the pavement and the artist, who seemed amused, took it away, still in one piece, on a truck.
Mr Netanyahu and his wife Sara have drawn frequent headlines over whether state funds have been used to support what critics decry as their lavish lifestyle. Both have denied any misuse of taxpayers' money.
Reuters
Join our new commenting forum
Join thought-provoking conversations, follow other Independent readers and see their replies