Israel bombards Gaza hitting prime minister's HQ and shoots down Palestinian rocket fired at Tel Aviv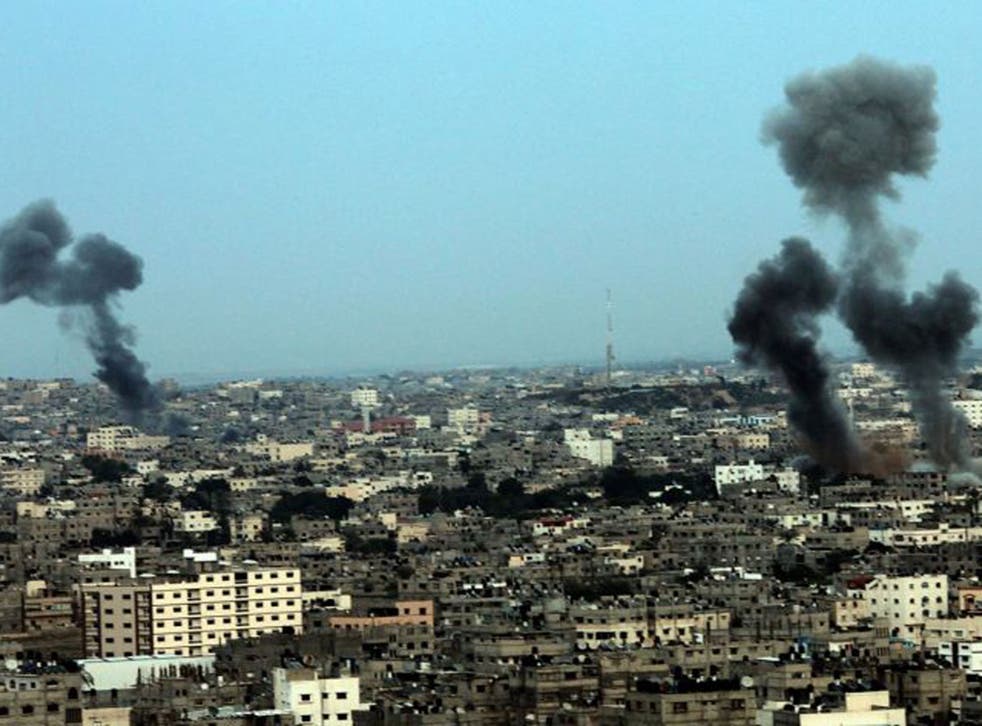 Israel bombarded the Hamas-ruled Gaza Strip with about 300 airstrikes today and shot down a Palestinian rocket fired at Tel Aviv, the military said, widening a blistering assault to include the Hamas prime minister's headquarters, a police compound and a vast network of smuggling tunnels.
The intensified airstrikes came as Egyptian-led attempts to broker a cease-fire and end Israel's four-day-old Gaza offensive gained momentum. The leaders of Hamas and two key allies, Qatar and Turkey, were in Cairo for talks with Egyptian officials, and the Arab League was holding an emergency meeting.
The White House said President Barack Obama was also in touch with the Egyptian and Turkish leaders. The US has solidly backed Israel so far.
Speaking on Air Force One, deputy national security adviser Ben Rhodes said that the White House believes Israel "has the right to defend itself" against attack and that the Israelis will make their own decisions about their "military tactics and operations."
The Israeli attacks, which Gaza officials say left 12 dead, came as Palestinian militants fired more than 100 rockets toward Israel, including two aimed at the commercial and cultural center of Tel Aviv. Rocket attacks on Tel Aviv and Jerusalem this week mark the first time Gaza militants have managed to fire rockets toward the cities, raising the stakes in the confrontation.
The widened scope of targets brings the scale of fighting closer to that of the war the two groups waged four years ago. Hamas was badly bruised during that conflict, but has since restocked its arsenal with more and better weapons, and has been under pressure from smaller, more militant groups to prove its commitment to fighting Israel.
In a psychological boost for the Israelis, a sophisticated Israeli rocket-defense system known as "Iron Dome" knocked down one of the rockets headed toward Tel Aviv, eliciting cheers from relieved residents huddled in fear after air raid sirens sounded in the city.
Associated Press video showed a plume of smoke rising from a rocket-defense battery deployed near the city, followed by a burst of light overhead. The smoke trailed the intercepting missile.
Police said a second rocket also targeted Tel Aviv. It was not clear where it landed or whether it was shot down. No injuries were reported. It was the third straight day the city was targeted.
Israel says the Iron Dome system has shot down some 250 incoming rockets, most of them in southern Israel near Gaza.
Today's interception was the first time Iron Dome has been deployed in Tel Aviv. The battery was a new upgraded version that was only activated on Saturday, two months ahead of schedule, officials said.
Israel opened the offensive on Wednesday with a surprising airstrike that killed Hamas' military chief, then attacked dozens of rocket launchers and storage sites. It says the offensive is meant to halt months of rocket fire on southern Israel.
While Israel claims to be inflicting heavy damage on Gaza's Hamas rulers, it has failed to slow the rocket fire. In all, 42 Palestinians, including 13 civilians, have been killed, while three Israeli civilians have died.
Maj. Gen. Tal Russo, Israel's southern commander, said that Hamas had suffered a tough blow.
"Most of their capabilities have been destroyed," he told reporters. Asked whether Israel is ready to send ground troops into Gaza, he said: "Absolutely."
Israel has authorized the call-up of as many as 75,000 reservists ahead of a possible ground operation. Dozens of armored vehicles have massed along the border with Gaza in recent days.
Israeli officials say they have not yet decided whether to send in ground troops, a decision that would almost certainly lead to heavy casualties on both sides.
In today's fighting, Israeli aircraft pounded militants' weapons storage facilities and underground rocket launching sites, and went after rocket squads more aggressively.
Militants, undaunted, have unleashed some 500 rockets against the Jewish state.
Hamas claims that Israeli intelligence is based on a network of collaborators in Gaza. Officials said two Palestinians have been executed by Hamas' military wing for allegedly providing Israel with sensitive information. One man was shot twice in the head. Another body was tossed into a garbage bin with a gunshot wound to the head.
The violence has threatened the Mideast with a new war. At the same time, revolts against entrenched regional regimes have opened up new possibilities for Hamas. Islamists across the Mideast have been strengthened, bringing newfound recognition to Hamas, which had previously been shunned by the international community because of its refusal to recognize Israel and renounce violence.
A high-level Tunisian delegation, led by Foreign Minister Rafik Abdessalem, drove that point home with a visit to Gaza on Saturday. The foreign minister's first stop was the still-smoldering ruins of the three-story office building of Gaza's prime minister, Ismail Haniyeh of Hamas.
"Israel has to understand that there is an international law and it has to respect the international law to stop the aggression against the Palestinian people," Abdessalem told the AP during a tour of Gaza's main hospital. He said his country was doing whatever it can to promote a cease-fire, but did not elaborate.
It was the first official Tunisian visit since Hamas's violent 2007 takeover of the territory. The West Bank is governed by Palestinian President Mahmoud Abbas. Egypt's prime minister visited Gaza on Friday and a Moroccan delegation was due on Sunday, following a landmark visit by Qatar's leader last month.
Israel had been incrementally expanding its operation beyond military targets but before dawn on Saturday it ramped that up dramatically, hitting Hamas symbols of power.
Israeli defense officials, speaking on condition of anonymity to discuss confidential decisions, said military chief Lt. Gen. Benny Gantz personally ordered the scope of the airstrikes to be increased.
Haniyeh's three-story office building was flattened by an airstrike that blew out windows in neighboring homes. He was not inside the building at the time.
Another airstrike brought down the three-story home of a Hamas commander in the Jebaliya refugee camp near Gaza City, critically wounding him and injuring other residents of the building, medics said.
Missiles smashed into two small security facilities and the massive Hamas police headquarters in Gaza City, setting off a huge blaze that engulfed nearby houses and civilian cars parked outside, the Interior Ministry reported. No one was inside the buildings.
The Interior Ministry said a government compound was also hit while devout Muslims streamed to the area for early morning prayers, although no casualties were reported.
Air attacks knocked out five electricity transformers, cutting off power to more than 400,000 people in southern Gaza, according to the Gaza electricity distribution company. People switched on backup generators for limited electrical supplies.
In southern Gaza, aircraft went after underground tunnels militants use to smuggle in weapons and other contraband from Egypt, residents reported. A huge explosion in the area sent buildings shuddering in the Egyptian city of El-Arish, 45 kilometers (30 miles) away, an Associated Press correspondent there reported.
The Israeli military said more than 950 targets have been struck since the operation began.
Today, more than 120 rockets slammed into Israel, causing damage to houses. About 10 Israelis were injured lightly, among dozens of others wounded since the start of the operation.
Despite the violence, Egyptian-led diplomacy was underway to bring an end to the fighting.
Egyptian President Mohammed Morsi was meeting the leaders of Turkey and Qatar today as well as Hamas leader Khaled Meshal to discuss details of a proposed cease-fire.
The Arab League also met to consider sending its chief Nabil Elaraby and a team of foreign ministers to Gaza in the coming two days to assess the situation and respond to humanitarian needs there, according to a draft memorandum obtained by the AP.
Turkish Prime Minister Recep Tayyip Erdogan told reporters today that during discussions with Obama and Russian President Vladimir Putin late Friday, he suggested that Turkey, Egypt, the United States and Russia help broker a simultaneous cease-fire between Israel and Hamas.
"It would be good if we could work on it rapidly to solve the matter within 24 hours, because the death toll is mounting," he said.
Register for free to continue reading
Registration is a free and easy way to support our truly independent journalism
By registering, you will also enjoy limited access to Premium articles, exclusive newsletters, commenting, and virtual events with our leading journalists
Already have an account? sign in
Register for free to continue reading
Registration is a free and easy way to support our truly independent journalism
By registering, you will also enjoy limited access to Premium articles, exclusive newsletters, commenting, and virtual events with our leading journalists
Already have an account? sign in
Join our new commenting forum
Join thought-provoking conversations, follow other Independent readers and see their replies