Eritrean man shot and beaten to death after being mistaken for 'terrorist' in Israeli bus station attack
One Israeli was killed and 10 injured after the assailant opened fire in the bus station in Beersheba
Alexandra Sims
Monday 19 October 2015 09:25 Comments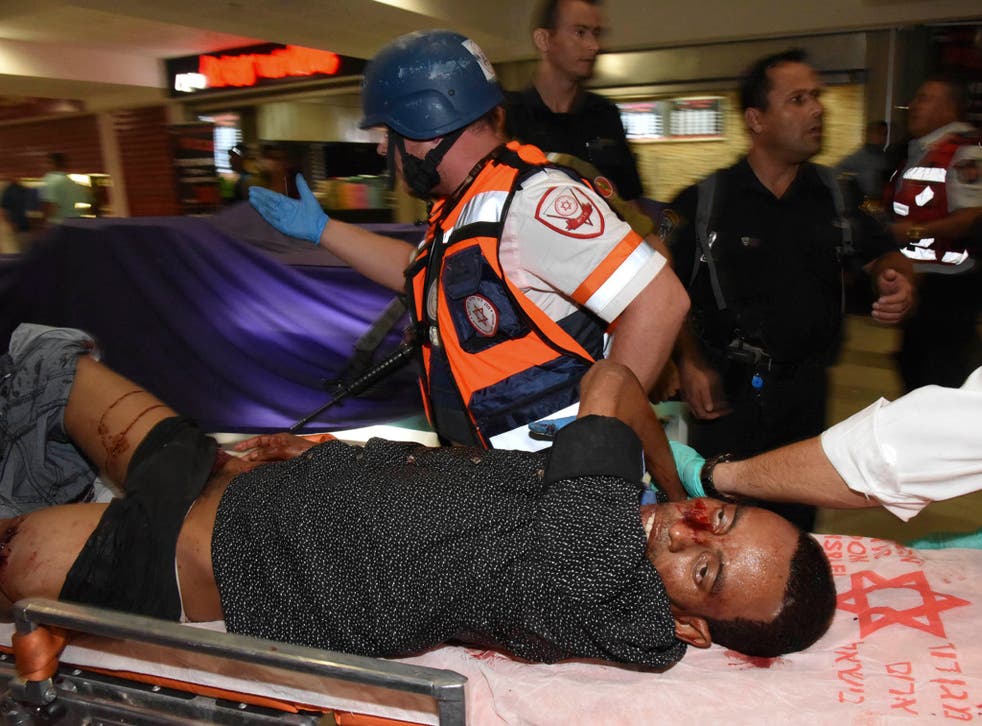 An innocent bystander has died after being shot by a security guard and then beaten by a mob who thought he was the accomplice of an attacker who launched a deadly attack on a bus station.
One Israeli was killed and 10 injured after the assailant, armed with a gun and a knife, opened fire in a bus station in Beersheba, Israel.
The Arab attacker was shot and killed in the incident on Sunday evening.
Following the initial gunfire, a security guard shot the Eritrean asylum seeker, who is believed to have been standing near the scene.
Video footage shows him being beaten by an angry crowd who incorrectly believed he was an accomplice.
He then has a bench thrown at him and is pinned to the ground with a chair. He died later from his injuries.
After the incident, a crowd of gathered outside the station and chanting "death to Arabs", according to reports.
The Israeli–Palestinian conflict intensifies

Show all 10
Police in southern Israel said the assailant began shooting and stabbing people after entering the central bus station.
Yoram Halvey, a police commander, said the attacker also stole a weapon from the Israeli solider he killed. Five police and five civilians were wounded in the attack.
According to the Jerusalem Post, the attacker has been named by the Shin Bet intelligence agency as 21-year-old Arab Israeli citizen Muhand al-Okabi.
He is believed to be from the nearby town of Hura and had no prior record of security offenses.
The attack is thought to be the most severe amid several weeks of mounting violence.
Security measures have been further tightened in the country, including blocking roads and placing checkpoints at the entrances of Palestinian neighbourhoods in east Jerusalem.
Other measures involve ID checks and requiring some Palestinian residents to lift their shirts and roll up their trousers as they exit their neighbourhoods to prove they are not carrying knives​
On Sunday, Israeli police created a barrier separating the Jewish neighbourhood of Armon Hanatziv from the adjacent Palestinian neighbourhood of Jabal Mukaber.
Emmanuel Nahshon, a spokesman for Israel's foreign ministry, said the barrier has "no political meaning" and is "one more aspect of our security measures".
Israeli leaders claim the violence is due to Palestinian incitement, however Palestinians allege it is the effect of years of Israeli occupation, failed peace efforts and ldespondency among the country's young people.
Additional reporting by Associated Press
Register for free to continue reading
Registration is a free and easy way to support our truly independent journalism
By registering, you will also enjoy limited access to Premium articles, exclusive newsletters, commenting, and virtual events with our leading journalists
Already have an account? sign in
Register for free to continue reading
Registration is a free and easy way to support our truly independent journalism
By registering, you will also enjoy limited access to Premium articles, exclusive newsletters, commenting, and virtual events with our leading journalists
Already have an account? sign in
Join our new commenting forum
Join thought-provoking conversations, follow other Independent readers and see their replies