Israel agrees Gaza ceasefire with Islamic Jihad militants after two days of ferocious fighting
At least 34 Palestinians – including six children – killed in Israeli airstrikes, while three people lightly injured in Israel by hundreds of rockets from Gaza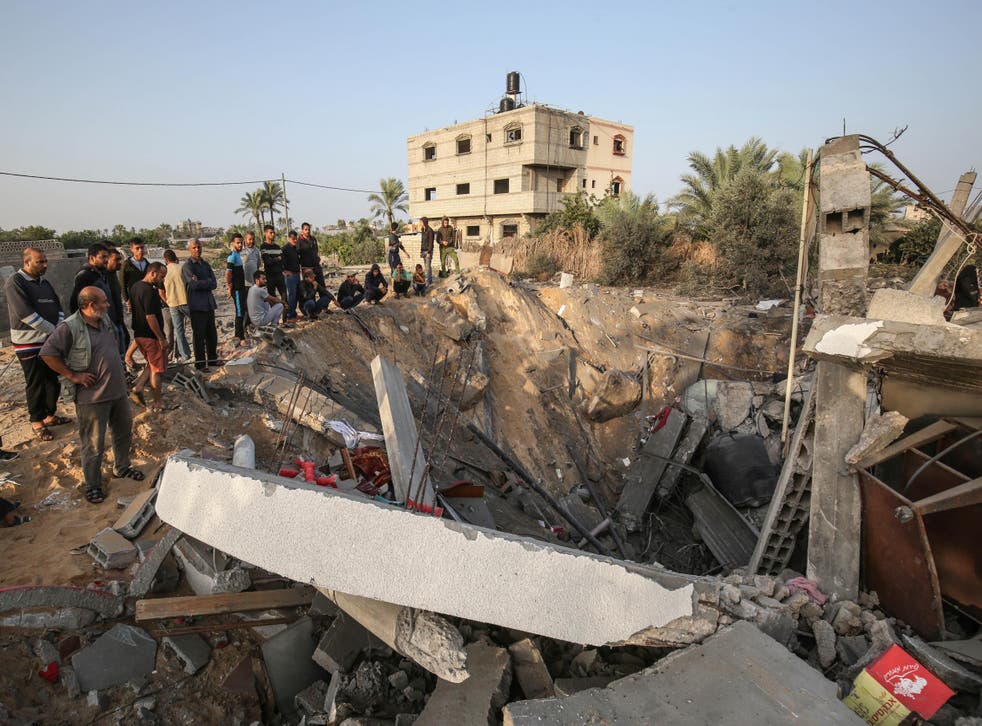 The Israeli military and Islamic Jihad militants in Gaza have reached an uneasy ceasefire, ending the heaviest outbreak of fighting in months that killed at least 34 Palestinians and brought Israel to a near standstill.
Islamic Jihad spokesman Musab al-Berim said the Egyptian-brokered deal came into effect at 5.30am. On Friday morning Israel said it had struck targets linked to the Islamic Jihad militant group in Gaza after it fired a number of rockets. The exchange of fire highlights the fragility of the truce in a volatile region.
Lieutenant Colonel Jonathan Conricus, a spokesman for the Israeli military, confirmed the armed forces had been "informed there is a ceasefire" ending Israel's operation "Black Belt".
"We understand Egypt was pivotal" in brokering the deal, he added.
Another Israeli spokesman, Lt Col Avichahy Adraee, tweeted that the operation "is over".
The deal brings to a close two days of ferocious fighting which was sparked by Israel's targeted killing of Islamic Jihad commander Bahaa Abu al-Ata in a dawn airstrike on Monday.
At least 34 Palestinians, including six children, have been killed in Israeli airstrikes, which the military claimed were focused only on Islamic Jihad military infrastructure.
Six members of the same family were killed shortly before the ceasefire came into place – among the dead was an alleged Islamic Jihad commander and several of his children.
A Palestinian and his two sons, aged 24 and 7, were killed the day before.
In Israel, three people were lightly wounded by shrapnel or shattered glass as militants fired over 450 rockets, paralysing parts of the country and leading to the closure of schools, business and roads.
On Thursday morning restrictions were lifted on residents of southern Israel and traffic returned to the streets of the Palestinian coastal territory.
There were some violations to the ceasefire deal with two bursts of rocket fire just after 6am and later in the morning.
Unusually Hamas, the militant group which runs Gaza, did not fire any rockets during the cross-border flare-up according to sources in the besieged strip who were integral to brokering the truce.
Israeli military officials, who normally hold Hamas accountable for any projectiles fired from Gaza, said they had deliberately refrained from striking Hamas.
Instead, they claimed to have killed over 20 Islamic Jihad operatives and to have destroyed two underground attack tunnels as well as a weapons factory.
"The aim of 'Black Belt' was to improve the security situation by delivering a significant blow to Islamic Jihad," Lt Col Conricus said, referring to the name of the operation.
"We wanted to keep Hamas out of the fighting and we wanted to stabilise the situation in and around Gaza," he said, adding that the operation had been "a success".
Islamic Jihad, which is backed by Iran, also declared victory, saying Israel had accepted its demand to stop both the targeted killing of militants and lethal army gunfire at weekly Palestinian protests on the Gaza border.
Rocket impact in Israel captured on CCTV as Palestinian Islamic Jihad group launch response to leader's death
Lt Col Conricus said the military was "not aware of" agreeing to such a demand, claiming Israel's rules of engagement along the perimeter fence between Gaza and Israel was already "restrictive".
Israeli foreign minister Israel Katz, meanwhile, told local media that his country "will not cease" targeted killings in Gaza.
"Quiet will be answered with quiet," Israeli newspaper Haaretz quoted him as saying.
He also denied any wider policy changes, saying "the open-fire policy for which the Israel Defence Forces is responsible [at the Gaza border] will not change".
Join our new commenting forum
Join thought-provoking conversations, follow other Independent readers and see their replies