Israel demolishes homes of three Palestinians charged in West Bank shooting
An Israeli human rights group lost an appeal to prevent the demolitions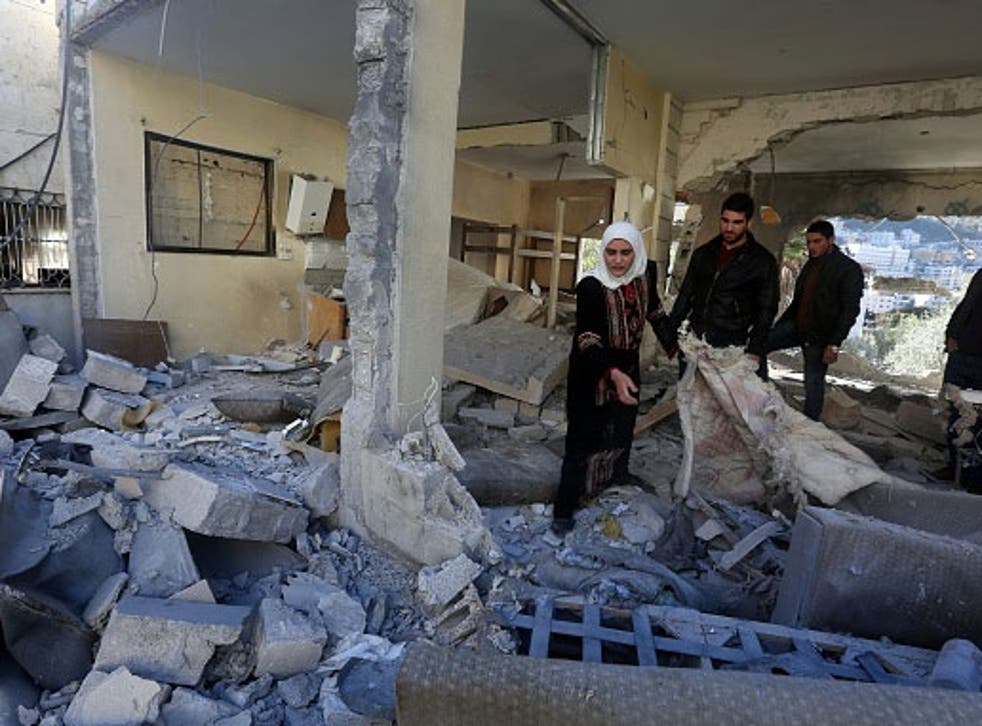 Israeli forces have destroyed the family homes of three men charged with killing an Israeli couple travelling with their four children in the West Bank.
The demolition is understood to be the most extensive use of the measure since violence began to escalate in the country last month.
Israel's Supreme court approved the demolitions, all in the West Bank, on Thursday, The New York Times reported.
Israeli politicians accused the court of stalling the decision after it delayed a verdict on whether or not to demolish the homes on 30 October.
The homes, three in Nablus and one in Silwad, were destroyed with explosives by Israeli military forces on Saturday morning after the families had been evacuated, according to local media.
Israeli human rights group, HaMoked, lost an appeal attempting to prevent the demolitions.
"House demolitions constitute collective punishment, and are contrary to both international law and the basic precept of Israeli law that a person must not be punished for the acts of others," say the group. "The demolition of houses does not replace criminal punishment but supplements it."
The demolitions come as a Palestinian accused of killing two people in a drive-by shooting in the West Bank has been arrested by Israeli authorities.
The Shin Bet internal security service said on Sunday, the suspect admitted to being involved in Friday's attack, in which a Rabbi and his son were killed as they were driving with their family south of the city of Hebron, Associated Press reports.
A weapon and vehicle used in the shooting on Friday have also been seized.
Israel has employed a policy of house demolitions in the West Bank and the Gaza strip since 1967.
The official objective of house demolitions is to deter Palestinians from carrying out attacks by harming the relatives of those suspected of being involved in attacks against Israeli citizens or soldiers.
The people who often bear the brunt of these demolitions, however, are "relatives – including women, the elderly, and children – whom Israel does not suspect of involvement in any offense," according to Israeli human rights group B'Tselem.
"In the vast majority of cases, the person whose actions prompted the demolition was not even living in the house at the time of the demolition," they add.
Last month Israeli security forces were accused of making 11 Palestinians, including seven children, homeless after demolishing their homes as punishment for attacks committed by their relatives.