Israel destroys Palestinian classrooms ahead of first day of school
Four Palestinian communities have seen their educational facilities – donated by international bodies and NGOs – destroyed on grounds they have been built without permission 
Thursday 24 August 2017 13:21 BST
Comments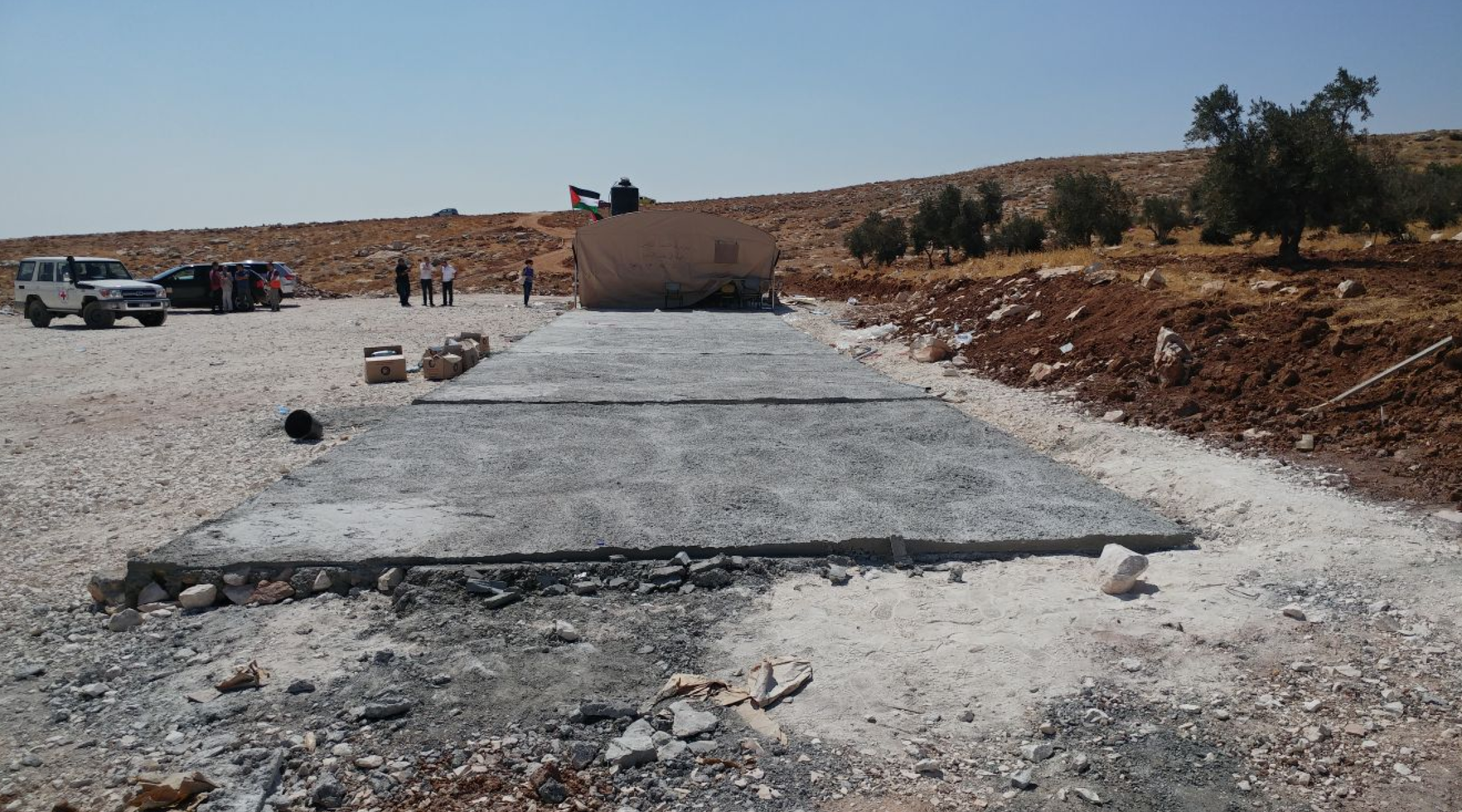 Palestinian children in the occupied West Bank have started the new school year in improvised tents after Israeli authorities demolished their classrooms the day before term began.
Around 80 children aged five to 10 from the village of Jub-Ad-Dhib had to attend classes in cramped tarpaulin tents or under the hot sun on Wednesday. One day earlier, Israeli authorities had decided to confiscate and destroy steel terrapin cabins used as school buildings along with other educational equipment.
The area was sealed off, declared a military zone, and security forces used stun grenades to keep residents away, Israeli human rights group B'Tselem said in a statement.
Israeli media said that locals had thrown stones at soldiers during the demolition.
Soldiers drag 8-year-old from house to house in Hebron for over an hour
The six newly installed cabins, donated by the EU, were put in place so that local children did not have to walk an hour to get to school.
Over the past two weeks, four Palestinian communities have seen their educational facilities – donated by international bodies and NGOs – destroyed on the grounds that they had been built without proper planning permission.
The security forces also removed solar panels powering a school for Bedouin children near Jerusalem on 9 August, ignoring a High Court petition over their removal in the process.
The High Court ended up issuing a temporary restraining order against removing the panels, but it came an hour after they had already been dismantled.
Another brick in the wall: Saving schools in the West Bank
Show all 2
Critics of Israeli policy point out that building permissions for new Palestinian homes and infrastructure in the occupied West Bank are almost impossible to obtain.
"The demolition of a school building the night before the start of the year epitomises the administrative cruelty and systematic harassment by authorities designed to drive Palestinians from their land," Roy Yellin of B'Tselem said.
The Coordinator of Government Activities in the Territories, the body which implements Israeli policy in Palestinian areas, did not immediately respond to The Independent's request for comment.
Last month, the Netherlands lodged a complaint with the Israeli government after dozens of Dutch solar panels donated to the same village were confiscated by Israeli authorities, again on planning permission grounds.
More than 300 structures in the occupied West Bank demolished by the Israeli authorities in 2016 were at least in part funded by the EU or international NGOs, an Israeli military official said earlier this year.
Last year also saw the highest number of Israeli demolitions of Palestinian structures since rights groups began record-keeping.
Join our commenting forum
Join thought-provoking conversations, follow other Independent readers and see their replies