Israel shuts Egypt border crossing amid threat of more 'imminent' Isis attacks
Decision comes day after jihadhist group claims responsibility for twin bomb blasts at Coptic Christian churches in Tanta and Alexandria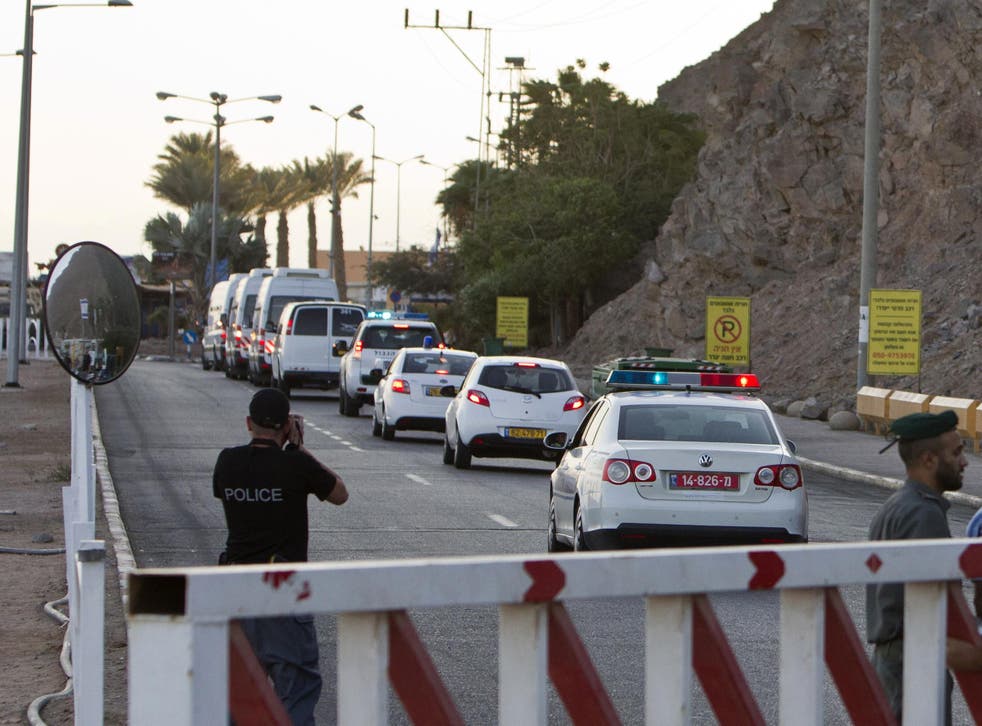 Israel has closed its Taba border crossing to Egypt following a warning by its anti-terrorism office and intelligence reports of an "imminent" militant attack there. The closure comes hours before the start of the Passover holiday, when Sinai is a popular destination for many Israelis.
Soon after the announcement, sirens wailed in parts of southern Israel alerting residents to a rocket attack. The military said a rocket fired from Sinai exploded in southern Israel, hitting a greenhouse but causing no injuries.
Yisrael Katz, Israel's transportation and intelligence minister, said in a statement Monday there was intel regarding a potential "terror attack" against tourists in the Sinai peninsula. The crossing remains open for those wanting to return from Egypt.
The border closure comes a day after militants in Egypt bombed two churches, killing dozens of Christian worshippers during Palm Sunday ceremonies. In the wake of those attacks, Israel's anti-terrorism office called on all Israeli tourists in Sinai to return home immediately and asked Israelis planning trips to the Sinai to cancel.
Prime Minister Benjamin Netanyahu issued a statement Monday sending Israel's "condolences to the families of those who were murdered in yesterday's terrorist attacks in Egypt" and wishing a "quick and full recovery to the wounded."
He said "the world must unite and fight terrorism everywhere."
The Israeli government statement says that intelligence information shows "increased activity by Islamic State militants" in Sinai. It adds that with Isis losing ground in Iraq and Syria, there is renewed "motivation to carry out terror attacks in different arenas at this time."
Southern Sinai, with its pristine beaches and Red Sea coral reefs, has traditionally been a popular Israeli tourist destination — especially for secular Israelis during the Passover holiday that starts Monday evening.
But tourism there has declined since 2013, when the Egyptian military overthrew an elected Islamist president and an Islamic insurgency based in northern Sinai intensified.
Israel issues travel recommendations from time to time based on intelligence reports. Monday's travel warning was unusual in its urgency and it is rare for the Taba crossing to be shut down.
In pictures: Isis' weapons factories

Show all 11
Israel signed a peace treaty with neighbouring Egypt in 1979 and the two countries maintain close security cooperation.
Associated Press
Join our new commenting forum
Join thought-provoking conversations, follow other Independent readers and see their replies