Israel to hold unprecedented third election in under a year, as political deadlock holds
No party has been successful in forming a coalition following two previous polls in April and September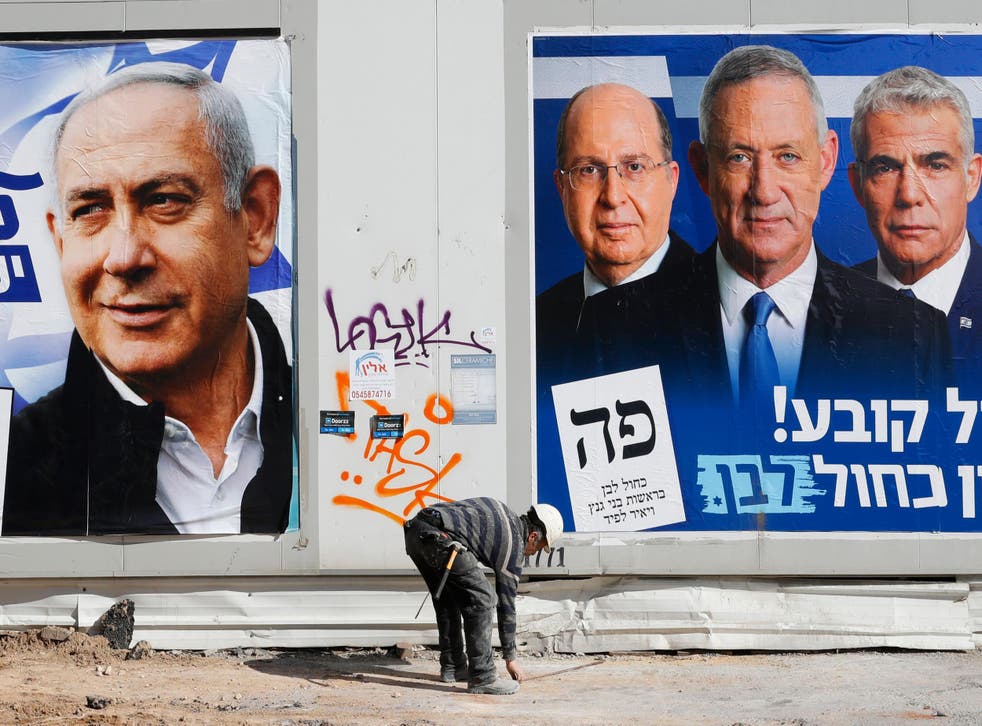 Israel is heading towards an unprecedented third election in under a year prolonging a political deadlock that brought the country to a near standstill.
By a vote of 94 in favour to none opposed, lawmakers in the Knesset approved a motion dissolving parliament and setting the new election date of 2 March.
It comes after no party succeeded in forming a majority ruling coalition following two inconclusive elections which took place in April and September.
Prime Minister Benjamin Netanyahu and his chief challenger Benny Gantz worked on last-minute bids to avoid yet another vote which is set to cost the country billions of dollars and may produce similar results as the last two rounds.
But neither has been willing to compromise on their core demands for a power-sharing agreement.
Many had hoped Mr Gantz's centrist Blue and White party would build a unity government with Mr Netanyahu's Likud, allowing them a solid majority in the 120-seat Knesset.
But Mr Gantz's party would not budge from a proposed rotation system after Mr Netanyahu was indicted last month on charges of accepting bribes, fraud and breach of trust.
In it Blue and White would hold the prime ministership for the first two years of the four-year term while Mr Netanyahu would take over for the final half.
Mr Netanyahu, who can better secure immunity if he is premier, has rejected the offer, demanding he go first in any alternating leadership arrangement.
He has also refused to drop his alliance with other nationalist and ultra-Orthodox Jewish parties.
He is currently Israel's longest-serving prime minister and the first to be charged while in office.
Mr Gantz lashed out as the parliament began voting on Wednesday: "It now seems that we will be going into a third election cycle today because of Netanyahu's attempt to obtain immunity. We must stand in opposition of this."
Another election Is expected to cost Israel millions of dollars, with money lost on a slew of campaigns, which are publicly funded, a national holiday on election day and the cost of running the vote.
It also means that for 18 months the country will have been led by caretaker government that cannot push through major legislation, make new appointments or pass budgets.
"People are despairing. There is a sense that the little citizen has no say in this debacle. There is deep frustration about the massive waste of funds," said Dahlia Scheindlin, a public opinion expert who has worked on five Israeli electoral campaigns.
She said the political stasis and impending corruption trial was costing Mr Netanyahu political popularly.
"While he still has a steady 40 per cent approval rating, his Likud party lost three seats between the April and September elections, and 29,000 votes," she said.
She added that the latest poll by Israel Democracy Institute showed that a plurality – 43 per cent of people blamed Mr Netanyahu for the failure to form a government, while only 8 per cent blame Mr Gantz.
Attorney General indicts Israel PM Benjamin Netanyahu for fraud and bribery
The same poll said that just over a third of Israelis believe Mr Netanyahu should resign and stand trial.
The same poll said that just over third of Israelis believe Mr Netanyahu should resign and stand trial.
Mr Gantz, the country's former army chief, has said he would make deal with a different leader of Likud that would instantly break the deadlock.
But Mr Netanyahu has fiercely fought off potential international rebellions chastising the one major figure, Gideon Saar, who has dared to publicly challenge him.
"If I am elected head of Likud, I will lead it to victory," Mr Saar announced on Tuesday, citing polls that he was more likely to be able to build a stable coalition.
"It is very clear, on the other hand, that if we keep the current course, we will not get anywhere better than we have in the last two elections."
Register for free to continue reading
Registration is a free and easy way to support our truly independent journalism
By registering, you will also enjoy limited access to Premium articles, exclusive newsletters, commenting, and virtual events with our leading journalists
Already have an account? sign in
Join our new commenting forum
Join thought-provoking conversations, follow other Independent readers and see their replies