Powerful pro-Israel lobby groups slam Netanyahu for elections alliance with 'extremists'
The Israeli PM's alliance with Jewish Power, an offshoot of a banned extremist group, blasted as 'detestable'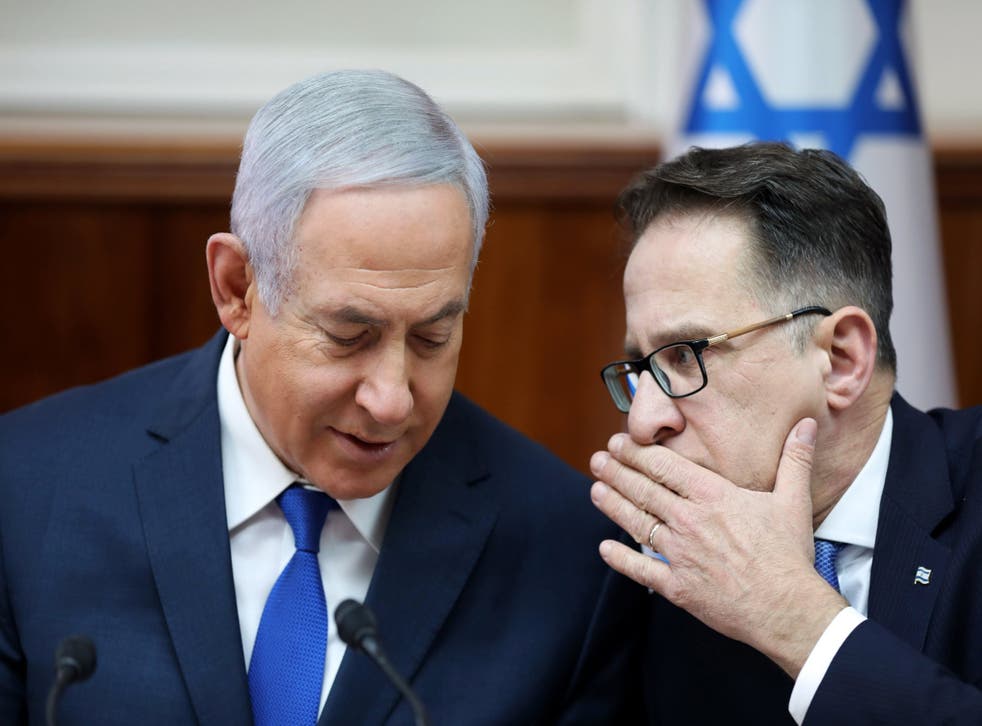 America's largest pro-Israel lobby groups have issued rare and stinging rebukes of Prime Minister Benjamin Netanyahu over his move to ally with an extremist party for the upcoming elections, joining a chorus of criticism from dozens of powerful Orthodox rabbis.
Mr Netanyahu has faced intense pressure to rally the right after his chief rival and ex-army chief Benny Gantz joined forces with centrist opposition leader Yair Lapid last week, sweeping the majority of the seats in the pre-elections polls.
On Wednesday, the premier helped broker a controversial agreement between the ultra-nationalist Jewish Home party and Jewish Power, an offshoot of the banned Kach movement, which was outlawed by Israel and the US because of its racist and extremist views.
As part of their deal, Mr Netanyahu gave the merged party a seat on his Likud Party's list of candidates and guaranteed them two cabinet positions if he wins.
The American Jewish Committee, a powerful New-York based Jewish advocacy group, said it felt "compelled to speak out" about the merger which it called "reprehensible".
World news in pictures

Show all 50
Shortly after they put out a statement, the American Israel Public Affairs Committee (AIPAC) arguably the world's largest and most powerful pro-Israel lobby group, also issued a rare critique of the Israeli leadership and endorsed the AJC's statement.
"The views of Otzma Yehudit [Jewish Power] are reprehensible," the AJC said in a statement released on Friday.
"They do not reflect the core values that are the very foundation of the State of Israel. The party might conceivably gain enough votes to enter the next Knesset, and potentially even become part of the governing coalition," it added.
AIPAC responded saying: "We agree with AJC. AIPAC has a long-standing policy not to meet with members of this racist and reprehensible party."
On Monday around 90 powerful rabbis and scholars part of Torat Chayim, a worldwide association of progressive-minded Orthodox rabbis, joined the denunciation of the Israeli leader's new deal calling Jewish Power "lamentable".
Torat Chayim said Jewish Power was "a racist, violently nationalist party which justifies terrorist activity by Jews, is anti-democratic, preaches hatred toward other Jews and Arabs".
Among the signatories were renowned scholars Rabbi Yitz Greenberg and Rabbi Asher Lopatin.
"The ends do not justify the means," they wrote in as statement published online.
"This deal with a detestable group to get them into the Knesset [parliament] will give a black eye to Israel and its standing in the world as a moral and democratic state. This is truly a lamentable failure on the part of a leader who has focused his life on Israel's security and on strengthening its international standing," it added.


They closed the statement telling Jewish Home "shame on you" for agreeing to the alliance.
Malcolm Hoenlein, executive vice chairman of the Conference of Presidents of Major American Jewish Organisations, also released a statement saying the alliance is "very disturbing" to many American Jews. He added that he feared the move would fuel Israel's critics.
Jewish Power last ran in the 2015 election on a joint list but has yet to secure a seat in the Knesset, Israel's parliament. The party calls for the annexation of the West Bank and Gaza, complete Israeli control over all land between the Jordan River and the Mediterranean Sea, the cancellation of the Oslo peace accords and for the imposition of Israeli sovereignty over Temple Mount.
It also advocates the expulsion of Arab citizens of Israel who are deemed not loyal enough to the country and the deportation of what it calls "Arab extremists".
It is believed to be spawned from the Kahanist movement, founded by the late Rabbi Meir Kahane, who was personally accused of plotting various terrorist attacks throughout the 1970s. Rabbi Kahane's followers continue to face accusations of supporting domestic terrorism and incitement to racism.
Mr Netanyahu is facing mounting pressure to perform well in the snap elections set for 9 April.
He did not directly respond to criticism from American Jewish leaders over the merger, but lashed out at comments made by Gantz and Lapid's newly formed Blue and White Party.
He accused the "Left" of allying with "extremist Islamists".
"What hypocrisy and double standards by the left," the Israeli premier wrote on his Facebook page on Saturday.
"They denounce a bloc on the right with right-wing parties while the left has acted to put extremist Islamists into the Knesset to create a bloc that would overtake the right."
Mr Netanyahu hopes to be re-elected for a fifth term, which would make him Israel longest-serving PM, but is campaigning under the shadow of possible indictment on corruption charges.
Israeli media reported on Monday that the country's Attorney General Avichai Mendelblit is expected to announce his decision on indicting Mr Netanyahu in two of the three graft cases against him.
Left-leaning daily Haaretz reported that Mr Mendelblit is likely to indict the embattled leader in Case 1000, in which he allegedly accepted extravagant gifts, and Case 4000, or "Bezeq", named after a telecommunications company he supposedly awarded regulatory favours too.
Mr Mendelblit has apparently not yet made a decision on Case 2000, in which the premier allegedly struck a deal to get positive coverage in Israel's second largest newspaper.
Mr Netanyahu has repeatedly denied all the charges.
Analysts told The Independent, against this backdrop, that the alliance with Jewish Power was proof the PM would do "anything to stay in power".
"The people who make up Jewish Power are right-wing fanatic religious trouble makers, they represent something very dangerous and have not had widespread support up until now," said Dalia Scheindlin a public opinion expert who has worked on five Israeli electoral campaigns.
"I hear a number of voices in the national religious community freaking out," she added.
Register for free to continue reading
Registration is a free and easy way to support our truly independent journalism
By registering, you will also enjoy limited access to Premium articles, exclusive newsletters, commenting, and virtual events with our leading journalists
Already have an account? sign in
Register for free to continue reading
Registration is a free and easy way to support our truly independent journalism
By registering, you will also enjoy limited access to Premium articles, exclusive newsletters, commenting, and virtual events with our leading journalists
Already have an account? sign in
Join our new commenting forum
Join thought-provoking conversations, follow other Independent readers and see their replies