Israel launches air strike on Gaza amid violent clashes over Trump's Jerusalem decision
Palestinian Health Ministry issues statement saying more than a dozen people are injured in strikes, as Israel says it was targeting militants in retaliation for rockets fired from Gaza Strip
Friday 08 December 2017 21:05 GMT
Comments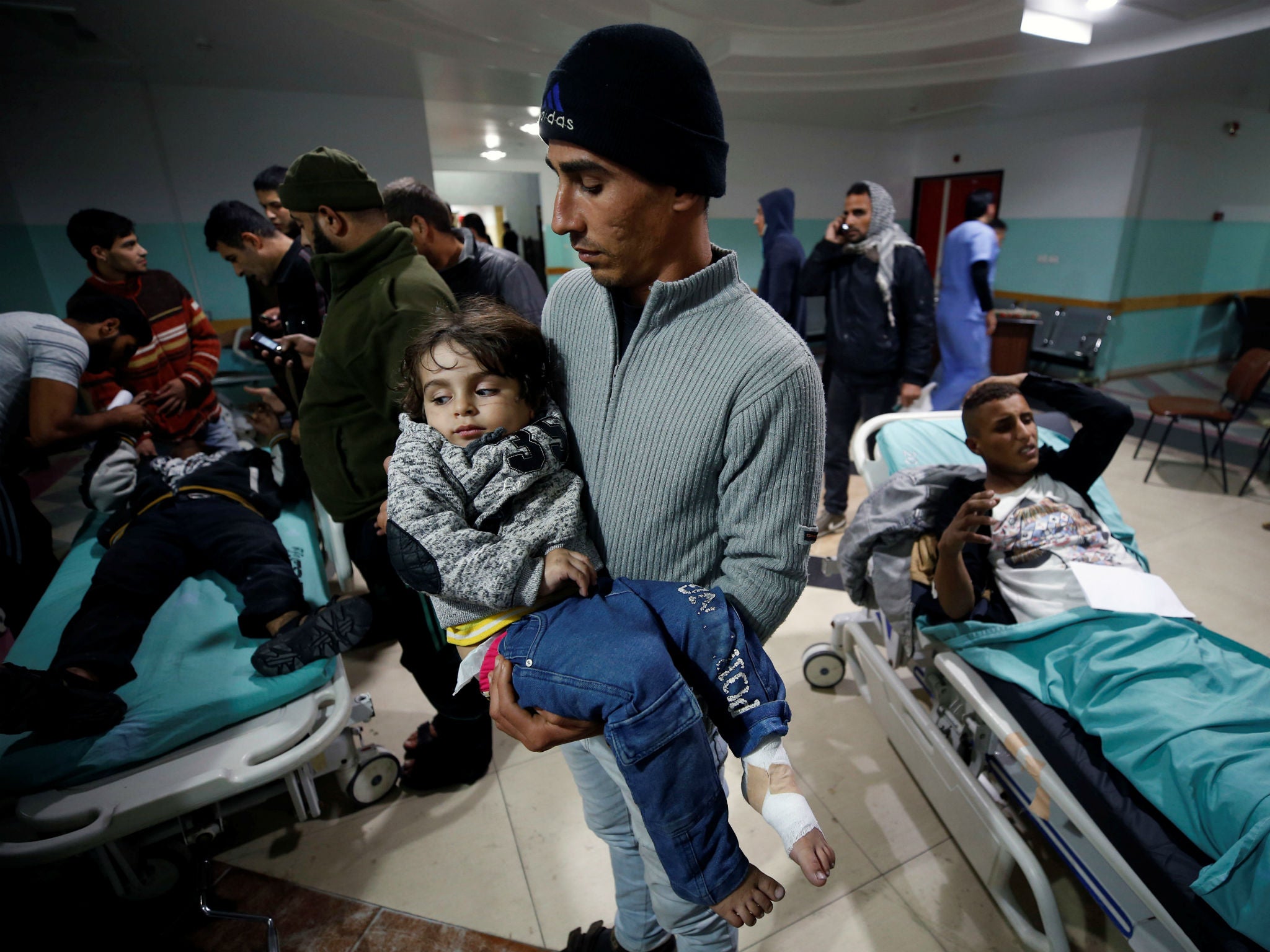 Israel's military said its aircraft bombed militant targets in Gaza and the Palestinian Health Ministry said at least 14 people were wounded in the strikes, including a number of children.
Reports on the number of injured ranged from 14 to 25 people, with one report saying six children were wounded.
The Israeli military said it had carried out the strikes on a Hamas training camp and on a weapons depot in response to rockets fired earlier from Gaza at Israeli towns. Witnesses told Reuters that most of the wounded were residents of a building near the camp.
Of two reported rockets fired from the Gaza Strip, the first was claimed to have been intercepted by Israel's Iron Dome defence system. A second fell short of Israeli territory according to reports in Israeli media.
Rocket sirens were sounded in the southern Israeli cities of Ashkelon and Sderot.
The official Israel Defense Force (IDF) Twitter account posted that Israeli aircraft had "targeted a Hamas training compound and an ammunition warehouse in the Gaza Strip".
The IDF said that holds Hamas - the Palestinian militant group that has had long-term control over Gaza - "solely responsible for all hostile acts against Israel emanating from the Gaza Strip".
Later, the IDF said that a rocket fired from the Gaza Strip had hit the southern Israeli city of Sderot. The rocket failed to explode and caused no injuries according to public radio.
At least one Palestinian was killed in clashes with Israeli troops earlier on Friday and dozens wounded in "day of rage" protests against US President Donald Trump's recognition of Jerusalem as Israel's capital.
Protests erupt after Trump recognises Jerusalem as Israel's capital
Show all 22
It comes as Palestinian officials told the United Nations that the decision by the United States to recognise Jerusalem "undermines and essentially disqualifies its leadership role to seek peace in the region."
Palestinian Ambassador Riyad Mansour told an emergency meeting of the UN Security Council on Friday that "one party cannot continue to monopolize the peace process," especially one that is biased in favour of "the occupying power," Israel.
Donald Trump officially recognises Jerusalem as Israel's capital
Mr Mansour urged the Security Council to denounce what he called the "irresponsible" U.S. decision and reaffirm its position on the status of Jerusalem — that the holy city's status is unresolved and must be decided during Israeli-Palestinian peace negotiations on a two-state solution.
He said the council must "affirm its rejection of all violations of that status."
Mr Mansour said the Security Council must also act to avert "further exacerbation of religious sensitivities."
He said there is a threat could turn the conflict "into a never-ending religious war that will only be exploited by extremists, fuelling more radicalism, violence and strife in the region and elsewhere."
Reuters and Associated Press contributed to this report
Join our commenting forum
Join thought-provoking conversations, follow other Independent readers and see their replies