Israel-Gaza conflict: Netanyahu says Hamas using rising death toll to make Israel look bad
PM says Hamas seeks to use 'telegenically dead Palestinians' for its cause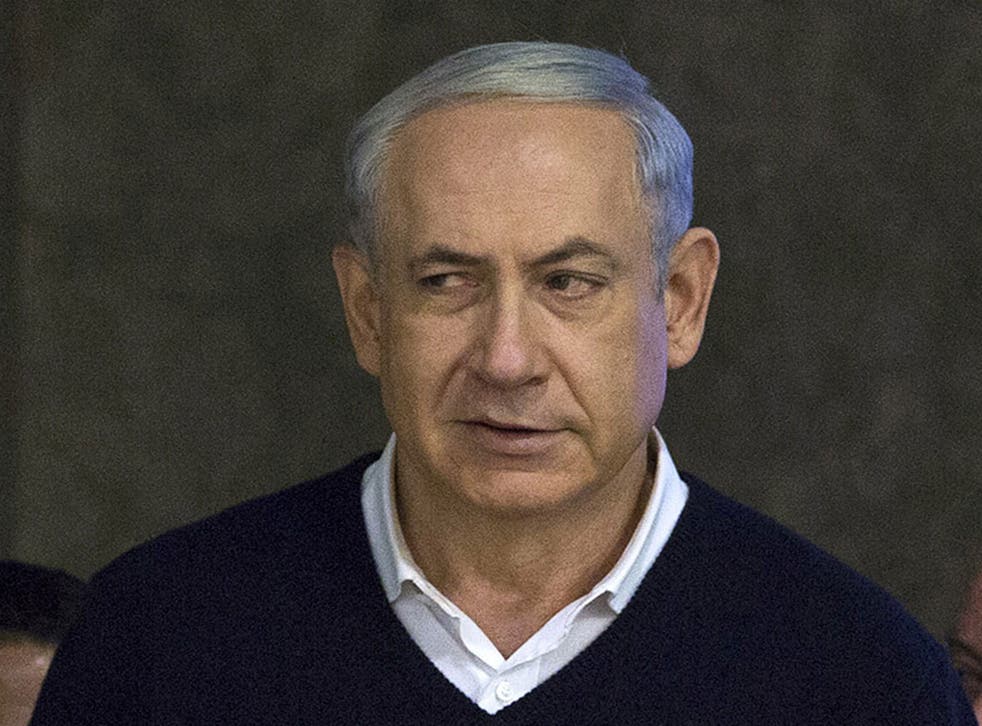 The Israeli Prime Minister Benjamin Netanyahu has dismissed criticism of spiralling Palestinian civilian fatalities in Gaza, saying Israel tries to avoid them but that Hamas seeks to use "telegenically dead Palestinians" for its cause.
Speaking to CNN on the 13th and bloodiest day yet of Operation Protective Edge, which began with airstrikes but morphed into a ground operation last Thursday, Mr Netanyahu did not directly answer when asked whether Israel is headed towards an all-out reoccupation of the Gaza Strip. Instead, he said Israel would take "whatever action is necessary" to halt Hamas rocket attacks against Israel
"I support taking whatever action is necessary to stop this insane situation," he said. "Nobody wants to go to excessive military plans, but what is happening here is excessive."
The premier said all Palestinian civilian casualties are unintended and regretted by the Israeli army, but accused Hamas of wanting to "pile up as many civilian dead as they can" to make Israel look bad. "They use telegenically dead Palestinians for their cause. They want the more dead, the better."
Mr Netanyahu said the army's mission of destroying Hamas infiltration tunnels – the stated purpose of the ground campaign – is "progressing fairly quickly".
But news reports said later that 13 soldiers had been killed in the Gaza fighting.
Menachem Klein, a political scientist at Bar-Ilan University, said the ground operation's goal is expanding from tunnel searches to "damaging the Hamas armed wing seriously" He predicts further escalation. "It means taking over more parts of Gaza City and a strip in southern Gaza and killing the maximum number of Hamas fighters. For the Gaza civilians this is a great tragedy."
Mr Klein added: "There is no way Israel can win here. Hamas can achieve something just by surviving and causing casualties to the Israel Defence Forces. The best thing to do is stop it now and go for a comprehensive ceasefire.''
Hamas kept up its rocket barrages of Israeli targets on Sunday, which have killed two people.
Diplomatic efforts were being stepped up, with UN Secretary-General Ban Ki-Moon due to meet moderate Palestinian president Mahmoud Abbas in Qatar for talks on devising a ceasefire. US Secretary of State John Kerry today plans to visit Egypt, which put forward a ceasefire proposal last week that was rejected by Hamas. Mr Kerry, caught speaking to an aide on an open microphone, criticised the scope of the Israeli military campaign, saying sarcastically: "It's a hell of a pinpoint operation."
Ynet news agency said on Sunday that the 13 soldiers' deaths came "in various incidents" during the Gaza fighting, which began 13 days ago with Israeli aerial bombardments, with the stated aim of stopping cross-border rocket fire by Hamas.
Another five Israeli soldiers were killed in Gaza on Friday and Saturday.
Join our new commenting forum
Join thought-provoking conversations, follow other Independent readers and see their replies