Two children among seven Palestinians killed during clashes with Israeli forces on frontier with Gaza
Snipers open fire on protestors who had thrown more than 100 explosives at security fences
Saturday 29 September 2018 21:58
Comments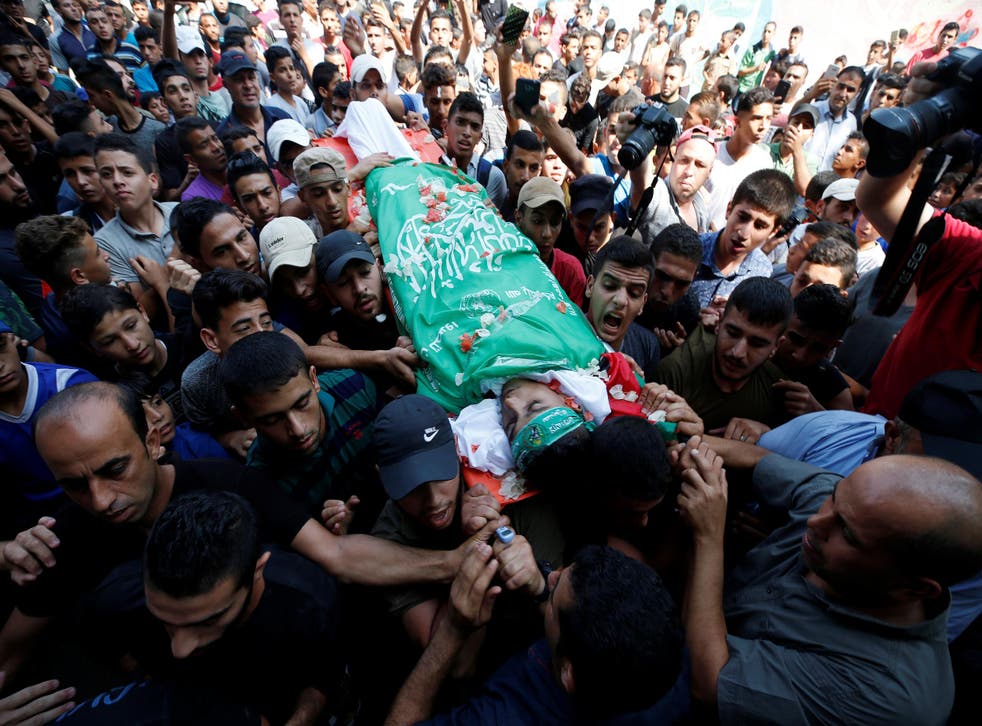 Two children were among seven Palestinians shot and killed by Israeli forces in one of the bloodiest days of a six-month protests along the Gaza frontier.
More than 90 others were injured, the enclave's health ministry said.
Mohammed al-Houm, 14, and Nasser Mosabeh, 12, are reported to have been hit by sniper fire from Israeli troops – who said they were responding to more than 100 explosives being thrown towards their positions on the border.
The violence exploded as some 20,000 Palestinians gathered along the frontier on Friday for the now weekly "Great March of Return", a movement demanding that Arabs who fled or were expelled from their home land during Israel's 1948 creation be allowed to return.
The Israel Defence Forces said in a statement: "The rioters sabotaged security infrastructure, attempted to cross the security fence and infiltrate into Israel in several locations."
It added aircraft had bombed two Hamas positions in response to the clashes – but admitted no Israeli troops or civilians had suffered any injuries.
The rallies – which also focus on Israel's decade-long blockade of the territory – have been running every week since 30 March.
But they have grown hugely during the last two weeks as organisers have moved them into the night in an apparent bid to save lives by demonstrating under the cover of darkness. Tyres have also been burnt to obscure the vision of snipers.
World news in pictures

Show all 50
In total, Israeli troops have killed more than 190 people during the protests and injured thousands more.
The bloodshed had brought the region once more to the brink of war with this summer's exchange of fire the most severe fighting since the 2014 conflict.
The five adults who died on Friday were named as Mohammad Ali Inshasi, 18, Iyad Khalil Shaer, 20, Mohammad Walid Haniya, 24, Mohammad Bassam Shakha, 24, and Mohammad Ashraf Awawdeh, 26.
Register for free to continue reading
Registration is a free and easy way to support our truly independent journalism
By registering, you will also enjoy limited access to Premium articles, exclusive newsletters, commenting, and virtual events with our leading journalists
Already have an account? sign in
Register for free to continue reading
Registration is a free and easy way to support our truly independent journalism
By registering, you will also enjoy limited access to Premium articles, exclusive newsletters, commenting, and virtual events with our leading journalists
Already have an account? sign in
Join our new commenting forum
Join thought-provoking conversations, follow other Independent readers and see their replies