Israel clashes: Seven Palestinians killed in Gaza border protests
More than 1,000 injured in second day of 'Hamas-orchestrated' violence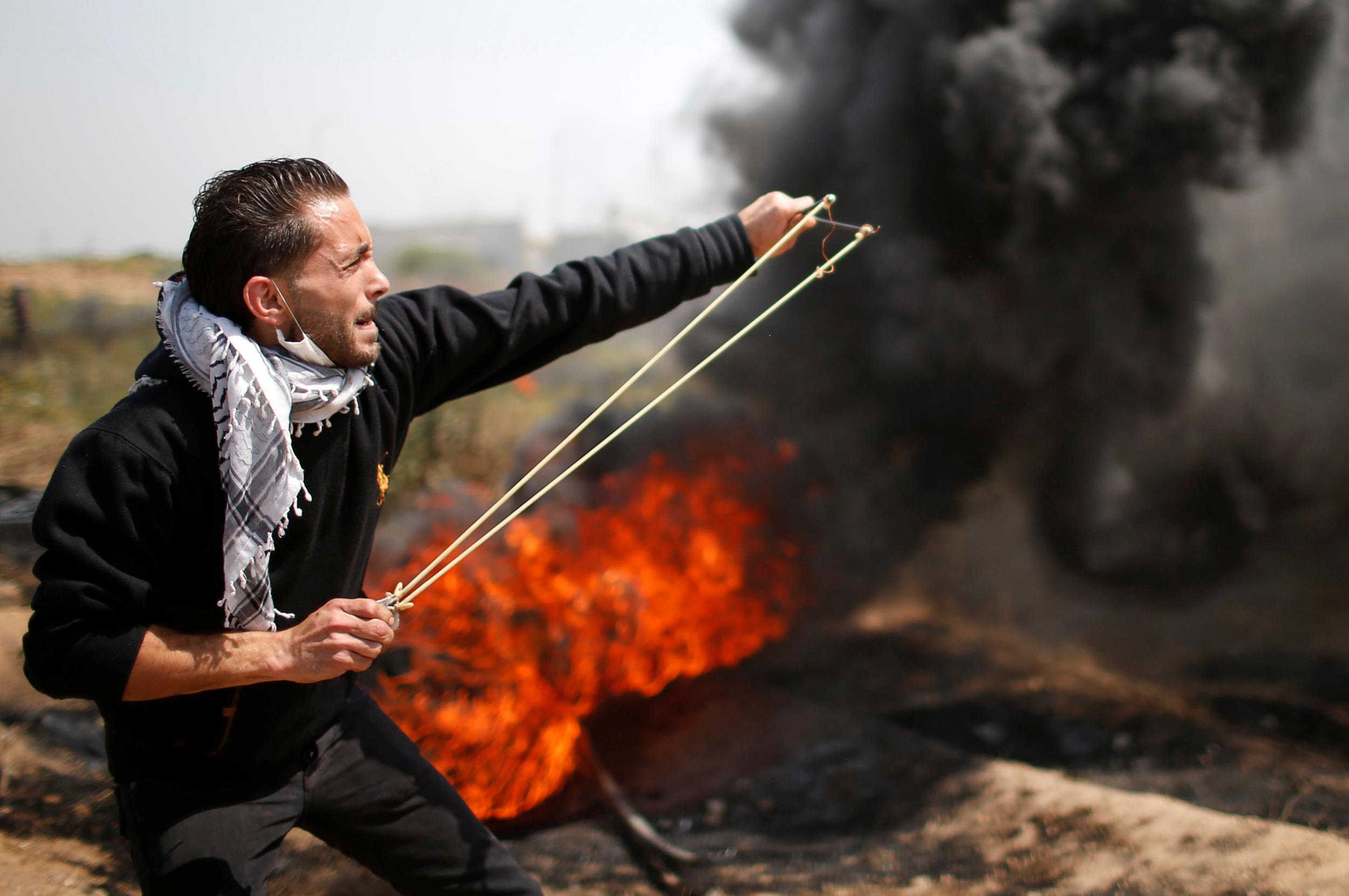 Seven Palestinians have been killed in fresh violence on the border between Israel and Gaza, raising the death toll since last week's major outbreak to 29, health officials say.
The Gazan health ministry said 1,070 people were wounded today, including 293 by live fire, and 25 of those were in a serious condition. Among those hurt were 12 women and 48 children, the ministry added.
It mirrored clashes of a week ago, when thousands of residents streamed to camps close to the fence near the town of Khan Younis to face Israeli troops.
The protests are part of what Hamas rulers said would be several weeks of protests against a decade-old border blockade of the territory. Friday is a non-working day in Israel and the action began on what Palestinians call "Land Day".
Palestinians again burned tyres, sending black smoke billowing into the air, prompting Israeli troops to fire tear gas and live fire.
The UN human-rights office says it has indications that Israeli forces used "excessive force" during last week's crackdown.
Spokeswoman Elizabeth Throssell today said forces were required under international human-rights law to use non-violent means as far as was possible.
But an Israeli Defence Forces spokesman said they used live fire only as a last resort.
Lt Col Jonathan Conricus accused Hamas of controlling the events around the border fence, sending people to riot as a cover to attempt to carry out terrorist attacks in Israel and plant improvised explosive devices.
He argued Israel was attempting to defend its land and soldiers from such Hamas incursions.
International anger mounted last week after Israeli leaders rejected calls for an inquiry over its use of live rounds as troops were accused of using disproportionate force.
Lt Col Conricus said Israeli troops followed strict rules of engagement, involving publicising warnings in Arabic to Palestinians not to approach the fence, and using non-lethal deterrents such as tear gas and water cannon to create distance between rioters and the fence before using live fire.
"We review our activities rigorously to minimise casualties on the other side," he said.
"What's clear is that Hamas understands that we hold them accountable for anything that happens. They're the ones who decide how many people to send to the riots, they effectively control the outcome.
"We will not tolerate anyone breaching our border. It's up to them to decide how many civilians they put in harm's way.
"Hamas has said it wants to invade Israel, and our mission is to continue to defence our communities, soldiers and infrastructure against attacks from Hamas."
World news in pictures
Show all 50
Speaking from a few hundred yards from the fence where tyres were being burned, the Lt Col added: "We try to the greatest extent not to use lethal means and we resort to live fire only when absolutely necessary, when there's a clear danger to us and soldiers, and then under clear guidance from command." More than 90 per cent of the injured had gunshot wounds to their lower limbs, exactly in line with the rules of engagement.
He condemned the "fake news and lies" that Hamas was trying to spread "under the guise of riots".
And Israel, he insisted, had nothing to fear from an independent inquiry into the shooting of Palestinians last week as called for by UN Secretary General Antonio Guterres.
Refusing to call them "protesters" or "demonstrators", he said "a few thousand rioters" were engaged in the violence, and Israeli troops were trying to extinguish the fires.
The Hamas leader in Gaza, Yehiyeh Sinwar, visited the Khuzaa camp, receiving a hero's welcome. He was surrounded by hundreds of supporters who chanted, "We are going to Jerusalem, millions of martyrs."
He told the crowd that the world should "wait for our great move, when we breach the borders and pray at Al-Aqsa", referring to the major Muslim shrine in Jerusalem.
It appeared to be the first time a Hamas leader specifically threated to break through the border — something Israel has said it would not allow at any price.
The Israeli military said Palestinians hurled several explosive devices and firebombs under cover of smoke.
Agencies contributed to this report.
Join our commenting forum
Join thought-provoking conversations, follow other Independent readers and see their replies