Israeli airstrikes kill pregnant woman and one-year-old daughter as fighting with Hamas escalates
Furious fighting leaves Egyptian mediators scrambling to save a ceasefire proposal aimed at ending months of simmering violence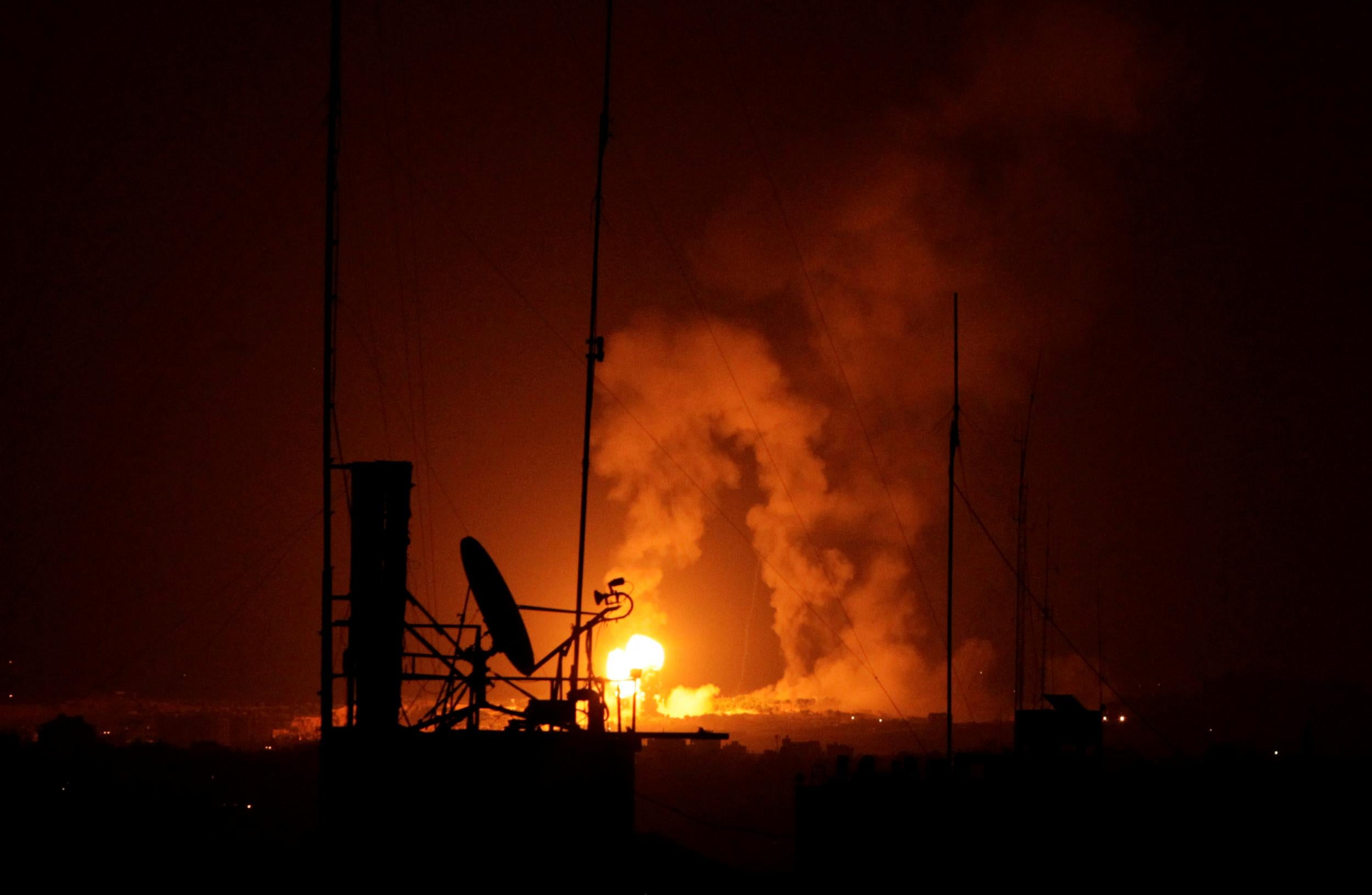 A pregnant woman and her infant daughter have been killed by Israeli airstrikes in the Gaza Strip after a second day of fighting.
23-year-old Enas Khamas and her 18-month-old daughter Bayan were killed on Wednesday night in Jafawari, Gaza health ministry officials said.
Hamas fighter Ali Ghandour was also killed in a separate strike on northern Gaza.
Gaza militant groups prepare for war amid tough new sanctions from Israel
The deaths come after violence between the Palestinian militant group and Israel quickly intensified on Wednesday. Hamas fired dozens of rockets and mortar bombs on Sderot in southern Israel and retaliatory airstrikes on Hamas positions in Gaza from the Israel Defence Forces (IDF).
At least five other Palestinians have been wounded, along with seven Israelis, as families on both sides of the conflict were kept awake by bombing. In Gaza they huddled together at home, while in Israel, the wail of rocket sirens sent people rushing to bomb shelters.
The latest violence has left Egyptian mediators scrambling to save a long-term ceasefire proposal aimed at ending months of simmering violence.
The UN's Middle East Envoy, Nickolay Mladenov, said he was "deeply alarmed" and warned of "devastating consequences for all people" if the hostilities were not contained.
Israeli prime minister Benjamin Netanyahu is expected to call a security cabinet meeting later in the day to assess the escalating situation.
The IDF said the round of fighting was sparked by Hamas fire on an IDF vehicle in Gaza on Wednesday.
Hamas spokesperson Sami Abu Zuhri, however, said that Israel had killed two Hamas fighters carrying out a military exercise in northern Gaza on Tuesday in what he said was an "unprovoked" attack. The IDF said the fighters had shot in the direction of the border.
This year has seen the worst violence in the Gaza in years, exacerbated by US president Donald Trump's decision to move the US embassy to Jerusalem and deepening despair and frustration at the humanitarian crisis.
Israel imposed an almost total blockade on the Palestinian enclave after Hamas seized control in 2007. Since then the area has suffered three rounds of war, a collapsing economy and the strangling of electricity, medical supplies and other basic needs.
The latest indirect ceasefire talks, brokered by Egypt, are aimed to both stop the fighting and introduce measures to alleviate the dire humanitarian situation for Gaza's two-million strong population.
Agencies contributed to this report
Join our commenting forum
Join thought-provoking conversations, follow other Independent readers and see their replies