Benjamin Netanyahu waves 'drone debris' above his head as he warns Iran not to 'test Israel's resolve'
'Israel will not allow the regime to put a noose of terror around our neck. We will act if necessary not just against Iran's proxies but against Iran itself'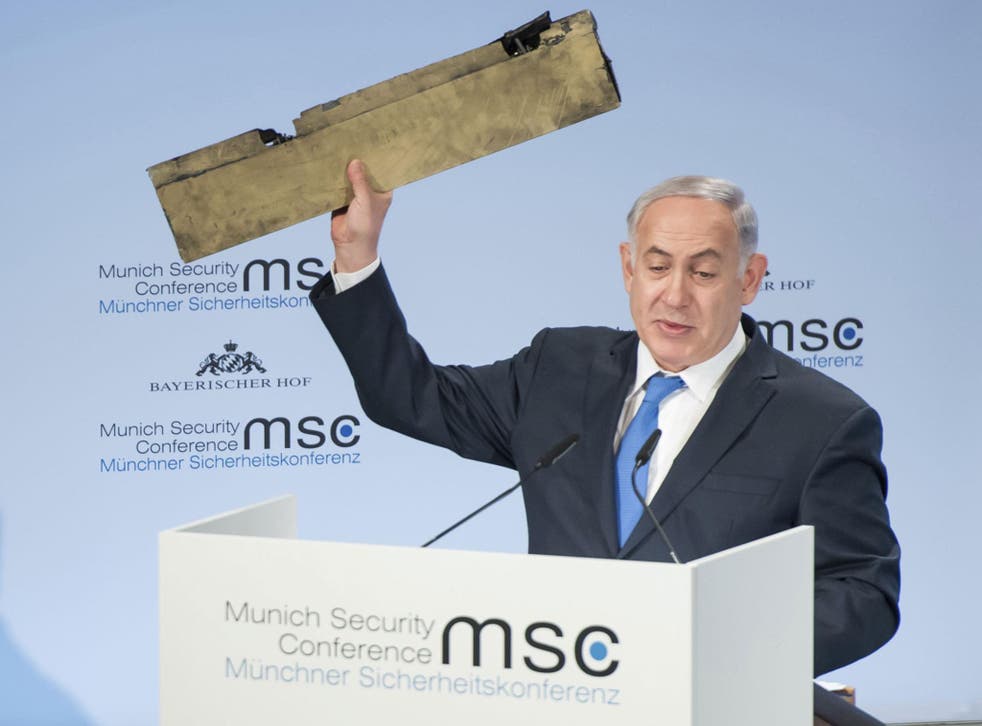 Iran should "not test Israel's resolve", Benjamin Netanyahu has warned, as he reiterated his argument Tehran was the world's greatest threat.
The Israeli Prime Minister said Israel would act against Iran, not just its allies in the Middle East, if needed.
Holding a piece of what he said was an Iranian drone after its incursion into Israeli airspace earlier this month, Mr Netanyahu told the Munich Security Conference: "Israel will not allow the regime to put a noose of terror around our neck.
"We will act if necessary not just against Iran's proxies but against Iran itself."
Iranian UAV shot down by Israeli attack helicopter
Addressing the event for the first time, he urged US and European officials and diplomats to counter Iran immediately, displaying a map showing what he said was its growing presence in the Middle East.
He said Iran was increasing its power as the US-led coalition against Isis in Iraq and Syria regained territory from militants.
"The unfortunate thing is that as Isis compresses and Iran moves in, it is trying to establish this continuous empire surrounding the Middle East from the south in Yemen but also trying to create a land bridge from Iran to Iraq, Syria, Lebanon and Gaza," Mr Netanyahu said.
"This is a very dangerous development for our region."
World news in pictures

Show all 50
Mr Netanyahu also slammed an international agreement with Iran, saying it has emboldened the regime in Tehran to become increasingly aggressive in the region.
Addressing US and European officials and diplomats at the Munich Security Conference for the first time, he said the agreement has "unleashed a dangerous Iranian tiger in our region and beyond".
Mr Netanyahu, a critic of the 2015 nuclear deal with Iran, likened it to the infamous 1938 Munich Agreement that Western powers signed with Adolf Hitler in an attempt to stave off war in Europe.
"The concessions to Hitler only emboldened the Nazi regime," he said. "Rather than choosing a path that might have prevented war ... those well-intentioned leaders made a wider war inevitable and far more costly."
Declaring Iran's "brazenness hit new highs", Mr Netanyahu brandished the drone fragment and challenged Iran's foreign minister, Mohammad Javad Zarif, who was to speak later at the event.
"Mr Zarif do you recognise this? You should, it's yours," Mr Netanyahu said. "You can take back with you a message to the tyrants of Tehran – do not test Israel's resolve!"
He told the audience that destroying the drone was a demonstration of Israel's resolve. Tehran has denied the drone belonged to Iran.
Israeli fighter jet wreckage burns after being shot down following offensive against Syrian and Iranian targets
Tensions surged on 10 February when anti-aircraft fire downed an Israeli warplane returning from a bombing raid on Iran-backed positions in Syria.
It was the most serious confrontation yet between Israel and Iranian-backed forces based across the border.
Join our new commenting forum
Join thought-provoking conversations, follow other Independent readers and see their replies