Israeli satellite images reveal 'Iranian missile facility' under construction in Syria
The Israeli government's main worry as the civil war next door has evolved is Tehran's growing influence over the Syrian regime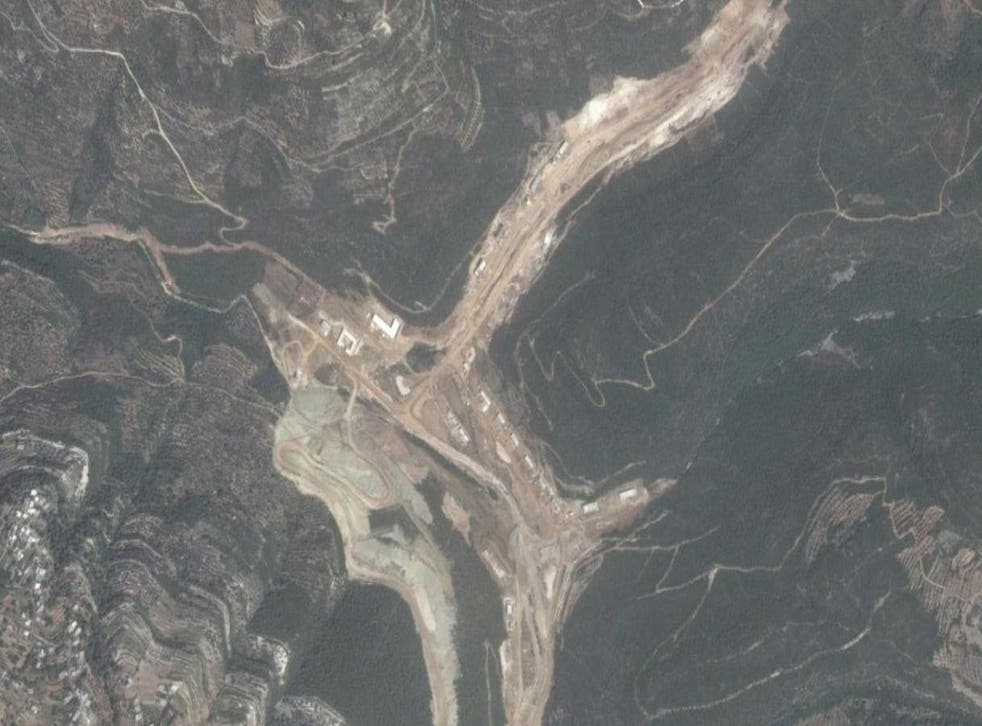 New imagery released by imageSat, which operates Israel's EROS-B satellite, reportedly show the first ever Scud missile factory being built inside wartorn Syria.
The pictures from a site near Latakia on the Syrian-government controlled coastline resembles a missile plant in Tehran, Israeli media reports said on Tuesday.
Experts told Channel 2 the sophisticated construction could not have been undertaken without Iranian experts operating inside Syria. They believe the facility, on which work began at some point last year, has both production and underground storage capabilities of long-range missiles which are capable of striking Israel. They believe it will be completed by the end of 2017.
Donald Trump says Iran has helped commit 'unspeakable crimes' in Syria
Israel's main worry as the more than six-year-long conflict next door in Syria has evolved has become Iran's political influence over the government of Bashar al-Assad, and the presence of Iran's Revolutionary Guards, Hezbollah and Shia militias which take part in the fighting.
Both Iran and the allied Lebanese militant organisation have sworn the destruction of the Jewish state.
"Our policy is clear: We vehemently oppose the military buildup by Iran and its proxies, primarily Hezbollah, in Syria and we will do whatever it takes to protect Israel's security," Prime Minister Benjamin Netanyahu said in a speech last week, warning that as Isis was displaced in the country Iran would try to strengthen its position.
In pictures: US missile strike against Syria

Show all 7
It emerged last week that Israeli officials had tried to thwart a recent US and Russian brokered peace deal regarding Syria's restive south over worries it gave Iran too much power.
Israel reportedly presented "numerous objections", arguing that world powers were not focussed enough on the long-term threat of Iranian influence in Syria when the civil war has ended.
Washington and Moscow must demand those forces leave the country when the conflict draws to a close, the Israelis said, arguing that Syria could become home to rockets pointed at Israel, as in Lebanon, and outsized Iranian influence could serve to destablise nearby Sunni states.
US Secretary of State Rex Tillerson said earlier this month that Washington would continue to cooperate with Russia in the Syrian theatre on the condition that Iranian forces in the country were eventually removed.
Israeli intelligence officials are expected to discuss the situation in Syria with US counterparts in Washington later this week.
Join our new commenting forum
Join thought-provoking conversations, follow other Independent readers and see their replies