Mayonnaise helps save endangered turtles caught in Israel's devastating oil spill
Reptiles were found 'full of tar' after unexplained coastal catastrophe
Liam James
Wednesday 24 February 2021 10:32 Comments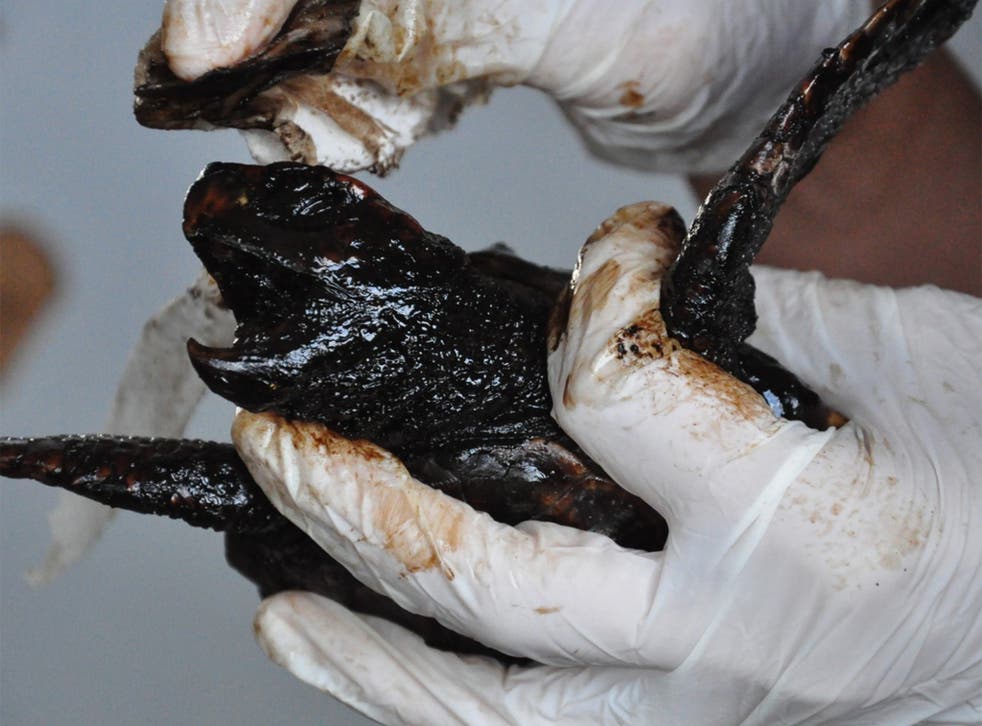 Mayonnaise has proved effective in saving endangered sea turtles left choking on tar by the devastating oil spill on Israel's coast.
The spill, which has coated most of the 120 miles of Israel's mediterranean shoreline with thick black tar, has so far caused extensive damage to wildlife, including the endangered green sea turtles which nest on the beaches.
Workers at Israel's National Sea Turtle Rescue Centre have been treating affected turtles as authorities scramble to find the cause of the spill, which Israel's Nature and Parks Authority (NPA) has called one of the country's worst ecological disasters on record.
Guy Ivgy, a medical assistant at the Sea Turtle Rescue Centre in Michmoret, north of Tel Aviv, said 11 turtles were being treated. The centre is run by the NPA.
"They came to us full of tar. All their trachea from inside and outside was full of tar," he said.
Workers have been removing the toxic substance from the reptiles' airways and found a creative way to flush it out of their digestive tracks.
"We continue to feed them substances like mayonnaise, which practically clean the system and break down the tar," Mr Ivgy said. The recovery process is expected to take a week or two, after which the turtles are expected to be released back into the wild.
Thousands of volunteers have been working to remove the tar from the coast as part of an extensive clean-up operation expected to take months.
Gila Gamliel, the environmental protection minister, has secured 45m (£9.7m) in government funding for clean-up operations and research.
Israel's Environmental Protection Ministry (EPM) said it is investigating the cause of the spill, and claims it only became aware something was wrong when thick lumps of tar began washing up on the shore last Wednesday.
The EPM launched an investigation and said it has identified 10 ships as potential suspects. Ms Gamliel said the investigation aims to apprehend and "severely punish" the culprits.
On Monday, a court in Haifa issued a gag order barring the publication of many details of the investigation, including the name of the ship suspected to have spilled the oil and its route. An Israeli journalists' association petitioned the court on Tuesday to have the order lifted.
A government lawyer said in court on Tuesday that the restrictions were necessary to avoid undermining the investigation but environmental acitvists have accused authorities of being under the influence of oil companies.
"There is no reason the public should not be exposed to the investigation of the causes responsible for the tar disaster on the beaches," said a spokesperson for the Zalul marine protection organisation.
"The entities operating at sea and [risking pollution] are rich oil companies and shipping companies that have much influence on the regulator, Zalul demands a transparent investigation and that the order be lifted immediately."
Additional reporting by AP
Register for free to continue reading
Registration is a free and easy way to support our truly independent journalism
By registering, you will also enjoy limited access to Premium articles, exclusive newsletters, commenting, and virtual events with our leading journalists
Already have an account? sign in
Join our new commenting forum
Join thought-provoking conversations, follow other Independent readers and see their replies