Israeli military shoots dead two Palestinians after dropping leaflets on Gaza warning against border protests
Leaflets read: 'Hamas is taking advantage of you to carry out terrorist attacks. The IDF is prepared for any scenario. Stay away from the fence'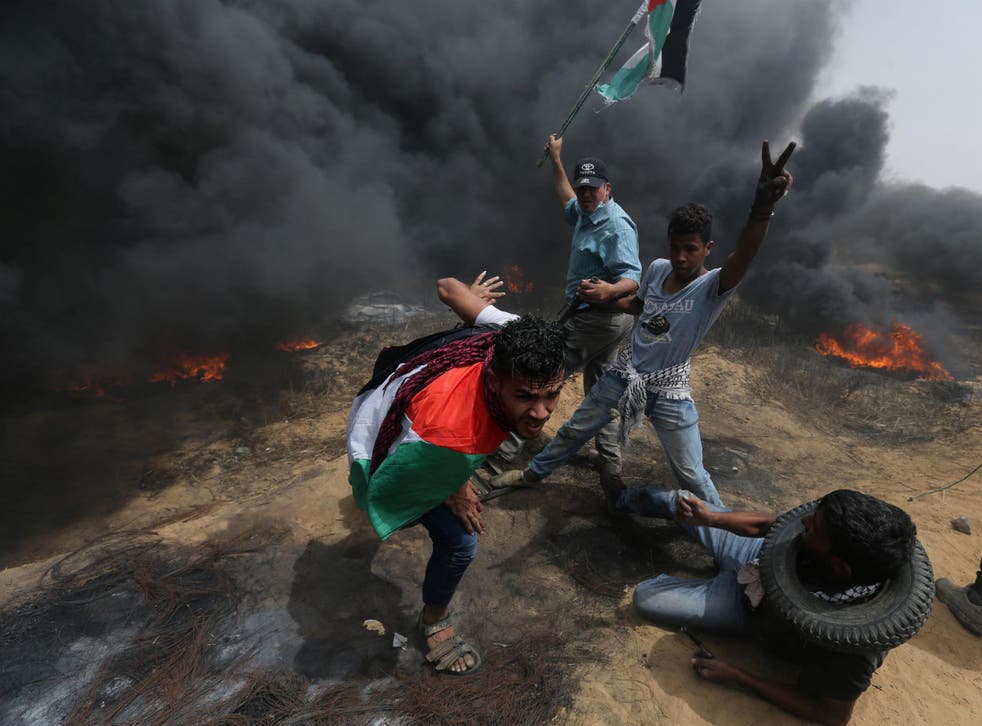 Israeli troops have shot dead two Palestinians during the latest border protests, after dropping leaflets over Gaza urging demonstrators to "stay away".
Gaza's health ministry said 40 protesters were injured after snipers opened fire as thousands of Palestinians took part in rallies for the fourth week amid heightened tensions in the region.
Earlier on Friday, Israeli military aircraft dropped leaflets warning Palestinians' lives would be in danger if they did not keep away from the Israel-Gaza frontier.
In the past three weeks, 28 Palestinians have been killed and hundreds wounded by Israeli troops firing across the border fence during protests and marches led by Hamas, Gaza's Islamic militant ruling group.
Hamas says the demonstrations are aimed at breaking up a crippling border blockade that was imposed by Israel and Egypt and pressing for the "right of return" of Palestinian refugees and their descendants to what is now Israel.
Israel's military has troops are defending its border and that its snipers only target "instigators". It has also accused Hamas of using mass protests as a cover for attacks.
In the latest protests on Friday, Israeli troops fired tear gas and live bullets as thick plumes of smoke rose into the sky from burning tyres set alight by demonstrators.
Most of the several thousands protesters gathered in five tent camps several hundred yards away from the border. Smaller groups advanced towards the fence, throwing stones, burning tyres and flying kites with burning rags.
The kites are reportedly part of a new tactic aimed at setting wheat fields on the Israeli side on fire. Most kites were stitched together in the colours of the Palestinian flag, although white kite bore the Nazi swastika.
Earlier, Israeli military aircraft had dropped warning leaflets, which according to Haaretz read: "You are participating in violent disturbances. Hamas is taking advantage of you to carry out terrorist attacks. The IDF is prepared for any scenario. Stay away from the fence and do not attempt to damage it."
Israel has faced international criticism for its response to the mass marches. Rights groups have branded open-fire orders as unlawful, saying they effectively permit soldiers to use potentially lethal force against unarmed protesters.
White House envoy Jason Greenblatt, a member of President Donald Trump's Middle East team, said Palestinians in Gaza had a "right to protest their dire humanitarian circumstances".
Organisers "should focus on that message, not stoke the potential for more violence with firebombs and flaming kites and must keep a safe distance from the border," said Mr Greenblatt, adding that "the cost of these demonstrations is too high in loss of life and injuries."
Palestinians clash with Israeli troops during mass demonstrations

Show all 10
The protests are to continue until at least 15 May, the anniversary of Israel's 1948 creation.
Palestinians mark the day as their "nakba" or catastrophe, when hundreds of thousands fled or were driven from their homes in the Middle East war over Israel's founding.
On Thursday, organisers moved sit-in protest tents, each set up several hundred meters from the border, closer to the fence. Organisers said they will gradually move the camps towards the fence until 15 May, but have made conflicting comments about a possible mass border breach.​
While Hamas and smaller Palestinian factions have taken a lead as organisers, the mass marches are also fuelled by growing desperation among Gaza's two million residents.
The border blockade has trapped nearly all of them in the tiny coastal territory, gutted the economy and deepened poverty. Gaza residents typically get fewer than five hours of electricity per day, while unemployment has soared above 40 per cent.
Register for free to continue reading
Registration is a free and easy way to support our truly independent journalism
By registering, you will also enjoy limited access to Premium articles, exclusive newsletters, commenting, and virtual events with our leading journalists
Already have an account? sign in
Register for free to continue reading
Registration is a free and easy way to support our truly independent journalism
By registering, you will also enjoy limited access to Premium articles, exclusive newsletters, commenting, and virtual events with our leading journalists
Already have an account? sign in