Israel accused of silencing opposition to West Bank occupation as it expels Human Rights Watch researcher
Omar Shakir deported after being accused of supporting boycott of Israel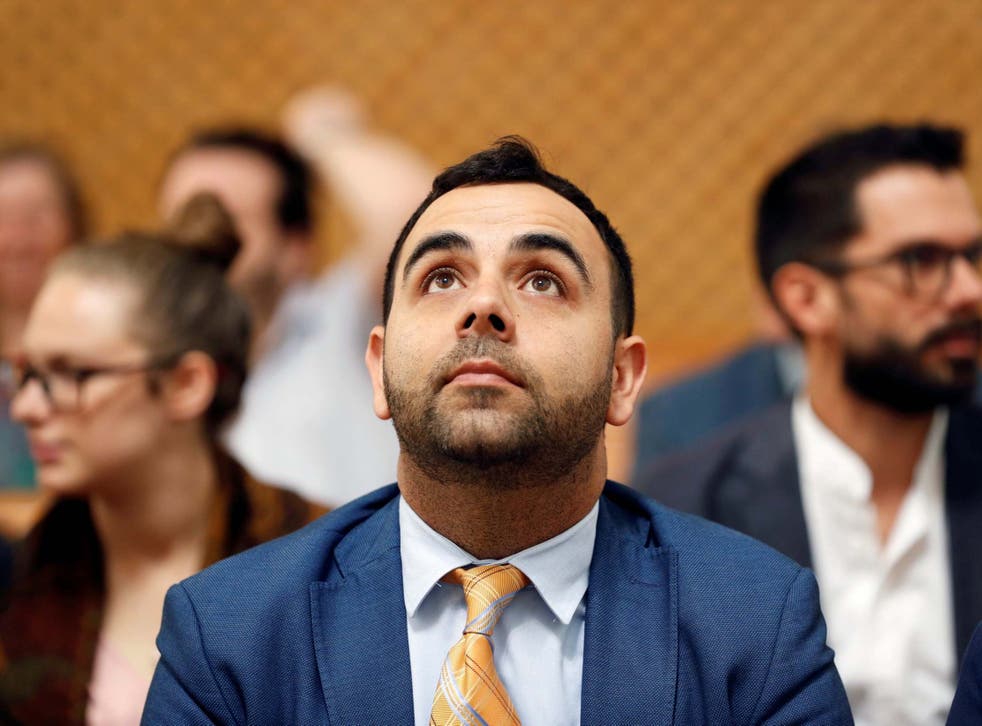 A prominent human rights researcher, deported from Israel on Monday, has condemned the government for "an attack on the human rights movement" and vowed to continue his work from outside the country.
Omar Shakir, a US citizen and director of Israel and the Palestinian territories for Human Rights Watch, was ordered to leave after being accused of supporting boycotts of the country based, in part, on pro-Palestinian comments he had made in the past.
"We will continue to do the work. We will cover the same topics with the same intensity and the same vigour," Mr Shakir said on Monday, the day he was due to be deported.
"We will not stop until the day comes in which all people – Israelis and Palestinians – are treated equally and have their full human rights protected. We won't stop," he said.
Israel declined to renew Mr Shakir's work permit in May last year, citing a 2017 law that bars entry to foreigners who have called for economic boycotts of Israel, or its settlements in occupied territory.
Palestinians await Israeli demolition of their homes in the West Bank

Show all 7
The law effectively criminalises support for the Boycott, Divestment and Sanctions (BDS) movement – an international campaign that urges countries, business and institutions to sever ties with Israel in order to pressure it to end its occupation of the West Bank.
HRW has repeatedly denied that either the group or Mr Shakir has called for an outright boycott of Israel.
"This has never been about BDS, it has always been about the Israeli government's efforts to muzzle Human Rights Watch. But it's had exactly the opposite effect. The world has seen through this for what it is: it's an attack on the human rights movement. It has brought Israel, Palestinian and international rights groups together as never before," Mr Shakir said.
The country's top court upheld an appeal over the decision earlier this month, giving him 20 days to leave Israel.
The move has been widely condemned by Israeli and international human rights groups.
"Omar Shakir's deportation is part of a broader, ongoing, campaign waged by the Israeli government to silence any effective opposition to the prolonged occupation," said Hagai El-Ad, executive director of Israeli rights groups B'Tselem.
The Israeli government campaign to stifle dissent, he added, has been "implemented both locally and internationally, and aimed at human rights organisations, journalists, academics, artists and anyone who dares to criticise the government's inhumane and unacceptable policies."
Kenneth Roth, HRW's executive director, said that Mr Shakir would continue his work from neighbouring Jordan.
"Israel hopes that by deporting the Human Rights Watch researcher today, Omar Shakir, that it can somehow stop our reporting on the illegal settlement regime that it has built in the West Bank and East Jerusalem. Israel is dead wrong," he said.
"Israel's intolerance towards the mainstream human rights advocacy that Omar was doing, has only spotlighted for the world the oppressive, discriminatory regime that Israel has built for Palestinians under occupation."
Since the 1967 Arab-Israeli war, numerous UN resolutions have affirmed that Israel's occupation of the West Bank is illegal under international law.
Speaking to the Security Council last week, the United Nations' special coordinator for the Middle East peace process, Nickolay Mladenov, described West Bank settlements as "a flagrant violation under international law," and "a major obstacle to the achievement of the two-state solution and a just, lasting and comprehensive peace".
The Israeli government defended its decision on Monday in a statement from the Ministry of Strategic Affairs.
"Israel, like any sane country, has the right to decide who is given the freedom to enter and work within its borders," the statement said. "Omar Shakir, as the District and Supreme Courts have already determined, is an active BDS propogator [sic] who zealously promotes boycotts against Israel."
"HRW is welcome to appoint another coordinator in place of Mr Shakir who will actually deal with the protection of human rights rather than focus on promoting policies that harm Israeli citizens," it added.
Register for free to continue reading
Registration is a free and easy way to support our truly independent journalism
By registering, you will also enjoy limited access to Premium articles, exclusive newsletters, commenting, and virtual events with our leading journalists
Already have an account? sign in
Register for free to continue reading
Registration is a free and easy way to support our truly independent journalism
By registering, you will also enjoy limited access to Premium articles, exclusive newsletters, commenting, and virtual events with our leading journalists
Already have an account? sign in
Join our new commenting forum
Join thought-provoking conversations, follow other Independent readers and see their replies