Israeli police shooting of unarmed disabled Palestinian sparks protests and comparisons to George Floyd killing
Defence minister Benny Gantz apologises for death of Iyad Hallak, as hundreds attended his funeral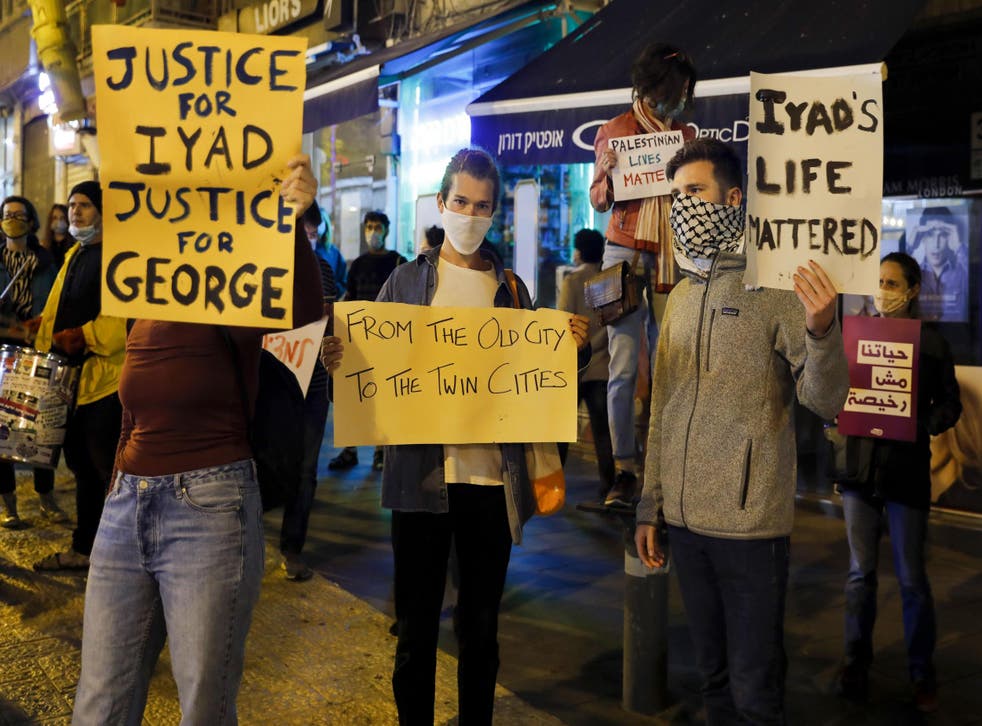 Israel's defence minister has issued a rare public apology for the killing of an unarmed autistic Palestinian man by police, which sparked protests and comparisons to the death of George Floyd in the United States.
Iyad Hallak, 32, was gunned down in the Old City of Jerusalem on Saturday, just metres away from where he attended a special needs school. Hundreds took to the street to demonstrate in Jerusalem and Tel Aviv over the weekend, with some holding up signs saying "Palestinian Lives Matter" and "Justice for Iyad, Justice for George."
In a statement, Israeli police said they began chasing Hallak on foot when they spotted what they believed to be "a suspicious object that looked like a pistol".
Officers opened fire, which proved to be fatal, after they claimed he failed to obey orders to stop. Police spokesman Micky Rosenfeld later said no weapon was found. Two officers were briefly detained in the wake of the incident and an investigation is underway.
Dr Hatem Awiwi, the cousin of Hallak, said that he was disabled and would walk from his home in Wadi-al Joz in occupied East Jerusalem to the special needs centre every day.
"He didn't know what a police officer is," Dr Awiwi told Israel's Haaretz newspaper, explaining the young man had trouble communicating with people. "He saw a stranger and fled, and then they shot him."
Hundreds attended Mr Hallak's funeral on Sunday night.
Defense Minister Benny Gantz, who is also Israel's "alternate" prime minister under a power-sharing deal with Benjamin Netanyahu, apologised for the killing during the weekly meeting of the Israeli cabinet. He sat near Mr Netanyahu, who made no mention of the incident.
"We are really sorry about the incident in which Iyad Halak was shot to death and we share in the family's grief," Mr Gantz said on Sunday. "I am sure this subject will be investigated swiftly and conclusions will be reached."
Many have drawn comparisons to George Floyd, a 46-year-old unarmed black man who was killed last Monday in Minneapolis, Minnesota, by a white police officer who knelt on his neck for nine minutes.
The death of Floyd has sparked some of the largest protests in the US against police brutality and systematic racism in decades, with demonstrations also held in other cities across the world.
Saeb Erekat, the Palestinian's chief negotiator, wrote on Twitter that Israel must not be "treated as a state above the law" using the hashtag "I can't breathe" in a reference to George Floyd's last words as he was pinned to the ground.
Ahmed Tibi, an Arab lawmaker in Israel, who visited the Hallak family also used the same hashtag, saying that relatives told him Hallak's teacher was accompanying him on Saturday and had told the police that he was autistic.
Tensions have risen in recent weeks as Mr Netanyahu has sought to push ahead with unilaterally annex Israeli settlements and the Jordan Valley in the occupied West Bank, land Palestinians hope will build their future state.
The Old City of Jerusalem, home to sacred sites for three of the world's major faiths, has long been a touchpaper of the conflict.
It is heavily policed by Israeli security forces who maintain they are there to keep the peace, although Palestinians accuse them of harassing Arab citizens.
Lone Palestinian attackers with no clear links to armed groups have carried out a series of stabbings, shootings and car-ramming attacks in recent years.
Register for free to continue reading
Registration is a free and easy way to support our truly independent journalism
By registering, you will also enjoy limited access to Premium articles, exclusive newsletters, commenting, and virtual events with our leading journalists
Already have an account? sign in
Register for free to continue reading
Registration is a free and easy way to support our truly independent journalism
By registering, you will also enjoy limited access to Premium articles, exclusive newsletters, commenting, and virtual events with our leading journalists
Already have an account? sign in
Join our new commenting forum
Join thought-provoking conversations, follow other Independent readers and see their replies