Jews and Arabs unite to protest Israel's new nation state law
Israeli prime minister Benjamin Netanyahu condemns protesters for wanting to 'turn Israel into a Palestinian state'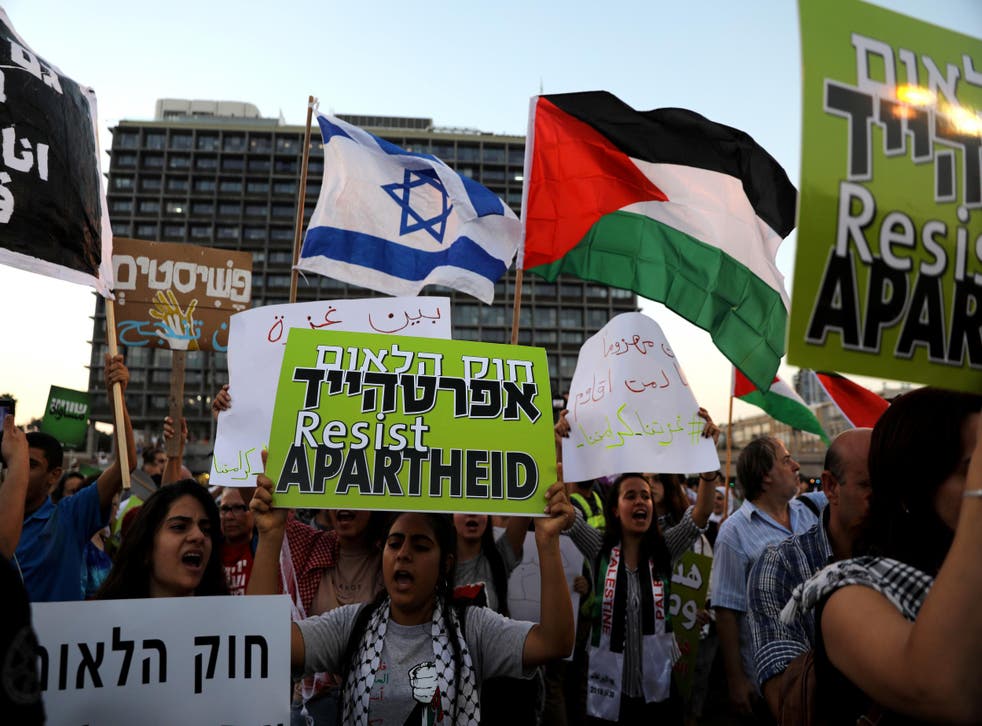 More than 30,000 people took to the streets of Tel Aviv over the weekend to voice their opposition to Israel's controversial new "nation state" law.
The Arab, Druze and Jewish crowds waved Palestinian flags and shouted and sang in both Arabic and Hebrew in Rabin Square on Saturday night against what has been dubbed an "apartheid law" by Arab Israeli politicians.
"The law legitimises racism," Laila al Sana, a 19-year-old from from a Bedouin village in Israel's southern Negev desert, told Reuters.
Ahed Tamimi: Teenage Palestinian protester released from Israeli prison
"It's very important to show we are here, to resist," she said.
"I feel ashamed that after 70 years [since the founding of Israel] I have to accentuate my nationalism instead of being generous toward all those who live here," said Gila Zamir, 58, a Jewish Israeli from the Arab-Jewish city Haifa.
The legislation passed last month by the Knesset is designed to strengthen Israel's identity as the "national home of the Jewish people".
It has been widely condemned as discriminatory towards the country's 20 per cent Arab population by critics at home and abroad, however, sparking several protests.
Critics say civil equality as currently enshrined in Israeli law is undermined by the new legislation because it differentiates between Jewish and non-Jewish citizens.
Protests erupt after Trump recognises Jerusalem as Israel's capital

Show all 22
Among other measures, the law downgrades Arabic from being an official language and encourages settlement expansion in the occupied West Bank.
Israeli prime minister Benjamin Netanyahu said the weekend's protest proved the necessity of passing the law.
"Yesterday we received unequivocal evidence of defiance to the existence of the State of Israel and the necessity of the nation state law," Mr Netanyahu said at a cabinet meeting on Sunday.
"We saw flags of the PLO [Palestinian Liberation Organisation] in the heart of Tel Aviv. In the heart of Tel Aviv!" Mr Netanyahu told a cabinet meeting on Sunday.
"We heard slogans in Arabic including 'By blood and fire we will clear Palestine'. Many of the demonstrators want to repeal the law of return [that gives Jews the right to emigrate to Israel]; they want to abolish the anthem and the flag, and turn Israel into a Palestinian state.
"It's clearer now more than ever that the nation state law is needed to ensure the future of Israel as a Jewish state," he added.
Jordanians refuse to work on job after finding out it is for gas pipeline with Israel
Saturday's mainly Arab-led protest follows another huge demonstration organised by Israel's minority Druze community the previous week.
The small section of Israel society – around 120,000 people – is Muslim and Arabic speaking, but has earned a reputation as the country's "model minority" because of their support for the state and willingness to serve in the military.
Prominent Druze politicians have vowed to mount a legal opposition to the law, a move that has resonated among Israel's establishment.
Join our new commenting forum
Join thought-provoking conversations, follow other Independent readers and see their replies