Israel's anthem and a row about harmony
Its lyrics extol the virtues of Zion – but when the country's leading Arab lawyer refused to sing them, his silence provoked a cacophony of protest. Catrina Stewart reports from Jerusalem
Catrina Stewart
Monday 19 March 2012 01:00 Comments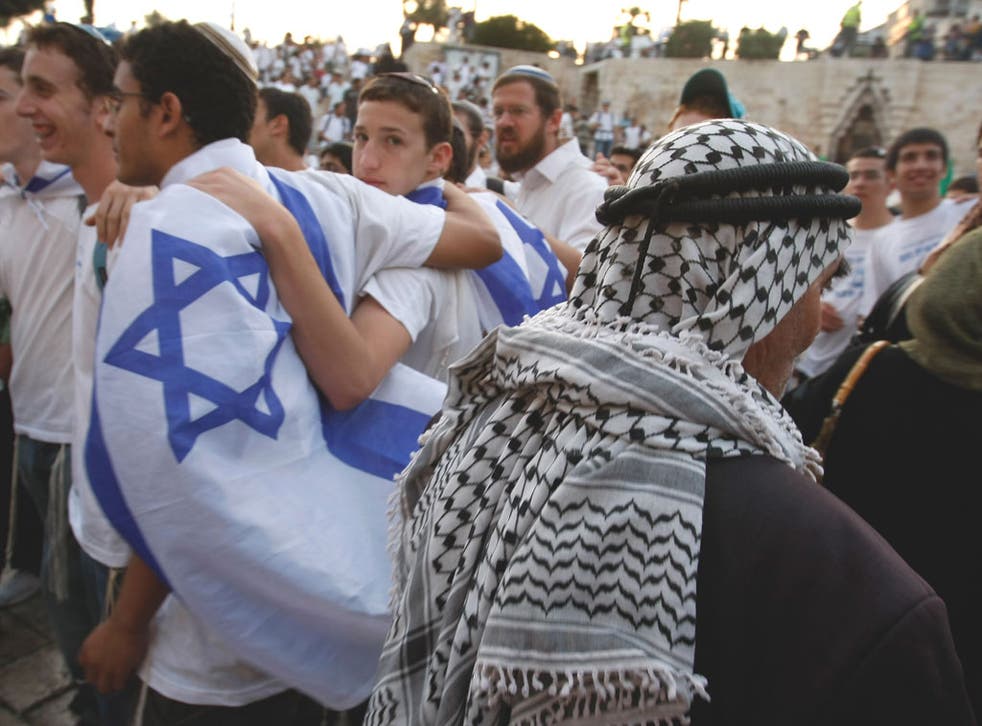 Ordinarily, it might have passed without remark. But when officials stood for the national anthem at an emotional leaving ceremony for Dorit Beinisch, chief justice of Israel's Supreme Court, the television cameras homed in on one man who was not singing. That man was Justice Salim Joubran, the first Arab to hold a permanent seat on Israel's highest court. His refusal to sing the Hebrew anthem was, to some, an unacceptable affront that mocked the national symbols of the Jewish state.
"Every Israeli citizen is committed to the anthem, and certainly those who hold senior state positions," Michael Ben-Ari, a member of the right-wing National Union party, was quoted as saying after the incident. "The fact that Joubran did not hesitate to degrade the state ceremony ... is like spitting in the face of Israel. There are citizens who demand rights and government positions, but who scorn their national obligations with insolence and arrogance."
There followed calls for Mr Joubran's dismissal and Mr Ben-Ari proposed a Bill to parliament to bar from serving on the Supreme Court those who had not performed military service, which would exclude the vast majority of Israeli Arabs. The bill was defeated.
But Mr Joubran's actions should have come as little surprise. For decades, Israel's Arabs – Palestinians who took Israeli citizenship in 1948, and who now constitute one-fifth of the population – have opted out of singing an anthem that speaks of the yearning of the "Jewish soul" to be "a free nation in our land, the land of Zion and Jerusalem", words with which few Arabs can identify.
"It's not just that it doesn't represent us, but it actually represents the opposite," says Haneen Zuabi, an Israeli Arab politician from the Balad party. It suggests, she says, "that there were no Palestinians in this land pre-1948... and that the establishment of this state was not at the expense of another people."
While the majority of Israeli Arabs probably never face the decision of whether to sing or not, there are those for whom the dilemma is very pertinent. Like every professional sportsman, Jowan Qupty, a Christian Arab from East Jerusalem who hopes to represent Israel in the breaststroke in the London Olympics this summer, dreams of winning gold for his country, but fears the backlash that could follow if he refused to sing the Hatikvah, translated as The Hope.
Speaking by telephone from the US, Mr Qupty, 21, says the words hold no meaning for him. "I respect it, but I don't sing it because it doesn't relate to me. It talks about Zionism and getting back to the homeland. It doesn't say anything about the 20 per cent [of] Arabs." Winning a national championship last year pushed Mr Qupty into rare prominence, with one Israeli newspaper headlining the story "In the water, everyone is equal". For a man who is grilled by security every time he arrives at Israel's Ben Gurion airport, as team-mates sail through, it held particular resonance.
"They say that Israel is a democracy. Well, show us that it is. [A different anthem] would show that they care about all of their citizens," Mr Qupty says. Israel has long held up its minority Arab population as an example of its credentials as the only democracy in the Middle East, noting that Israeli Arabs enjoy freedoms their kinsmen can only dream of in some parts of the Arab world. But it is widely acknowledged that Israel's Arabs face widespread discrimination, their communities among the most marginalised in the Jewish State.
Municipal services they receive are inferior to Jewish areas, while they face chronic classroom shortages and fewer opportunities in the workplace. There is also the issue of perception. Some Israelis regard the Arab minority as a kind of fifth column, loyal neither to the Jewish State nor to its symbols. Ms Zuabi, one of the most outspoken of Israel's Arab politicians, was accused of treason by fellow lawmakers for joining pro-Palestinian protesters on a Gaza-bound flotilla two years ago. Her parliamentary privileges were revoked.
Moreover, ultranationalist politicians have tried to push through a raft of legislation targeted at bringing the Arab community into line, including loyalty oaths and bills legislating against commemorating the Nakba, or Catastrophe, when 700,000 people fled or were driven from their homes during the founding of the Jewish State in 1948.
Writing in Israel's liberal Haaretz newspaper, columnist Gideon Levy says Israel's democracy is "paper-thin and fragile," and that Mr Joubran, "put us to the test, and the vaunted Israeli democracy failed miserably."
"A fifth of this country's residents, the state's Arab citizens, must now express their gratitude to their justice; in his silence, he gave expression to their voice. But lovers of democracy must be even more grateful, because he reminded all of them that the supreme test of democracy is how it treats those who don't join the choir," he wrote. Mr Joubran has received support from unexpected quarters.
"I don't understand the insistence on hearing an Arab citizen sing the words 'the soul of a Jew yearns'," said the Minister of Strategic Affairs, Moshe Ya'alon, who described the attack on Mr Joubran as "bizarre, unnecessary" and having "a bad odour of racial oppression". The Prime Minister, Benjamin Netanyahu, offered support, albeit somewhat muted, via an emissary.
But, Yossi Verter, an Israeli journalist, says such gestures are "not enough" because they treat the Israeli Arabs as a "tolerated minority". He blogged: "That should not be the case: a country with a large minority should learn to accommodate it." Its melody inspired by a Czech folk tune, the Hatikvah was written in 1886 by Naftali Herz Imber, a European poet, and was originally sung as a rebuttal to a proposal by Theodor Herzl, considered the father of modern Zionism, to locate the Jewish homeland in Uganda.
As such, some Israelis feel it is fair to change the wording, at least by replacing "Jewish soul" with "Israeli soul", although many would still take exception to a song that speaks of a yearning for Zion. Others argue that Israel has to go further and rewrite its anthem if it is to be inclusive and help forge a modern-day Israeli identity, similar to how Canada dropped the British anthem for one French Canadians could sing without betraying their sense of identity.
"This is a ticking time bomb, and some day it will explode, unless a real effort is made to allow an honest Arab citizen to feel like a real citizen of the Israeli state, and, yes, to sing a new national anthem," wrote Uri Avnery, a prominent Israeli left-winger and former politician. "As long as the Arabs are treated as a Trojan horse, why should they sing? Horses, as far as I know, do not excel in singing."
Words that divide - The Lyrics
As long as in the heart, within,
A Jewish soul still yearns,
And onward, towards the ends of the East,
An eye still gazes toward Zion;
Our hope is not yet lost,
The hope of two thousand years,
To be a free people in our land,
The land of Zion and Jerusalem.
Register for free to continue reading
Registration is a free and easy way to support our truly independent journalism
By registering, you will also enjoy limited access to Premium articles, exclusive newsletters, commenting, and virtual events with our leading journalists
Already have an account? sign in
Register for free to continue reading
Registration is a free and easy way to support our truly independent journalism
By registering, you will also enjoy limited access to Premium articles, exclusive newsletters, commenting, and virtual events with our leading journalists
Already have an account? sign in
Join our new commenting forum
Join thought-provoking conversations, follow other Independent readers and see their replies