Israel sends jets to Cairo to rescue diplomats after embassy is stormed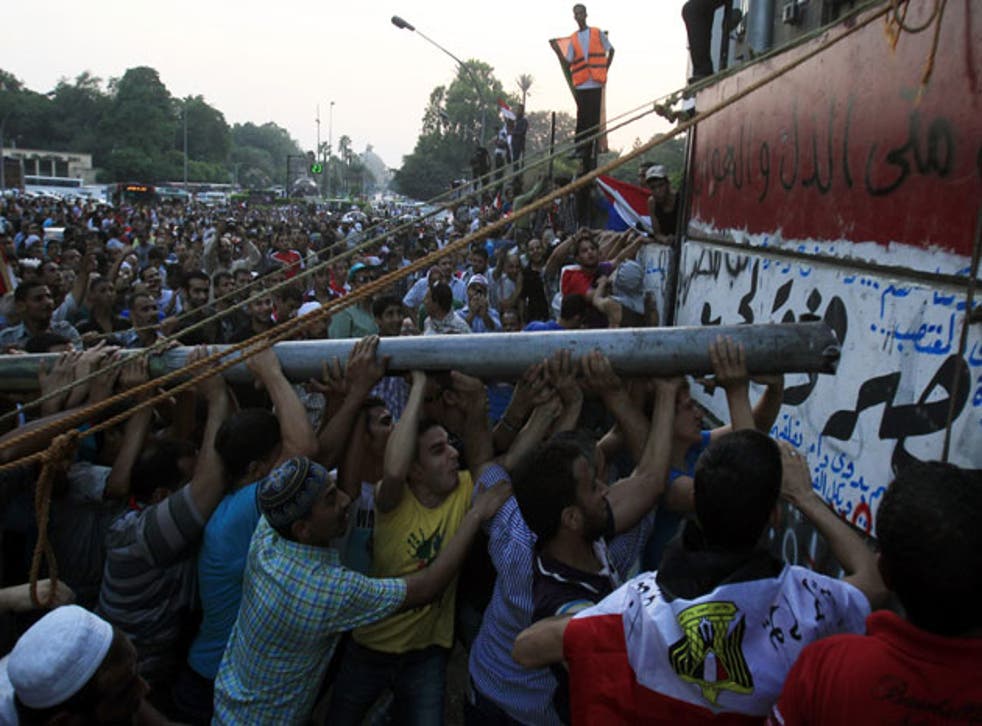 Israel yesterday sent two airforce jets to evacuate more than 80 diplomats and family members after its embassy in Cairo was stormed by demonstrators. Six Israeli security guards were trapped until they were finally rescued by an Egyptian commando unit.
Egypt's interim military regime last night promised a crackdown on the perpetrators of the attack, as both governments tried to prevent the situation lurching into a full-blown threat to the 32-year-old treaty between the two countries.
Around 30 protesters were able to reach the consular reception area of the embassy on the upper floors of a high-rise office block, and hurled official documents to the street below. Others scaled the walls and tore down the Israeli flag. Demonstrators had earlier torn down a barrier protecting the embassy.
The Egyptian interior ministry – the headquarters of which were also defaced during a night of protests – said at least three people had died, one of a heart attack, and up to 1,050 were injured in the clashes between police and demonstrators, 19 of whom were arrested.
The rescue of the six trapped Israelis and the concerted police operation was said by Israel to have come only after US intervention. In a dramatic account last night, the Israeli Prime Minister, Benjamin Netanyahu, described a late-night telephone call he had had with President Barack Obama. "It was a decisive moment. I would say even fateful," Mr Netanyahu said. "He told me, 'I will do whatever I can', and he employed all means in his power. I think we owe him special thanks."
Mr Netanyahu went on to detail a conversation he had with Yonatan, chief officer of the six trapped security men. "Only a single door separated the mob from Yonatan and his friends," the Prime Minister said. "He sounded calm and collected, but at the same time he was well aware of the grave situation. During our conversation, he told me, 'If something happens, I ask that you let my parents know in person, and not over the phone'. I told him to hold on, that the State of Israel is doing everything in its power to bring him to safety."
Mr Netanyahu insisted last night that the treaty was of vital interest to both countries and an "anchor" of Israel's regional policy. He added: "We are acting along with the Egyptian government to quickly return our ambassador to Cairo." Meanwhile Osama Heikal, Egypt's information minister, promised to send the suspected perpetrators of the attack to special emergency security courts.
Most Israeli diplomats, including the ambassador, Yitzhak Levanon, had left but officials said the embassy would continue to function on a skeleton basis under the deputy ambassador.
Register for free to continue reading
Registration is a free and easy way to support our truly independent journalism
By registering, you will also enjoy limited access to Premium articles, exclusive newsletters, commenting, and virtual events with our leading journalists
Already have an account? sign in
Register for free to continue reading
Registration is a free and easy way to support our truly independent journalism
By registering, you will also enjoy limited access to Premium articles, exclusive newsletters, commenting, and virtual events with our leading journalists
Already have an account? sign in
Join our new commenting forum
Join thought-provoking conversations, follow other Independent readers and see their replies