Israel 'capitalising on Trump' to launch construction binge of new settlement homes in West Bank
'There's definitely a change of atmosphere. There's definitely a change of winds'
Wednesday 02 January 2019 11:32 GMT
Comments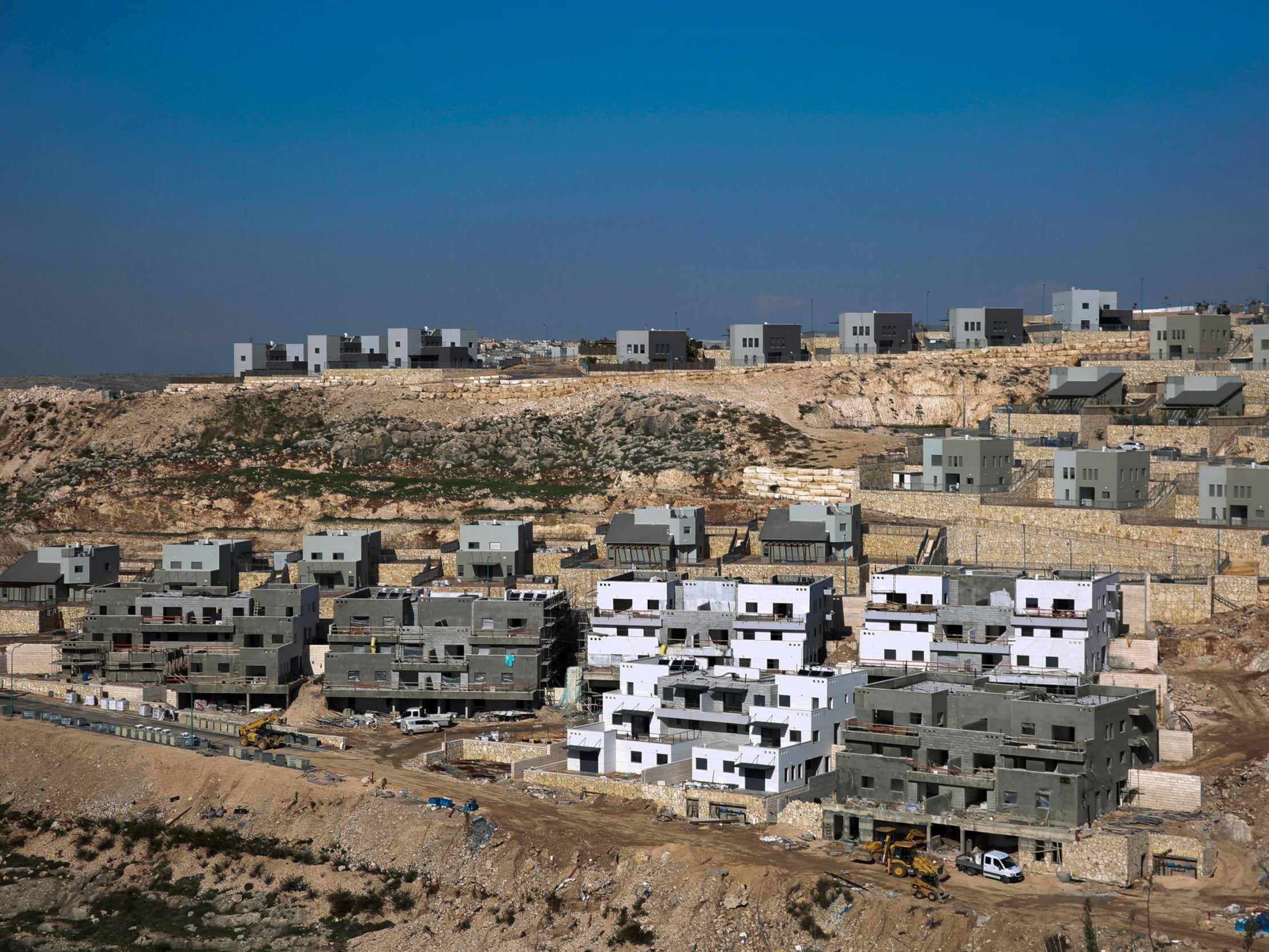 Israeli settlement activity in the West Bank has spiked with Donald Trump in the White House, new data suggests, as campaigners claim a fresh surge in new construction is on the way.
Figures compiled from official government sources by the anti-settlement monitoring group Peace Now show an increase in building in 2018 while also recording thousands of plans for additional future development.
Last week the EU and others criticised Israel's approval of more than 2,000 new homes in the West Bank as "illegal under international law".
Palestinians want the West Bank and East Jerusalem for their own state, along with the Gaza Strip.
Both backers and opponents of settlements say they believe the atmosphere around the projects has changed since early 2017, when Mr Trump took office. Under Barack Obama, Washington had attempted to rein in construction.
"The feeling of the government is everything is allowed, that the time to do things is now because the [Trump] administration is the most pro-settlement you can ever have," said Hagit Ofran, of Peace Now's Settlement Watch programme.
Peace Now uses several measurements of settlement activity: "plans" are the early bureaucratic stages of preparation; "tenders" describe bids solicited from contractors to carry out the work; and "construction starts" denotes when the building begins.
The planning and tender stages are seen as forward-looking indicators of a government's intentions and, in 2017, plans were advanced to build 6,712 new settlement homes, about 2.5 times the 2016 level.
The first nine months of 2018 saw 20 per cent more construction starts than the same period a year earlier. But the most noticeable surge in settlement activity during Mr Trump's tenure so far was in tenders, meaning projects that are ready to begin.
In 2017, 3,154 tenders were issued, up from just 42 during Mr Obama's final year in office. In 2018, that number rose to more than 3,800, by far the highest number since Peace Now started compiling the data in 2002. It suggested a significant jump in construction was on the horizon.
Oded Revivi, mayor of the Efrato settlement near Jerusalem and the chief foreign envoy of the Yesha settlement council, said: "There's definitely a change of atmosphere. There's definitely a change of winds.
"Basically what you're seeing now is the statistics are trying to catch up to the needs that were built up during the eight years of the Obama administration, when everything was in a standstill."
The settlement data came as Honduras announced it would hold talks with Israel over plans to open an embassy in Jerusalem.
Mr Trump courted controversy when he moved the US embassy from Tel Aviv to Jerusalem, a hotly contested religious site.
Guatemala also moved its embassy there.
Additional reporting by Reuters
Join our commenting forum
Join thought-provoking conversations, follow other Independent readers and see their replies