Five children who got longer sentences for throwing stones than Israeli soldier who shot incapacitated Palestinian dead
'If [a Palestinian] kills an animal... he would have gotten more time,'  family of deceased man says
Wednesday 22 February 2017 13:08 GMT
Comments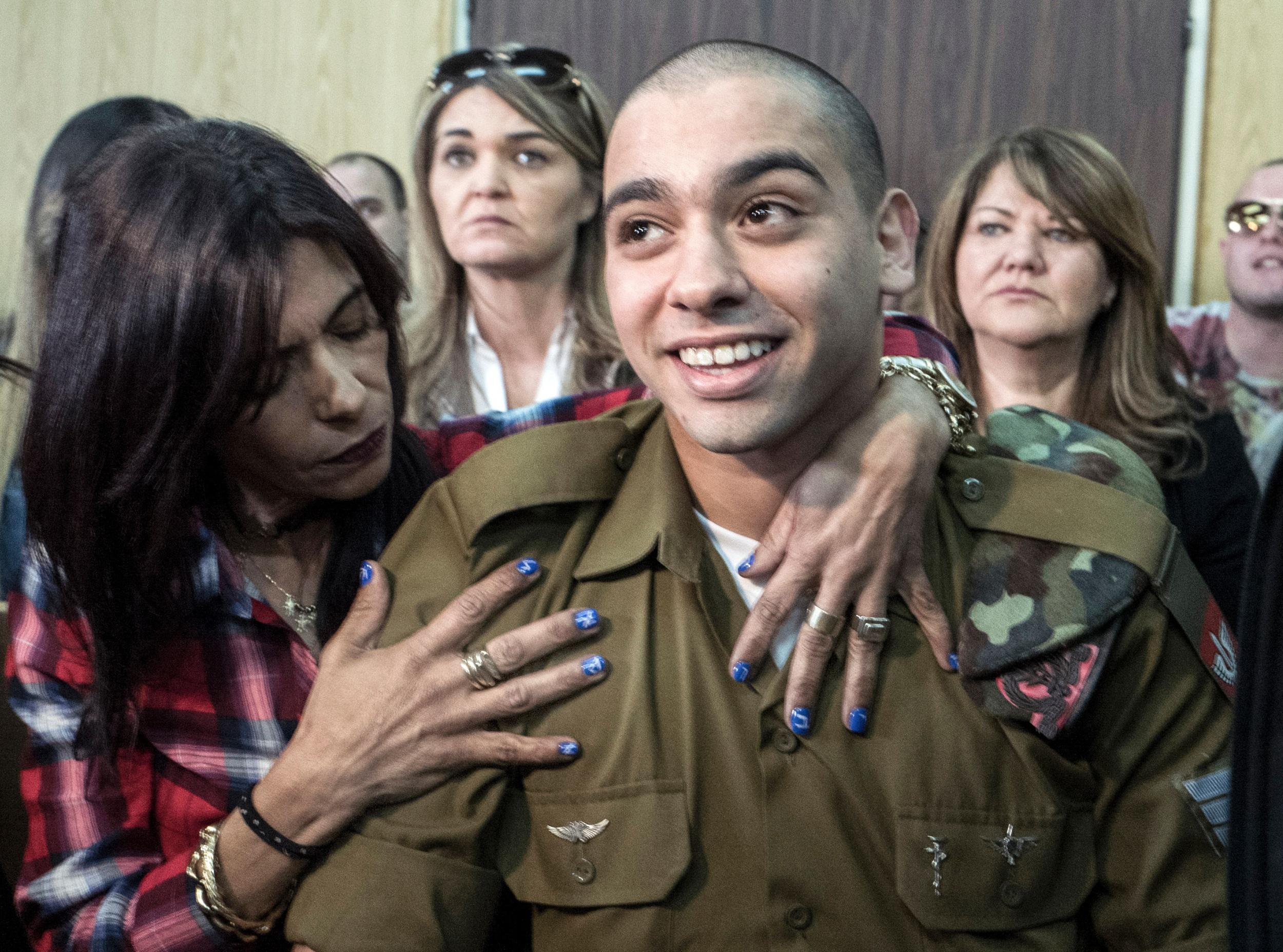 An 18-month jail sentence handed down to an Israel Defence Force (IDF) recruit for the killing of a wounded Palestinian has prompted widespread criticism for its apparent leniency in light of the severity of his crime.
Then 19-year-old medic Elor Azaria was found guilty of manslaughter for fatally shooting 21-year-old Palestinian knife attacker Abdel Fattah al-Sharif in the head after the assailant had already been disarmed and injured in an incident in Hebron last year.
The killing was recorded by an onlooker using a mobile phone in footage that was widely shared by Israeli human rights group B'Tselem.
Palestinian man shot by Israeli soldier as he lies on the ground
While prosecutors sought a term of between three and five years in jail, Azaria was given 18 months in prison, 12 months' probation, and was demoted from Sergeant to Private. Manslaughter is punishable by up to 20 years in prison under Israeli law.
The ruling was a landmark case insofar as no member of the IDF has been prosecuted for actions carried out in uniform in over 12 years.
However, Palestinians and rights activists have widely criticised the punishment as not severe enough.
It is possible that Azaria could walk free after serving 12 months of his sentence, and there have been several high-profile calls for the young recruit to be pardoned altogether.
His lawyers' claims of self-defence are supported by 65 per cent of the Jewish Israeli public, an August 2016 survey by the Israel Democracy Institute found.
Al-Sharif's father Yusri told reporters from his home in the West Bank that the family had never expected the Tel Aviv military court "show trial" to do the deceased man justice.
"Even though the soldier was caught on video and it is clear that this is a cold-blooded execution, he was convicted only of manslaughter, not murder, and the prosecution asked for only a light sentence of three years.
"The sentence he received is less than a Palestinian child gets for throwing stones."
The family's comments are not hyperbole. In 2015, Israeli Prime Minister Benjamin Netanyahu's cabinet established a mandatory minimum penalty of four years in prison for those who "endanger human lives by throwing stones, fire-bombs and explosives".
The temporary measure, expected to last until 2018, came into force after an Israeli man died in a car crash linked to a stone-throwing incident.
Under military law, Palestinian rights group Addameer says, throwing stones can be punishable by up to 20 years in prison.
Just a handful of people imprisoned under the new stone-throwing legislation who were handed down longer sentences than Azaria, include five boys from east Jerusalem who were sentenced in March last year for throwing stones at cars:
Saleh Ashraf Ishtayya, 16:  three years and three months in prison

 Muhammad Ahmad Jaber, 14: three years in prison

 Murad Raed Alqam, 14: three years in prison

Muhammad Na'el Tayeh, 17:  two years and four months in prison

Zaid Ayed al-Taweel, 16: two years and four months in prison
In addition to the above five, in the same trial, 14-year-old Omar Rani Yaseen received a one-year sentence, and Yazan Hani Ayoub, whose age was not given, was given one year and two months in prison.
Join our commenting forum
Join thought-provoking conversations, follow other Independent readers and see their replies