Israel shoots down Syrian fighter jet in its airspace, military says
Intense fighting between Syrian government and opposition forces in Syria's south has put Israel on high alert for both spillover violence and possibility Bashar al Assad may seek to re-militarise fractious border area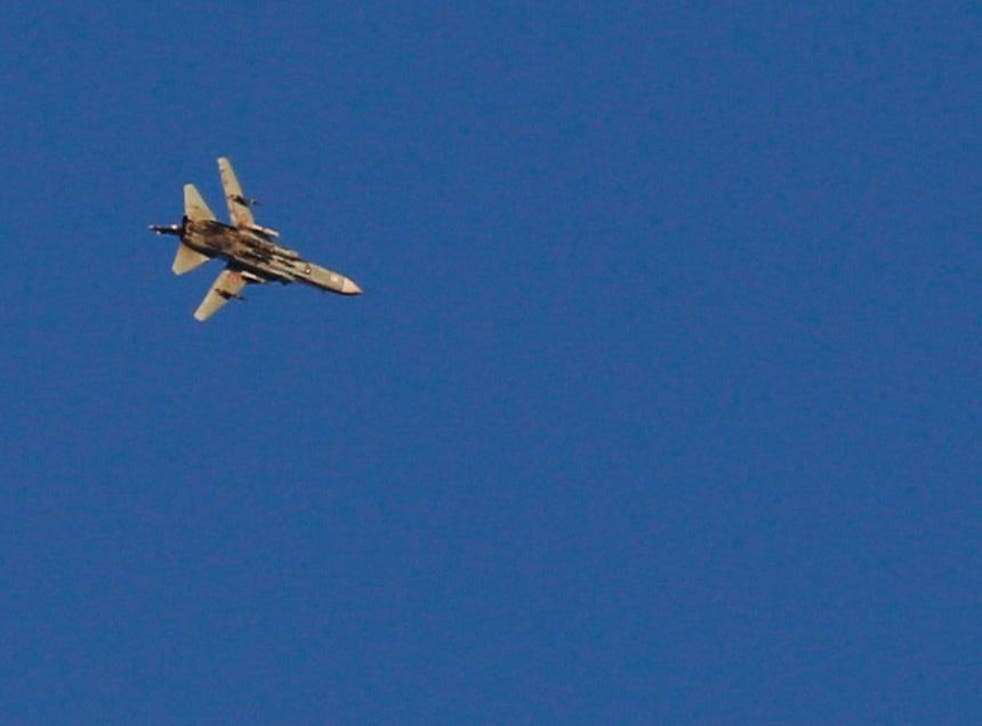 Israel has shot down a Syrian warplane it says was flying over its airspace in the southern Golan, the Israel Defence Forces (IDF) has said.
Two Patriot surface-to-air missiles were fired at a Syrian Russian-made Sukhoi-22 jet on Tuesday after it was monitored flying around two kilometres (1.25 miles) into Israel, according to a military statement. The IDF remains on high alert.
The pilot was identified by pro-Syrian government media as Colonel Umran Mare, and it is believed he was killed when the plane crashed in an area on the Syrian side of the border, possibly in territory controlled by Isis.
IDF turns away Syrian refugees at border
The Syrian Observatory for Human Rights confirmed the pilot's death, but did not identify him.
Israeli prime minister Benjamin Netanyahu said he had "made clear" that Israel "will not accept any such penetration of or spillover into our territory, neither on the ground nor from the air."
Damascus has denied Israel's claim, saying instead that the jet was operating in Syrian airspace. A state-operated news agency said the plane was targeted while conducting a raid against Isis within southern Syria.
Israel attack Iran targets in Syria: overnight airstrike in pictures

Show all 10
Israeli military spokesperson Lt Col Jonathan Conricus told reporters on Tuesday afternoon that the Syrian plane flew towards Israel at "relatively high speed" but it was unknown whether it deliberately crossed into hostile airspace.
The IDF noted increased activity by the Syrian air force near the the border during the day, which prompted Israel to issue deconfliction warnings through several different channels, said Danny Danon – Israel's ambassador to the United Nations.
Southern areas on Syria's borders with Jordan and Israel have seen intense fighting in recent weeks after the Syrian government, with the help of Russia's air force, launched a major operation to retake Deraa province from rebels and extremist groups.
The downing of the jet comes a day after Israel deployed its David's Sling air defence system for the first time, which intercepted two stray Syrian surface-to-surface missiles after they triggered siren warning systems in the Israeli-occupied Golan Heights.
Tuesday's incident marks the first time a Syrian warplane has been shot down by Israel since 2014. While a 1974 disengagement agreement demilitarised the contested Golan Heights, the two countries technically remain in a state of war.
The new offensive to retake Deraa has seen Syrian president Bashar al-Assad's government take up military positions in the border zone with Israel for the first time in decades, leading to Israeli worries that Damascus may seek to reinstate its military presence in the Golan.
Theresa May denies UK bombed Syria 'beacuse Trump asked us to'
Around 100 Israeli airstrikes in Syrian territory in the last few years have aimed to prevent weapons smuggling to the Iran-allied Lebanese militant group Hezbollah, which also fights alongside Assad's troops. Hezbollah, like Iran, is committed to the destruction of the Jewish state.
As Assad has slowly regained control of the country, hostilities between Iran and Israel have ratcheted up, with Israeli officials warning they will not accept a permanent Iranian military presence in Syria.
Escalating tensions have led to an intervention from Moscow, which on Monday sent a delegation led by foreign minister Sergey Lavrov for talks with Israeli prime minister Benjamin Netanyahu, designed to reassure Israel that Russia will keep Iranian forces at least 100km (62 miles) away from the Golan frontier.
Israeli officials remain sceptical of Russia's ability to limit Iranian activity in the war-torn country.
Join our new commenting forum
Join thought-provoking conversations, follow other Independent readers and see their replies