Benjamin Netanyahu says Israel will 'defend itself against any attack' after clashes in Syria
The warning comes after an Israeli jet was shot down in Syria
Clark Mindock
New York
Saturday 10 February 2018 20:41 Comments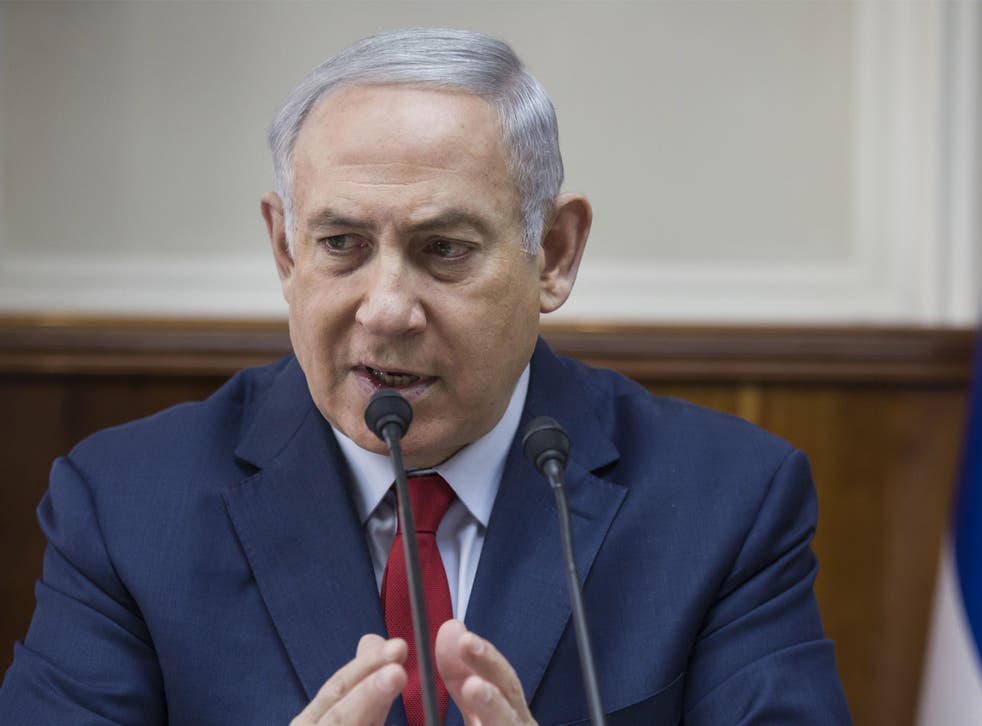 Israeli Prime Minister Benjamin Netanyahu has told US Secretary of State Rex Tillerson and Russian President Vladimir Putin that his country will "defend itself from any attack and any attempt to hurt our sovereignty" after an escalation between Israel and Syria.
"Iran attempted to do that today, it violated our sovereignty, it inserted its drone into Israeli space from Syria," Mr Netanyahu reportedly told the two men.
Mr Netanyahu emphasised that, while his country will continue to seek peace, he would ensure that his country responds to any threats.
Speaking with Mr Putin, Mr Netanyahu went on to say that Israel "has a right and obligation to defend ourselves against attacks coming in from Syria. We agreed that our militaries will continue security coordination."
Mr Tillerson is in the region on a five day trip.
The US State Department indicated that the United States "fully supports Israel's right to defend itself", but noted that the US did not participate in any of the military operations.
The Israeli military announced Saturday that one of their warplanes had been shot down by Syrian forces, sparking the increased tensions between the two countries. The military indicated that the plane was shot down after they launched drone strikes in retaliation to Iran sending a drone into Israeli territory.
World news in pictures

Show all 50
The Iranian drone was shot down by Iranian forces.
Israeli strikes in Syria are not uncommon, but the loss of an Israeli jet has led to increased tensions.
The two crewmen on boar the F-16 that was shot down were able to eject from the plane after taking hits from Syrian anti-aircraft weapons. They were both taken to the hospital after their emergency exit, and one of them was reported to have serious injuries from the ejection.
Israel hasn't lost an aircraft since 2006, when a helicopter was shot own in Lebanon by a rocket launched by Hezbollah. All five of the crew members on board that aircraft were killed in the incident.
Register for free to continue reading
Registration is a free and easy way to support our truly independent journalism
By registering, you will also enjoy limited access to Premium articles, exclusive newsletters, commenting, and virtual events with our leading journalists
Already have an account? sign in
Join our new commenting forum
Join thought-provoking conversations, follow other Independent readers and see their replies