Israel unrest: Five Palestinians shot dead and five Israelis stabbed in one day as cycle of violence intensifies
Fears of a third 'intifada' are rising as protests, riots and attacks continue in Israel, Gaza and the West Bank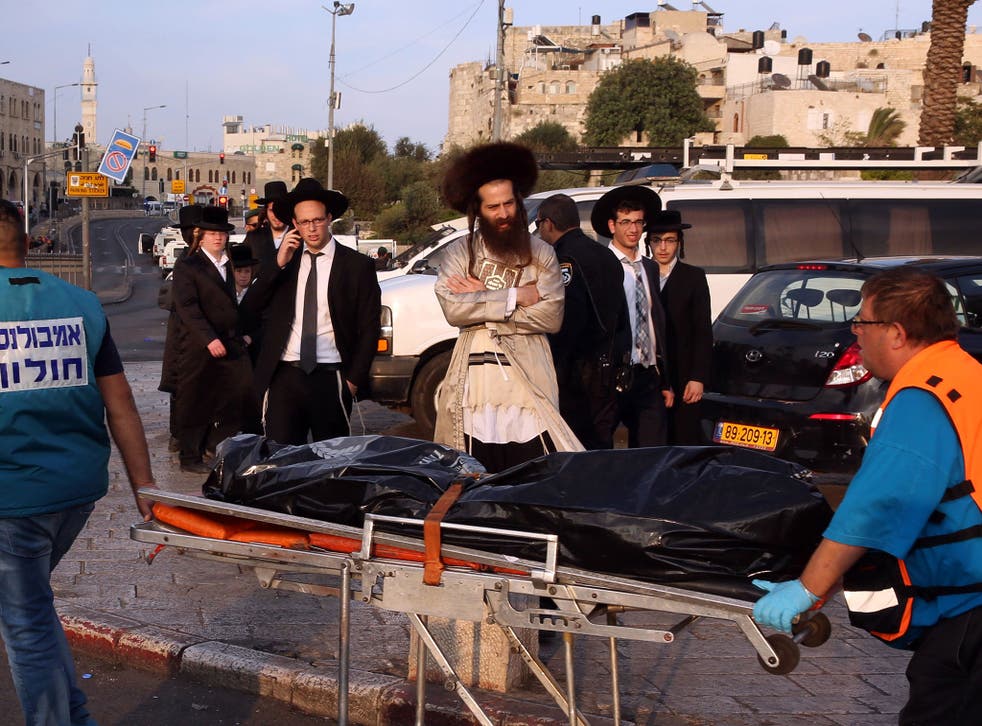 Five Israelis have been stabbed and five Palestinians shot dead by security forces in another day of violence in Israel.
Two Palestinian teenagers were killed by police after launching separate attacks just metres apart in Jerusalem's old city.
The first came near Damascus Gate on Saturday morning, when police said a 16-year-old boy stabbed two ultra-Orthodox Jewish men and then attacked officers before he was shot.
Four hours later a 19-year-old Palestinian boy stabbed three police officers next to the historical landmark.
Micky Rosenfeld, a spokesperson for the Israeli police service, said he was from the nearby Shuafat refugee camp and was "shot and killed" at the scene.
All of the stabbing victims survived and were receiving medical treatment.
There are fears of a third "intifada" in Israel and the Occupied Palestinian Territories as tension rises and violence increases on all sides.
Four Israelis and at least 19 Palestinians have died in 11 days of bloodshed, which has sparked yet more unrest and fears of revenge attacks.
In a repeat of similar scenes on Friday, two Palestinian children aged 12 and 15 were shot dead by the Israeli Defence Forces (IDF) during protests along the border fence with the Gaza.
The strip of land is governed by Hamas, an Islamic organisation and political party whose regional leader called for the "strengthening and increasing of the intifada…for liberation" yesterday.
An IDF spokesperson said the protesters, in an Israeli-declared no-go security zone, were hurling burning tyres and stones towards the soldiers, who fired warning shots in the air before shooting "at the main instigators".
Paramilitary police also killed a Palestinian man who shot during late-night clashes at the Shuafat refugee camp in East Jerusalem.
Hamas said in a statement that the gunman was one of its members, adding: "The hero martyr fought the Israeli occupation with language they understand."
Clashes between Palestinians and Israeli troops also broke out on Saturday near the West Bank cities of Hebron and Ramallah and again at the Shuafat camp.
Scores of Palestinians were injured including 17 hit by live gunfire, according to the Palestinian Red Crescent.
In Hebron, which is home to both Palestinians and Israeli settlers, thousands took part in two funeral processions for Palestinians who were killed while carrying out attacks in recent days.
Around 1,500 people also gathered in the Israeli-Arab city of Nazareth Saturday to demonstrate solidarity with the Palestinians.
The violence has been fuelled by Palestinian fears that Muslim control of the Noble Sanctuary, which houses the sacred al-Aqsa mosque and is the third-holiest place in Islam, will be eroded.
As the Temple Mount, it is also considered the holiest site in Judaism as the location of two destroyed biblical temples, and has seen frequent protests by Orthodox Jews and visits by Israeli politicians and campaigners.
The Israeli Prime Minister, Benjamin Netanyahu, has repeatedly said that he will not allow any change to the arrangements under which Jews are allowed to visit the site but non-Muslim prayer is banned.
The Second Intifada – a five-year wave of violence that left about 3,000 Palestinians and 1,000 Israelis dead - started after future Israeli Prime Minister Ariel Sharon visited the al-Aqsa compound in 2000.
Mr Netanyahu and Palestinian President Mahmoud Abbas have called for calm and Palestinian police continue to coordinate with Israeli security forces to try to restore order, but there are few signs of the violence subsiding.
Register for free to continue reading
Registration is a free and easy way to support our truly independent journalism
By registering, you will also enjoy limited access to Premium articles, exclusive newsletters, commenting, and virtual events with our leading journalists
Already have an account? sign in