Israeli security forces kill boy, 16, after stabbing in Jerusalem as violence continues
Militants in Gaza fired a rocket into Israel overnight but no one was injured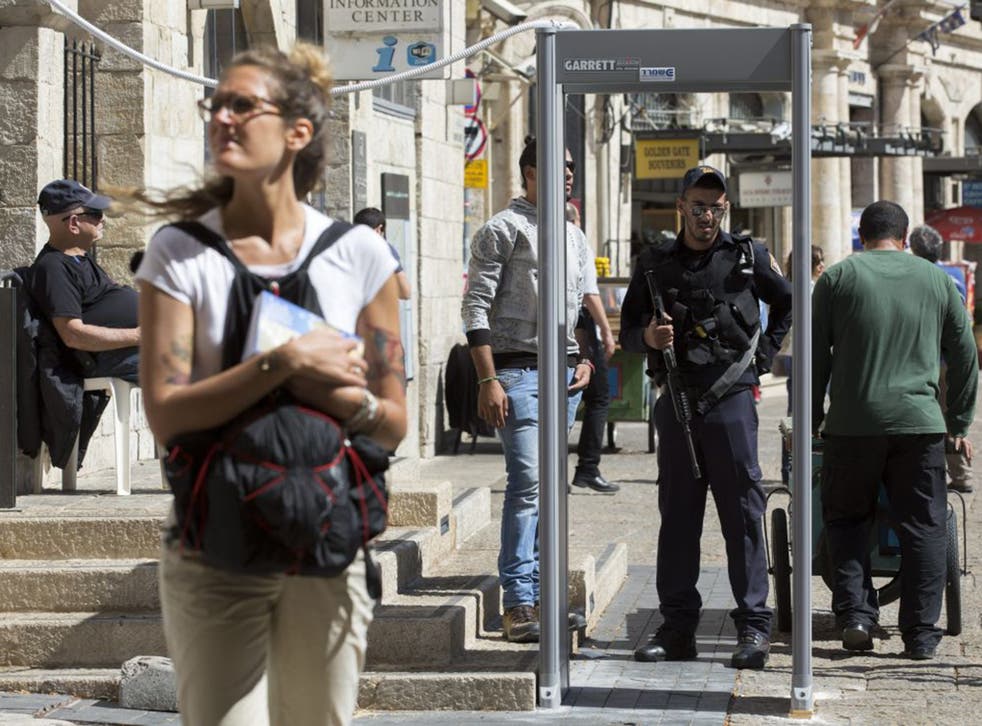 A 16-year-old boy has become the seventh Palestinian shot dead by Israeli security forces in just 24 hours as a wave of violence continues.
He had launched a stabbing attack near Damascus Gate, in Jerusalem's Old City, and then tried to attack officers on Saturday morning, according to police.
"Two men stabbed lightly are receiving medical treatment," said police spokesperson Micky Rosenfeld. "Police officers shot and killed terrorist at the scene."
It came hours after militants in Gaza fired a rocket into Israel overnight. A spokesperson for the Israel Defence Forces (IDF) said warning sirens sounded but the rocket landed in countryside in southern Israel and did not cause any casualties.
The head of Hamas in the Gaza Strip has declared a third "intifada" against Israel amid growing violence and unrest.
In a sermon at a mosque in Gaza City, Ismail Haniyeh called for the "strengthening and increasing of the intifada", which he claimed was the "only path to liberation".
"Gaza will fulfil its role in the Jerusalem intifada and it is more than ready for confrontation," he added.
Hamas, an Islamic organisation and political party, controls the Gaza Strip and is part of unity government in the Palestinian Authority.
Its military wing, the Izzedine al-Qassam Brigades, is a designated terrorist group responsible for rocket attacks at Israel.
A 15-year-old boy was reportedly among six Palestinians killed by Israeli troops along the Gaza border on Friday.
The IDF said a group of around 200 young men had advanced on soldiers, throwing rocks and rolling burning tires, and that the troops opened fire.
Tensions are increasing in the wake of a series of attacks by all sides on Israelis, Palestinians and Bedouins.
Fear has gripped Jerusalem in the aftermath of a number of Palestinian stabbing attacks targeting Israeli security forces and civilians, leading the city's mayor, Nir Barkat, to call on citizens with gun licences to carry their weapons at all times.
An Israeli man carried out what he claimed was a revenge attack in Dimona, stabbing two Palestinians and two Bedouins before reportedly telling police "all Arabs are terrorists".
Prime Minister Benjamin Netanyahu "strongly condemned the harming of innocent Arabs" and said whoever uses violence will be brought to justice.
The Palestinian ambassador to the UN says has urged the Security Council president to hold an emergency meeting on the latest unrest.
The violence was condemned by Barack Obama's administration, with the State Department referring to Palestinian attacks on Israelis as "acts of terror".
Unrest in Jerusalem

Show all 22
Philip Hammond, the Foreign Secretary, said he was "deeply concerned" by violence by all parties.
"We condemn all acts of violence, including attacks by Palestinians and by Israeli settlers," he added.
"We urge all sides to take immediate steps to de-escalate the tensions and avoid actions that threaten to exacerbate the situation.
"Every Israeli and Palestinian has the right to live in peace and security. We understand, and share, the deep frustration on all sides at the lack of progress on the Middle East Peace Process.
"The current violence underlines that a just and lasting resolution that ends the occupation and delivers peace for both Israelis and Palestinians is long overdue."