Israeli businessman stuck with hundreds of crocodiles after West Bank settlement farm plan fails: 'No one knows what to do with them'
Locals worry some of the creatures may escape, for a third time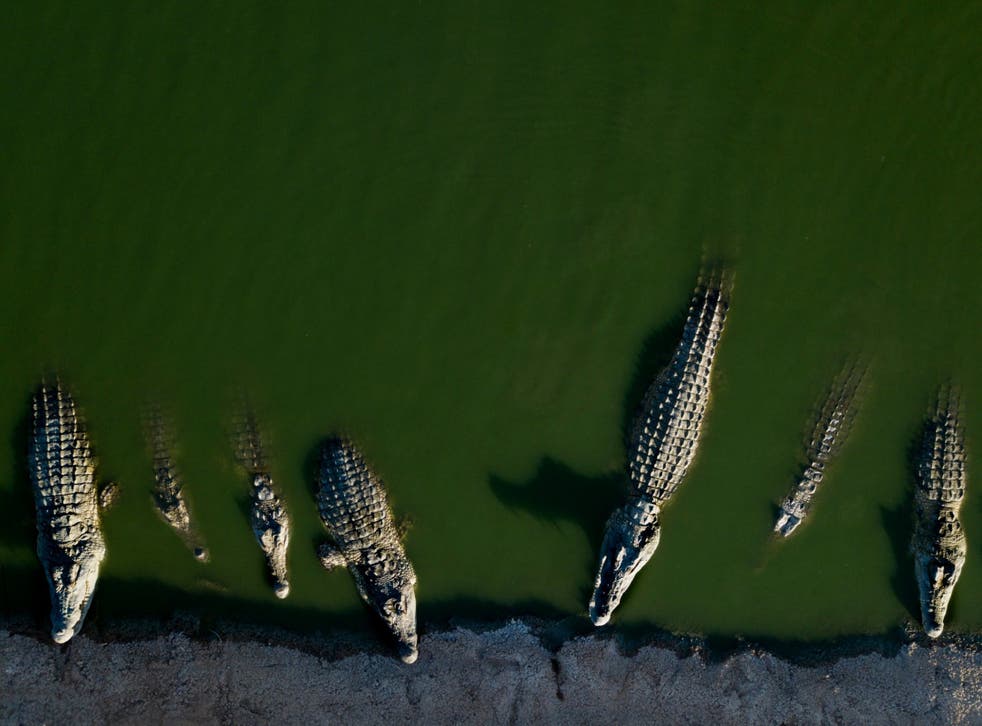 Hundreds of crocodiles have been left stranded in a remote part of Israel after a businessman bit off more than he could chew with plans for a farm in the West Bank.
The predatory reptiles are stuck in a remote spot of the Jordan Valley leaving locals worried about what would happen if they escaped.
The creatures were initially brought to the settlement of Petzael in the mid-1990s where it was hoped they would become a tourist attraction.
Ensuing Israeli-Palestinian violence kept visitors away and the crocodiles were later bought by entrepreneur Gadi Biton, who hoped to sell them for their skin.
But in 2012 Israel passed a law making the crocodile a protected animal, banning their sale as meat or merchandise, thereby making his plans untenable.
Mr Biton has made multiple attempts to sell the animals abroad, but has so far failed.
So they continue to laze next to a lagoon in their remote homeland, fed dead chickens once every eight days by a lone worker.
"We found ourselves with hundreds of crocodiles in this farm that no one knows what to do with," said David Elhayani, head of the Jordan Valley Regional Council.
On two occasions, dozens of crocodiles have escaped. In one instance 70 broke free and were only recaptured after a three-day hunt.
The crocodiles, which can live well into their 70s, are also reproducing. Female crocodiles lay 60 eggs at a time, although only a few survive in the wild. It is nonetheless thought that the numbers in Israel could grow to thousands in coming years.
World news in pictures

Show all 50
"I don't want to think of what will happen if a crocodile manages to escape and reaches the Jordan river, and then we'll have an international incident," Mr Elhayani said. "Maybe then someone will wake up and find a quick solution to this problem."
Mr Biton has looked to resettle the crocodiles in Cyprus, but his attempts to do so have been thwarted by opposition from residents there.
COGAT, the Israeli defence body that administers civilian affairs in the West Bank, said it was working to find a "practical solution" to the crocodile conundrum.
Without elaborating, it accused the farm owner of a "lack of cooperation".
Additional reporting by the Associated Press
Join our new commenting forum
Join thought-provoking conversations, follow other Independent readers and see their replies